Last updated on November 6th, 2023 at 08:00 pm
The National Inland Waterways Authority (NIWA) is the government agency saddled with the core responsibility of providing regulation for Nigeria's inland water navigation.
But has this agency been able to fully explore the size of Nigeria's inland waterways that span 10,000 kilometres?
This article explores the departments in NIWA, the history, departments, and functions of the National Inland Waterways Authority.
History of National Inland Waterways Authority
5,029 sq mi of Nigeria is covered by water, which is 1.4% of Nigeria's total area. Also, with a Coastline of 853 km (530 mi), that's a huge economic advantage for the most populous African country.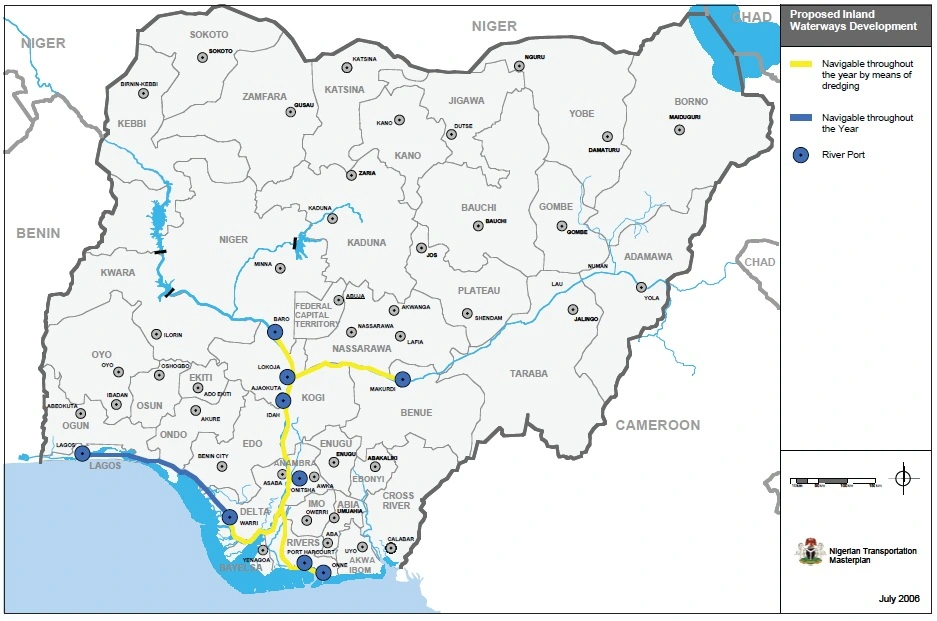 To tap into this economic potential, the government established the Inland Waterways Department (IWD), as one of the operational departments in the old Federal Ministry of Transport in 1956.
By late 1997, the Sani Abacha military regime promulgated Decree No. 13 of 1997, changing the name from the Inland Waterways Department (IWD) to the National Inland Waterways Authority (NIWA) under the Ministry of Transport.
The modified agency commenced full operation in 1998. But that was not enough.
The National Assembly in 2004 amended the law establishing it through CAP 47, Laws of the Federation of Nigeria (LFN), 2004 or NIWA ACT CAP N47 LFN 2004 under the democratic administration of President Olusegun Obasanjo.
NIWA was moved from the Ministry of Transport to the new Ministry of Marine and Blue Economy, following the creation and modification of existing ministries by President Bola Tinubu.
So, officially National Inland Waterways Authority became one of the agencies of the Federal Ministry of Marine and Blue Economy on Monday, August 21, 20223, following the swearing-in of new ministers.
Its Mandate
The functions of the National Inland Waterways Authority are:
NIWA ACT CAP N47 LFN 2004 specifically spells out the major responsibilities of NIWA as follows:
1) Issuance of licenses for inland navigation.
2) To provide regulation for Nigeria's inland water navigation.
3) To explore the indigenous technical and managerial skills in Nigeria for the development of modern inland waterways transportation;
4) To maintain Nigeria's waterways for effective use by constantly excavating obstructive materials such as hyacinth and other aquatic, wrecks, stones, and rock
5) To effectively develop infrastructural facilities for national inland waterways so that the economic potential of Nigeria's waterways can fully be tapped by connecting them to facilitate trade within and outside Nigeria.
6) Powers of administration and maintenance of inland river-ports and jetties.
7) Powers to reject or grant permits and licenses for sand dredging.
8) To undertake surveys of inland waterways to determine the land area adjacent to Nigeria's water bodies.
9) To carry out consultancy and contractual services.
10) It is the function of the National Inland Waterways Authority to design ferry routes.
11) As one of the revenue-generation agencies of the government, NIWA is saddled with the responsibility of operating ferry services within Nigeria's inland waterways.
12) To ensure that the equipment that will aid the navigation of inland waterways is installed, monitored, and they are functional for use.
13) Powers to reclaim land within the right-of-way.
14) To guide and advise the government on all border mailers that relate to the inland waters.
15) To ensure that shipyard operators abide by the law guiding Nigeria's waterways.
16) NIWA can undertake acquisition, leasing and hiring of properties for government use.
17) NIWA has the power to accept, review, reject or approve licenses to private inland waterway operators.
18) To produce, publish, and broadcast navigational publications, bulletins and notices.
19) To approve designs and construction of inland river crafts.
20) To carry out boat repairs, boat construction and dockyard services.
21) To serve as the face of the government at national and international inland water transportation-related commissions and events.
22) To carry out environmental impact assessment of navigation and other dredging activities based on the provisions of the Environmental Impact Assessment Act.
23) To undertake building and maintenance of gauges, kilometre boards, horizontal and vertical control marks on Nigeria's inland waterways.
24) It is also the function of NIWA to run cruise boats.
List of Departments in NIWA
National Inland Waterways Authority has 15 departments, each of them is headed by a General Manager. All the GMs report directly to the Managing Director.
Marine
Survey
Engineering
Procurement
Port Services
Internal Audit
Legal Services
Corporate Affairs
Finance and Accounts
Business Development
Area Offices Coordination
Inland Waterways Police Command
Research, Planning, and Environment
Human Resources and Administration
Project Management and Special Duties
The head of each department assists the Managing Director in carrying out the constitutional responsibilities of the agency.
Headquarters of NIWA and Offices
Headquarters: Aliyu Obaje Road, via Hydro Junction, Adankolo,
Abuja (Liaison Office): Shippers Plaza, off Grand Ibro Hotel Wuse, Zone 5
Cross Rivers: Marina Road by Naval base, Calabar
Benue: No.56 John Mark, Iriemo RD, New garage, Makurdi.
Kogi (Area Office): Marine road, Naval Base, Lokoja.
Kebbi: Umar Kaoje Rd, behind Rima River Basin, Gesse Phase 1, Yelwa Yauri, Birnin Kebbi
Ogun State: No.14 Mapoly Road Onikolobo, Abeokuta
Niger State: No. F21 Ebutu Ekiwe street, GRA, Minna
Taraba: No. 8 Abubakar Dantsoho Street,
behind Grara Yard, Jalingo
Ondo: No.11 Bolorunduro Waterfront, Igbokoda
Lagos: Ferry Terminal Building Outer Marina Road, CMS bus Stop.
Kaduna: No.2 Junction road. Off Kachia rd., Opposite Ishaku Hospital, Kaduna Sowe, Kaduna
Akwa Ibom: Off Liverpool Road, behind Eket Sport Club, Opposite Mobil Pegasus Club, Eket
Kano: Zoo road, Gidan Buhari, Opposite Chicken Republic, Kano
Adamawa: Kashim Ibrahim road, Jimata, Yola.
Delta: Deco Junction, Warri-Sapele RD, Warri.
Anambra: River Port Complex, Onitsha
Rivers: Marine Base, PMB 5028, Port Harcourt.
Borno: Along Circular Road, Old GRA, Maiduguri
Imo State: No.31/33 Eneka Rd, off Ogbuide Rd, Oguta
Jigawa: Ahmadu Bello Way, Dutse
Sokoto: No. 18 Akile Road, beside Saraki Hospital, Sokoto
Bayelsa: Swali Waterfront by Slaughter, Yenagoa
NIWA social media profiles
Facebook: facebook.com/WaterwaysNG
Twitter or X: @WaterwaysNG
LinkedIn: linkedin.com/company/waterwaysng/
YouTube: youtube.com/channel/UCpxgv3iBhUvwVWxFzKca9bQ
Our Take:
One of the biggest challenges facing NIWA is that the ruling government use the agency as a dumping ground to compensate political associates. This must stop for it to make progress.
Just like other revenue-generating agencies of government that report zero at the end of the accounting year, there is endemic corruption in NIWA. This has to stop.
We hope the new Ministry of Marine and Blue Economy which now coordinates the activities of the authority in its effort to fully tap into the economic potential of waters will make a critical impact in Nigeria's inland waterways.