Last updated on August 26th, 2022 at 02:53 pm
Apart from the local consumption, extracts from kola nut are used in the production of energy drinks and other industrial use. And in this guide, we'll show you the top ten kola nut importing countries where you can find internal buyers.
Additionally, we will tell you some of the local markets in Nigeria where you can buy kola nuts at a cheap rate and sell them at a profitable rate.
Quick facts
Botanical name: Cola acuminata
Family: Malvaceae
Hausa name: Gworo
Yoruba name: Obi
Igbo: Oji igbo
Benefits of Kola Nut
This can be categorised into three:
Traditional use
Medicinal use
Industrial use
Traditional Use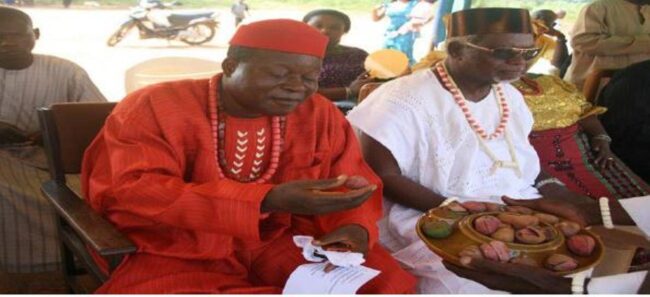 1) In Nigeria, Ivory Coast and some African countries, kola nut is used for traditional ceremonies. Particularly in Nigeria kola nut is used during naming ceremonies for prayers for the newborn.
2) It is used to welcome and entertain a visiting elder as a symbol of togetherness in the local areas.
3) It is also used to appease the gods as a form of rituals
Industrial Use
The advent of scientific research and exploitation has shown that farmers and exporters can make millions of dollars by selling kola nuts to foreign buyers who use them to make drinks
1) It is used in the production of what is popularly known as "energy drinks" in Nigeria.
2) It is used in the production of cosmetics like beauty soaps and creams
3) In some European countries, extracts from kola nut is used in the production of chewing gums and other beverage drinks.
Medicinal use:
1) Kola nut has scientifically been proven to contain caffeine. As such, its consumption can boost metabolism.
2) Consumption of kola nut can boost the production of gastric acid in the body which leads to an increase in quick digestion when a small piece is chewed before each meal.
3) According to medical news today, it can increase circulation and speed up the heart rate, it contains theobromine which makes this possible.
4) It stimulates the central nervous system thereby boosting energy levels.
Sourcing the product locally
So, let's get down to how to locally source kola nuts in some of the producing states in Nigeria.
Osun
Ondo
Abia
Anambra
Enugu
Kaduna
Oyo
Ebonyi
Imo
Enugu
Ogun
Niger
In Kano State where kola nut is not cultivated because of its unfavourable soil, the state has the largest kola nut market at Mariri, Kano.
In Osun state, Owena market, Ipetu-Ijesa market (every Thursday), Owode market (Owode-Ede), Ikirun market, Garage Olode, Sabo market are some of the notable markets where you can buy kola nut from local farmers and supply your foreign buyers.
In Oyo State, Oje market is popular for its local agricultural produce where you can buy kola nuts in large quantities.
In Ondo State, Ore market, Owo market and other local markets are famous for selling fresh agric products
Local price:
Usually, farmers package their kola nuts in baskets and are taken to the local markets for sale. At the time of this publication, a basket is between NGN15,000 to NGN20,000 which you can resell to the main exporting firm between NGN30,000 to NGN35K, but they are specially packaged to meet international standards.
Exporting Requirements
If you're going to sell on a large scale to foreign markets, then you need to obtain some licenses from the appropriate and regulatory agencies, most especially when it's agricultural produce, the important ones are:
1) Obtain a phytosanitary certificate from the Nigeria Agricultural Quarantine Service (NAQS). NAQS is one of the agencies of the Federal Ministry of Agriculture and Rural Development
2) You must incorporate your company with the Corporate Affairs Commission (CAC)
3) Obtain an export certificate from the Nigerian Export Promotion Council (NEPC)
Packaging process
The nuts should be removed from their pods (if you're the farmer)
They are cleaned
They are wrapped in paper at the weight of 1KG per wrapper
The acceptable kg per carton is 7kg (on a small scale), as such make sure the appropriate weighing scale.
The large scale requires 25KG per bag
For a start, you can get a portable digital scale with 300KG capacity to begin the kola nut export business.
Which Countries Can I Find Foreign Buyers?
There are top 10 kola nut importing countries you can specifically target to get international buyers.
As such, the first step you need to take when targeting foreign buyers for your product is to know which countries are in need of the products on large scale.
According to 2020 data obtained from tridge.com, the importing countries of Kola Nut are:
1) the United States
2) France
3) Spain
4) Mexico
5) India
6) Germany
7) the Netherlands
8) China
9) Belgium
10) Romania
Does Nigeria Export kola nut?
Yes, above listed countries source kola nut supply from Nigeria. For instance, Kolanut International Market at Mariri, Kano, is the major exit market where kola nut is sold to buyers from the Republic of Chad and Niger Republic.
However, USA's major supplier has been Ivory Coast. While Nigeria has just 2.68 per cent of the export value, Ivory Coast 53.33 per cent of the global export in 2020, another data revealed.
Which country produces kola nut?
Nigeria isn't the only producer of kola nut. Other countries that produce the product include Ivory Coast, Jamaica, and Guinea among others.
Recap:
If you're set to start exporting kola nut, it's advisable to start targeting buyers in the USA, Spain, Germany, China, and Belgium among others.
To leverage the huge demand for the product, make sure to obtain the necessary export certificates which will also boost your trustworthiness, foreigner buyers prefer to do business with a duly registered company.
References:
Featured image by Vanguard News
Daily Trust (July 2, 2017). "Kano Kolanut Market: Where Over 10,000 People Earn A Living". dailytrust.com. Retrieved February 10, 2022
De Pietro, MaryAnn (October 6, 2017). "Health benefits of kola nut". Medicalnewstoday.com. Retrieved January 29, 2022
Dominic, Uzoanya (June 17, 2018). "The Big Deal About Kola Nuts And The Igbo People". Medium.com. Retrieved February 10, 2022
Nwachukwu, McPhilips (May 4, 2012). "Kola nut: Nigeria's seed of togetherness". Vanguard. Retrieved February 10, 2022