Last updated on June 16th, 2023 at 07:52 pm
The majority of barite in Nigeria is mined in Cross River, Benue, Nasarawa, Zamfara, Taraba, Plateau, Adamawa, Rivers, Gombe, and Ebonyi states.
On Friday, October 29, 2021, Nigeria's government through its Minister of Mines and Steel, Olamilekan Adegbite, announced that Africa's biggest economy has joined the list of countries that have large deposits of barite.
The news was heartwarming that another natural resource that could fetch Nigeria billions of foreign exchange in exports was discovered.
The discovery of the barite will also enable Nigeria to save some of its FX spent on the importation of the product.
Table of Contents
Why barite is important to Nigeria?
To an oil and gas exploration country, barite is a major product used in weighting material in oil and gas drilling so as to prevent the explosive release of gas and oil during drilling.
Known as barium sulfate (BaSO4) in Chemistry and geology, barite is a non-metallic mineral that is majorly used by the oil and gas industry and for more than 10 other industrial uses.
Barite is basically used by the oil and gas industry during drilling operations as a drilling mud weighting agent to balance the reservoir pressure and prevent blowouts.
The exploration, development of policy, and mining of barite is managed by Nigeria's Ministry of Mines and Steel Development formerly known as Solid Minerals Ministry.
But first…
States Where Barite Can Be Found in Nigeria?
This natural mineral can be found in the following states, majorly in the Northern Nigerian states:
Benue
Cross River
Nasarawa
Taraba
Adamawa
Ebonyi
Zamfara
Gombe
Plateau
Rivers State
There are other places where the product can be found across Nigeria if the ministry is saddled with the responsibility of managing mineral resources to expand its discovery research.
This product is found in different locations in the aforementioned states. For instance, Nasarawa, which is one of the major barite-producing states has barite in more than 10 locations, they include
Ribi
Keana
Sauni
Wuse
Aloshi
Azara
Kumar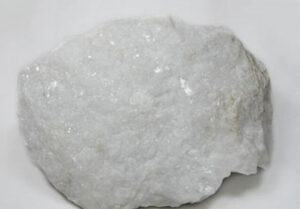 10 Major Uses of Barite
1) It isn't only economical, it is also used for medical solutions in solving some x-raying issues, some of its industrial use are:
2) It is used as a weighting material in drilling mud.
3) Barite compounds are used in a diagnostic medical test for the determination of normal and abnormal anatomy, according to geology.com
4) Its compounds are used for x-ray shielding in medical sciences.
5) Advanced ceramics that has barium are used in the electronics industry like earphone, speakerphone, telephone, and condenser among other electronic use.
6) It is used by rubber and paint industry as a filler and extender. In paint is used as a pigment
7) Part of the coarse sand size of barite is added to the mixture in glassmaking to serve as flux.
8) It is also used in putting the bubble under control when melting material.
9) Barite is used in the final production of some industrial chemicals like barium chloride, barium sulphide, and barium chloride among others.
10) According to research by Nigeria Geological Survey Agency in 2011, the product can be used in product transparency and luminosity
11) In paper production, it is used as weighted filler.
12) It is used in the production of clutch pads, this is very important in the auto industry
What's The Worth of Barite in Nigeria?
Research embarked upon between 2005 and 2009 by the Nigeria Geological Survey Agency, it's discovered that there is at least 22,298,843 tonnes of barite in Nigeria.
That's worth several billions of Naira if it's properly harnessed like world major exporters like China and India.
According to the 2019 price, Nigeria's government could make at least $4,013,791,740 from the sales of this mineral product lying underneath.
Some Nigerians may be quick to ask: How has the discovery and sales of oil changed the lives of people in Delta, Bayelsa, Ondo, and other major oil-producing states in Nigeria? And you the announcement by the Nigeria's government about it joining the barite producing country make any change?
According to the publication in 2019 by the US Department of the interior, the average price of barite per ton was $180 as against crude oil price which was $84.850  (as of October 27, 2021)
Meaning barite is more expensive than crude oil, which has been Nigeria's source of revenue for decades, even though more Nigerians continue to slide into abject poverty due to mismanagement by it leaders.
In another report by Amy Zhang, demand has forced an increase in the price of barite. For instance, in 2012 a ton was 69 US dollars, it increased to $74 in 2013, and by May 2018, its price has risen to US$77/ton. And in 2019, it rose to $84.850 per ton.
Recap
Barium sulfate is very important to the operation of oil and gas drilling and exploration
Barium can be found in 10 states in Nigeria
Nigeria can make at least $4,013,791,740 from the exports of barite apart from making enough savings from foreign exchange.
A ton of barite as of 2019 was almost $85, which means it's more expensive than crude oil at the time of this report.
This creates another investment opportunity for Africa's biggest economy
Would the barite change the fortune of Nigeria's revenue? Yes
Would it transform to improve the standard of living of its over 200 million people? Most unlikely considering how wasteful its leaders are. in the management of oil funds for decades