Last updated on August 5th, 2023 at 09:16 pm
Since the oil was first discovered in 1956 in Oloibiri, the present-day Bayelsa State, Nigeria has made several billions of US dollars from the sales of oil. Since then Nigeria has become Africa's number one producer of oil and number six on the global ranking.
In 2018, Nigeria made $32.63 billion in revenue from the sales of crude oil while in 2019, it generated $34.22 billion. And the recent figure by the Nigeria Extractive Industries Transparency Initiative, (NEITI) on June 18, 2021, revealed that Nigeria made $418.5bn between 2010 to 2019 from the sales of crude oil.
Quick facts
Reserves of crude oil in Nigeria: 28.2 billion barrels
Total of natural gas reserves: 165 trillion standard cubic feet (scf), which includes 75.4 trillion scf of nonassociated gas.
Crude oil production capacity: 2.5 million barrels per day
Rank in Africa: Number one
Global ranking: Number 6
Nigeria became a member of the Organization of Petroleum Exporting Countries (OPEC) in 1971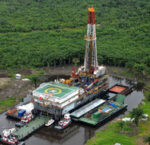 We'll share with you some informative data from the Nigerian National Petroleum Corporation (NNPC) on oil production per day from all the oil-producing states.
Important NNPC Data for 2020
81 oil wells were drilled across the country
There were 664,362,369 barrels of crude oil and condensate production
2,729.1 billion of cubic feet (BCF) of natural gas
1.77 million barrels of crude oil were lifted
Local refineries received a total of 79,498.20 barrels were refined
There was an average daily consumption of PMS of 60,000,000 in 2020 in Nigeria
So, the question most foreigners who want to invest in oil and gas exploration is:
What are the oil-producing states in Nigeria?
Akwa Ibom
Rivers
Delta
Bayelsa
Ondo
Edo
Imo
Abia
Lagos
Anambra
Kogi
Akwa Ibom State
The oil wells in Akwa Ibom contribute more to Nigeria's oil exports, making it the largest producer of oil in Nigeria. Oil and gas contribute so much to the economy of the Land of Promise.
Some of oil fields in state are can be found at Adua, Etim, Eket, Enang, Utue, Ata, Ekim, Udar, Ibibio, Etebi and Ubium, Akam, Adanda, and Ebughu among others.
Relying on the allocation it gets from derivation revenue, Akwa Ibom is the best state to do business in Nigeria in terms of infrastructural development and power, according to the Presidential Enabling Business Environment Council (PEBEC).
Rivers State
Rivers used to be the highest oil-producing state in Nigeria until Akwa Ibom took the number one position from it. Besides contributing hugely to Nigeria's revenue, Rivers also house other natural resources like glass and silica sand.
The state also houses a seaport, and an airport and has a lot of reserves of natural gas.
Delta State
Delta is one of the states that sustain Nigeria's annual budget by contributing largely to oil exports. One of the largest onshore blocks OML 30 is located in Delta with nine oil fields that have been producing for decades.
The state also houses one of Nigeria's "ineffective" refineries in Warri.
Bayelsa State
Oloibiri oilfield in present-day Bayelsa state is the first place in Nigeria where oil was discovered. As of 2015, Bayelsa was contributing between 30-40% to Nigeria's major oil exports. It also has Nigeria's largest gas reservoir of 18 trillion cubic feet.
Bayelsa is one of the smallest states in Nigeria by land area.
Ondo State
Called the Sunshine State, Ondo state is another oil-producing state in Nigeria and it houses 4 billion barrels combined of oil reserves.
Edo State
Apart from being an oil-producing state, Edo state also houses large reserves of other mineral resources like quarry and limestone.
Imo State
Apart from contributing largely to Nigeria's exports, Imo state also houses other investment opportunities.
Abia State
With over 100 oil wells in Abia, the state also houses installed flow stations and an associated gas plant. Most of the oil wells in Abia are managed by Shell. Oil wells can be found in Imoturu and Isimili
Lagos State
On May 4, 2016, Yinka Folawiyo Petroleum Company Limited (YFP) revealed that it has commenced oil production from an offshore field at Aje field located in block OML 113 offshore Lagos.
That announcement makes Lagos one of the oil-producing states in Nigeria. Even before the discovery and exploration of oil in the commercial city, Lagos has always been the richest state in Nigeria.
Lagos and Ondo are the two states in the southwest region that contribute to Nigeria's oil exports.
Anambra
The attribution of 11 oil wells to Anambra state by the Revenue Mobilisation Allocation and Fiscal Commission (RMAFC) in its August 24, 2021 letter to the National Assembly with reference number RMC/O&G/48/VOL/I/55, makes the state the latest state to join the list of oil-producing areas in Nigeria.
The announcement makes Anambra eligible for the derivation revenue allocation of 13 per cent.
Locations of Oil wells in Anambra state:
Nzam-1 oil well
Alo-1 Oil well
Ogbu-1 oil well
Ameshi 1
Ameshi 2
Ameshi 3
Ameshi 4
Enyie 1,
Enyie 2,
Enyie 3
Enyie 4
Kogi
Kogi officially became the first Northern State in Nigeria to receive oil-revenue payment after the Revenue Mobilisation Allocation and Fiscal Commission (RMAFC) completed its delineation of the boundaries between Kogi and Anambra.
Attribution of Anambra River 2 and 3 oil wells will be shared on a 50-50 per cent between the two states. Oda River-1 oil well is wholly allocated to Kogi State.
Kogi receives first oil derivation revenue
On Wednesday, October 19, 2022, Governor Yahaya Bello officially announced that Kogi received the first 13% of oil derivation payment as an oil-producing state.
The payment will take effect when the Ibaji oil well starts production and contribute to the federation account, Information Commissioner Kingsley Fanwo, said.
The commissioner was also quoted as saying, "This means that the governor will have more funds to execute the many people-oriented projects he has started".
Benefits of Being an Oil-Producing State
When oil was discovered in a state and begins to contribute to Nigeria's oil exports, it automatically begins to benefit from the 13 per cent derivation revenue which is set aside by the Federal Government to help the oil-producing communities to develop infrastructure in their domains and communities as enshrined in section 162, sub-section 2 of the Nigerian Constitution.
The President, upon the receipt of advice from the Revenue Mobilisation Allocation and Fiscal Commission, shall table before the National Assembly proposals for revenue allocation from the Federation Account, and in determining the formula, the National Assembly shall take into account, the allocation principles especially those of population, equality of States, internal revenue generation, landmass, terrain as well as population density; Provided that the principle of derivation shall be constantly reflected in any approved formula as being not less than thirteen percent of the revenue accruing to the Federation Account directly from any natural resources.
Also called the derivation revenue, the money is sent to the producing communities via their state governments.
What this means is that the revenue meant for the producing communities is set aside in the federation account.
How much do oil-producing states get from FG?
Oil-producing states in Nigeria shared N424.02 billion and N448 billion in 2020 and 2021 respectively according to the National Bureau of Statistics (NBS).
The states where oil was found shared N552.5 billion and N536.3 billion in 2018 and 2019 respectively using the 13% derivation.
But to have a picture of how much these states get from the Federal Account, the table below shows sharing formula among the states in 2020 and 2021:
| | | |
| --- | --- | --- |
| States | 2020 | 2021 |
| Delta | NGN130.6 billion | NGN141.93 billion |
| Akwa Ibom | NGN94.82 billion | NGN91.16 billion |
| Bayelsa | NGN80.95 billion | NGN87.23 billion |
| Rivers | N78.4 billion | N83.12 billion |
| Edo | N13.6 billion | N15.48 billion |
| Ondo | N11.3 billion | N11.5 billion |
| Imo | N9.1 billion | N9.14 billion |
| Abia | N5.3 billion | N4.78 billion |
| Lagos | Yet to join the list | N3.78 billion |
| Gombe | Yet to join the list | NGN548.05 |
Management of Oil Exploration:
The NNPC is Nigeria's sole agency that manages the exploration and is in charge of all agreements concerning oil investment and allocation of oil fields to investors in the country.
When oil is discovered in a state or a new place, the NNPC team step in to take over its management on behalf of the Federal Government.
Though, there have been several calls for the government to diversify the economy away from oil to agricultural products which is also known as non-oil exports. The operation and management of oil fields and exploration could be divided into two:
Joint Operating Agreements (JOAs) or Production Sharing Contracts (PSCs) whereby some oil companies operate in partnership with NNPC.
Second, most of the indigenous oil companies operate in partnership with international companies under sole risk or as independents.
Oil Wells in Northern Nigeria
Bauchi and Gombe States will soon join the list of oil-producing states in Nigeria following the discovery of crude oil in the two Northern states. The formal launching was done by President Muhammadu Buhari.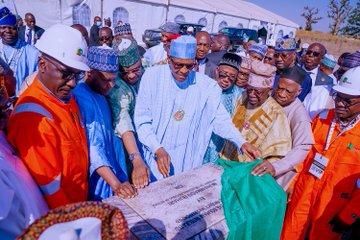 Buhari flagged off the Kolmani Integrated Development Project, in Bauchi & Gombe States—a fully integrated oil &gas development project comprising upstream production, oil refining, power generation & fertilizer production on Tuesday, November 2022.
Borno: Crude oil was discovered in Borno State in 2016, but the deadly attacks of Boko Haram terrorists have halted exploration
What is the first Northern State to receive derivation revenue?
Kogi State in the North Central geo-political zone becomes the first Northern state to receive 13% derivation revenue.
Which geo-political zone in Nigeria has the most oil?
The South-South geo-political zone has the highest oil reserve in Nigeria. The states in the region include Akwa Ibom, Delta, Bayelsa, Rivers, and Edo. Generally, the Niger Delta region has the largest oil reserve.
How many states can oil be found in Nigeria?
Oil can be found in 11 states in Nigeria.
What are the 11 oil-producing states in Nigeria?
The oil-producing states in Nigeria are Akwa Ibom, Lagos, Rivers, Delta, Ondo, Edo, Imo, Abia, Bayelsa, Anambra, and Kogi
Where was oil first discovered in Nigeria?
Crude oil was first discovered in Oloibiri, a small community in Rivers State, the present-day Ogbia LGA located in Bayelsa State. Bayelsa was carved out of Rivers in 1996.
Conclusion:
The oil revenue from Nigeria should have made the citizens of Africa's most populous country live comfortably well, but their standard of living continues to worsen every day due to the diversion of the oil revenue by politicians and officials.
For instance, a report revealed that Abia, Imo, Edo, Rivers, Ondo, Akwa-Ibom, Delta, and Bayelsa received N6.589 trillion from the federation account as derivation revenue between a period of 10 years (2009 and 2019), yet unemployment, poor infrastructure, poor healthcare is has become a norm in the oil-producing states.
At InfomedianG Business Solutions, we hope to see the states that get derivation revenue show results for the little they have received. Communities, where oils are gotten from, should start holding their state governments responsible for wasting their collective wealth
And to Nigeria's government, despite the revenue, it makes annually from oil exports continues to borrow even from countries that do not have the rich resources it has. This must stop, the government should stop paying lip service to diversify the economy from oil to non-oil economy.
In the next 10 years, consumption and demand for oil in the global market would reduce drastically a lot of countries would have completely moved to electric cars or solar-powered cars.
Time isn't on the side of oil-producing states and the Federal Government, they should begin to act responsibly and use the oil wealth to develop the economy, create jobs, develop infrastructure, and provide security among others.
Reference:
Samuel Oyekanmi (March 1, 2022). "Oil-producing states in Nigeria receive N448 billion in 2021 as 13% oil derivatives". nairametrics.com