Last updated on June 15th, 2023 at 01:28 pm
One of the states in Nigeria with oil-rich soil coupled with many aquaculture activities is Akwa Ibom state in the South-South geo-political zone.
The government job and white-collar jobs are the main economic driver in Akwa Ibom. Also, People mostly make a living by fishing (those who live along rivers and coastlines), farming (those who live at higher elevations), trading, artisanship, and services (those who live in the interior).
Table of Contents
This article explores Akwa Ibom's economic trends, population distribution and major economic stats that will help researchers.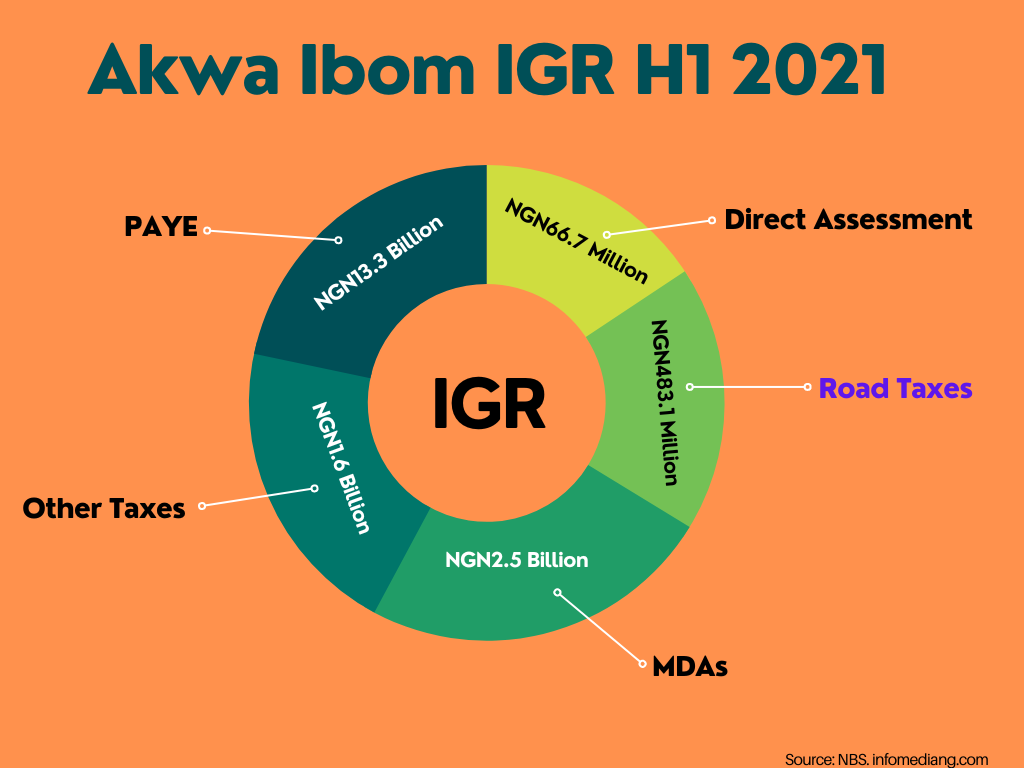 Because of the State's thriving public sector, a sizable number of residents find gainful employment there like the Ibeno Offshore where the majority of its oil is found, making the state a key oil-producing state in Nigeria.
Where is Akwa Ibom located?
Located in the southern part of Nigeria, Akwa Ibom State shares boundaries with Cross River State to the east, Rivers State and Abia State to the west, and the Atlantic Ocean to the south.
The Qua Iboe River, which flows through the middle of the state on its way to the Bight of Bonny, is where the name of the state was coined from.
The state is blessed with large fish populations and a variety of cetacean species, such as bottlenose dolphins, pantropical spotted dolphins, humpback whales, and killer whales, making the state's waters a rich habitat for marine life.
Population Distribution of Akwa Ibom State
The 2016 estimates put the population of Akwa Ibom at 5,482,177. Between 2006 when the last population census was conducted by Nigeria's government, the state is believed to have added over 1.5 million people.
There were 3,902,051 people in the state in 2006 population conducted by the National Population Commission (NPC).
The percentage of males in Akwa Ibom State is more than that female as can be seen in the table below which shows the population estimates of the Land of Promise from 2007 to 2016
| | | | |
| --- | --- | --- | --- |
| Year | Male | Female | Total |
| 2007 | 2,058,871 | 1,978,131 | 4,037,002 |
| 2008 | 2,130,076 | 2,046,544 | 4,176,620 |
| 2009 | 2,203,744 | 2,117,323 | 4,321,067 |
| 2010 | 2,279,960 | 2,190,549 | 4,470,509 |
| 2011 | 2,358,811 | 2,266,309 | 4,625,120 |
| 2012 | 2,440,390 | 2,344,688 | 4,785,078 |
| 2013 | 2,524,790 | 2,425,778 | 4,950,568 |
| 2014 | 2,612,109 | 2,509,673 | 5,121,781 |
| 2015 | 2,702,447 | 2,596,469 | 5,298,916 |
| 2016 | 2,795,910 | 2,686,267 | 5,482,177 |
Credit: NPC estimates
Overview of Akwa Ibom IGR
In eight months, from January to August of 2019, the state's IGR hit a record high of NGN24.8billion, this sum is equivalent to 57.05 per cent of the forecasted IGR for the 2019 fiscal year.
The IGR for 2019 is NGN5.7 billion greater than the N19.04 billion generated from the beginning of the year to the end of September 2018.
Between January 2016 and September 2016, state revenues were NGN11.3billion, while in the same period of 2017, state revenues were NGN10.4billion, thanks to the administration of Mr. Emmanuel Udom.
The administration set up a committee of the state Internal Revenue Service (AKIRS) that vigorously sought tax recovery from businesses that have evaded taxes during the past decade.
An increase in the state's IGR must have been due to the recovery. Beginning on May 29, 2015, substantial changes were made to the state's tax administration.
Some of these changes include the adoption of a 2.5% incentive for all revenue-generating agencies in the state and the ratification of the Akwa Ibom state revenue administration bill 2016 that gives the AKIRS independence to operate.
Before 2015, it was discovered that, many state-based organizations, including government-owned investments, were not remitting relevant taxes, especially PAYE, to the government under the previous administration, and that the government made no effort to investigate alternative taxation strategies, enforce existing tax laws, or recover taxes that had been improperly withheld.
The automation of the tax collecting procedure has also prevented revenue loss due to the evasion of road taxes.
Road taxes brought in between NGN6 million and NGN8 million per month, but after automating the collection process, that number jumped to NGN18 million an interesting figure that has helped to boost the state total IGR.
Following are the economic statistics of the state:
The state total IGR in 2021 was NGN18, 094, 550, 401.76 according to the National Bureau of Statistics which is generated from the following sectors of the state
| | |
| --- | --- |
| Sector | Amount |
| PAYE | NGN13,378, 611, 804.93 |
| Direct Assessment | NGN66,709,227.77 |
| Road Tax | NGN483, 170, 775.00 |
| MDAs | NGN2,559,360,184.22 |
| Other Taxes | NGN1,606,698,409.84 |
Source: NBS
In 2019, Akwa Ibom State's government saw its greatest IGR (internally generated revenue) in over 30 years.
Improvements in taxpayers' willingness to voluntarily comply with their tax obligations have resulted from AKIRS's repositioning thanks to the authority provided to it by the governor.
What is Akwa Ibom's Gross Domestic Product?
The GDP of Akwa Ibom as of 2021 was $11.1 billion USD, making it larger than Rwanda's GDP and far better than the GDPs of some African countries.
Revenue from Ibom Airline to the state government
The actual revenue the Akwa Ibom State government generated from Ibom Air was not made public, but as of December 1, 2020, the Group Manager, Marketing and Communications of the Airline Aniekan Essienette revealed that Ibom Air added more than NGN1 billion to the economy of Akwa Ibom State.
Ibom Air was launched on June 7, 2019 by the Akwa Ibom State government by the administration of Gov. Emmanuel Udom, thereby making Akwa Ibom the first state in Nigeria to own an airline.
The state-owned airline has in its fleet Airbus A220-300 and Bombardier CRJ900 as of 2021.
"We want to be to Akwa Ibom State, what Emirates Airlines is to Dubai and what Ethiopian Airlines is to Ethiopia. I believe we can achieve this with your continued support and those of the good people of Akwa Ibom state," Business Day quoted Aniekan as saying.
Apart from the revenue from Ibom Air that is boosting the economy of Akwa Ibom, the state-owned airline has close to 300 staff, thereby creating job opportunities for qualified Nigerians.
Investment Potential
Potential areas you can invest in as a prospective investor in the state include:
Agriculture
Oil refinery
Aviation
Investment in gas
Tourism Potentials
Though aviation is one of the recently established sectors by the state, there has not been public information and data to ascertain the amount this industry is fetching the state on a monthly or annual basis, but the airline is one of the most used airlines in Nigeria.
Potential investors can partner with the state government and management of Ibom Air to purchase aircraft that can fly both domestically and on the internal flight which will in turn accrue good ROI for any investors looking in this direction.
There are numerous investment opportunities in the Land of Promise ready to be harnessed by investors for job creation and adding to the IGR of the state through taxes.
Plan to diversify Akwa Ibom Economy
The state administration has been trying to diversify the economy by fostering the growth of the mechanized agricultural sector, the aviation industry (establishment of Ibom air), the tourism industry, and the information technology sector.
This is exemplified by the presence of the 5-star Ibom Meridien Hotel and Resort, as well as a world-class golf course, and the Ibom Rice and IT parks programs.
Akwa Ibom has all the makings of a prosperous, independent nation which can be attributed to its natural advantages, forward-thinking government, and pool of hard-working citizens.
These characteristics have worked in concert to make the state an attractive location for a wide range of people and industries.
So, let us take a look at the Economic profile of Akwa Ibom, IGR, economic activities going on in the state and all you need to know.
Reasons Behind Growth of Akwa Ibom Economy
There are several commitments on the part of the state government (2015 to 2023), that have led to the rapid growth of Akwa State economic turnaround. Some of them are discussed below:
Compelling desire
From the beginning, the mission has centred on the compelling desire to transform the state into an enterprise state, by utilizing the State's vast material and qualitative human resource endowments to become an irresistible component across multiple value chains and productive partnerships that account for the inputs, advantages, and peculiarities of the country.
The plan to transform Akwa Ibom into an enterprise state was written down in a document that included practical steps for:
economic growth,
social progress,
environmental sustainability, and
poverty reduction.
A technical committee on FDI to promote, midwives, and enhance the flow of investments into Akwa Ibom, as well as a remodelling committee to generate a social contract.
The resulting paradigm shift led to the re-engineering of governance toward an enterprise orientation model, away from the traditional receipt and distribution approach that encourages wasteful spending and muzzles the strategic mindset necessary for stimulating and managing the efficient administration of resources.
Also, the government used Akwa Ibom's hallmark strengths, which are as diverse as the people who live there, as a starting point to reimagine citizenship and the business environment there.
To achieve this goal, the government opened up potential avenues for value chain creation in the hospitality, creative, logistics, and tourism industries as well as in areas such as public sector job enhancement, private sector orientation, sociopolitical inclusiveness, sustainable infrastructure development, and entrepreneurship.
Creating sustainability
Earlier, people had discussed the terrible consequences of having the State's development and sustainability hinge on a single source of receipts.
To realign his administration, the governor has transformed the State into a corporate empire.
The government explained that this was done primarily to promote foreign direct investment (FDI) in a few carefully chosen sectors because, in the administration's view, if such flexibilities to secure and develop such sectors are not enthroned and monitored, capital and investments may not feel safe, which in turn encourages rent-seeking activity.
Privatization of Government Companies
Upon its formation, the state absorbed several corporations once owned by Cross River State.
Sunshine Batteries, Essien Udim
Peacock Paint, Etinan (Privatised) Quality Ceramic Industries, Itu (Privatised)
Qua Steal Products Limited, Eket Asbestonit Industries, Oron
Plasto – Crown Industries, Uyo
International Biscuits Limited, Ikot Ekpene
Champion Breweries, Uyo (Privatised)
Pamil Industries, Abak
The majority of businesses are struggling and putting a financial burden on the government. The government of Udom's economic objectives call for the reinvigoration and privatization of these businesses.
Aligning with its overarching concept, the government is shifting its attention away from them and toward fostering the growth of private sector projects.
To forward its privatization and industrialization agenda, the State Government of Akwa Ibom has established the Akwa Ibom Investment and Industrial Promotion Council, AKIIPOC.
Many of these industries' strategic partners and primary investors have been attracted through AKIIPOC. The Plasto Crown Industries have been revitalized and are once again manufacturing crown corks for various uses.
When it comes to the revitalization of other businesses, AKIIPOC is in talks with investors from all around the world to start taking up old businesses in the state and to revitalize them and make maximum use of the companies.
All types of preneurs Initiatives
Phrases like "agripreneurs," "youthpreneurs," and "ICTpreneurs" are frequently heard in Akwa Ibom, alluding to the administration's business-minded approach to public sector governance, private-public sector partnership, and economic management.
The Nigerian entertainment industry is worth an estimated $10.5bn, and the government is committed to helping young people develop their entrepreneurial and creative skills so that they may take advantage of this opportunity.
the government indicated that encouraging "ICTpreneurs" and other innovators and creators were a top priority for their administration.
To that end, "their vision is two-fold, consisting of first supporting the generation of ideas and, ultimately, wealth by creating a hub for digital contents that would include production of digital solutions, animations, and new media solutions," and "Also have a focus on attracting investments to nurture talents in the digital industry."
A systematic onboarding process geared toward preparing young people for positions of social and economic leadership is an obvious necessity.
Revenues in these sectors have increased dramatically over the past year, from $23.1 billion to $115 billion, and this upward trend is expected to continue.
The 'agripreneurs program aims to help farmers in the state take advantage of new opportunities presented by strategic partnerships and financial incentives.
To that end, the government are developing a model for integrated agriculture and aquaculture and is also constructing platforms to help farmers expand their operations and market their goods on a national scale.
The wire and wave of knowledge and technology to streamline, simplify, and reduce the cost of governance is a unifying theme throughout the various proposals and plans.
The approach is designed to foster an environment conducive to fundamental innovation, which has the potential to greatly reduce economic inequality.
The kind of creation that takes advantage of people's individuality and the variety of society as a whole through a shared creative process.
Companies in Akwa Ibom
Champion Breweries
International Biscuits Limited located at lkot Ekpene
Conclusion
The economy of Akwa Ibom State is developing rapidly, far more quickly than the national average in Nigeria. In just 4 years, the QoL index has increased by more than 300 per cent.
The government is placing a greater emphasis on the provision of social and economic infrastructures; as a result, the urban and rural areas now complement one another, with the former benefiting from improved access to utilities like water and electricity as well as newer amenities like schools, hospitals, community centres, and marketplaces.
In addition, the state is endowed with numerous undeveloped mineral resources, a possibility that has aided the government's push toward industrialization.
The government is committed to increasing the amount of exploitation of natural resources while also pursuing economic diversification into aviation, tourism, and agriculture in addition to petroleum.
With its revenue from 13% derivation revenue, Ibom Air annual returns, it is hoped that the government's long-term goal will be to create a capital-intensive, rather than a labor-intensive, knowledge-driven economy that can compete successfully on the world stage which with available statistics is pointing to this direction.