Ernst & Young (EY), MTN Nigeria, Sterling Bank, Interswitch Group, and First Bank of Nigeria are the top 5 best companies to work in Nigeria 2023, according to LinkedIn Company Insights.
While Standard Chartered Bank makes the 6th position, NNPC Limited occupies the 7th position and Eko Electricity Distribution, British American Tobacco (BAT), and Ikeja Electric take the 8th, 9th, and 10th positions respectively.
The list which is the second annual LinkedIn top companies Nigeria , the professional networking platform said the list is based on a conducive atmosphere created by companies that enable their employees to expand their careers which set them on long-term professional success.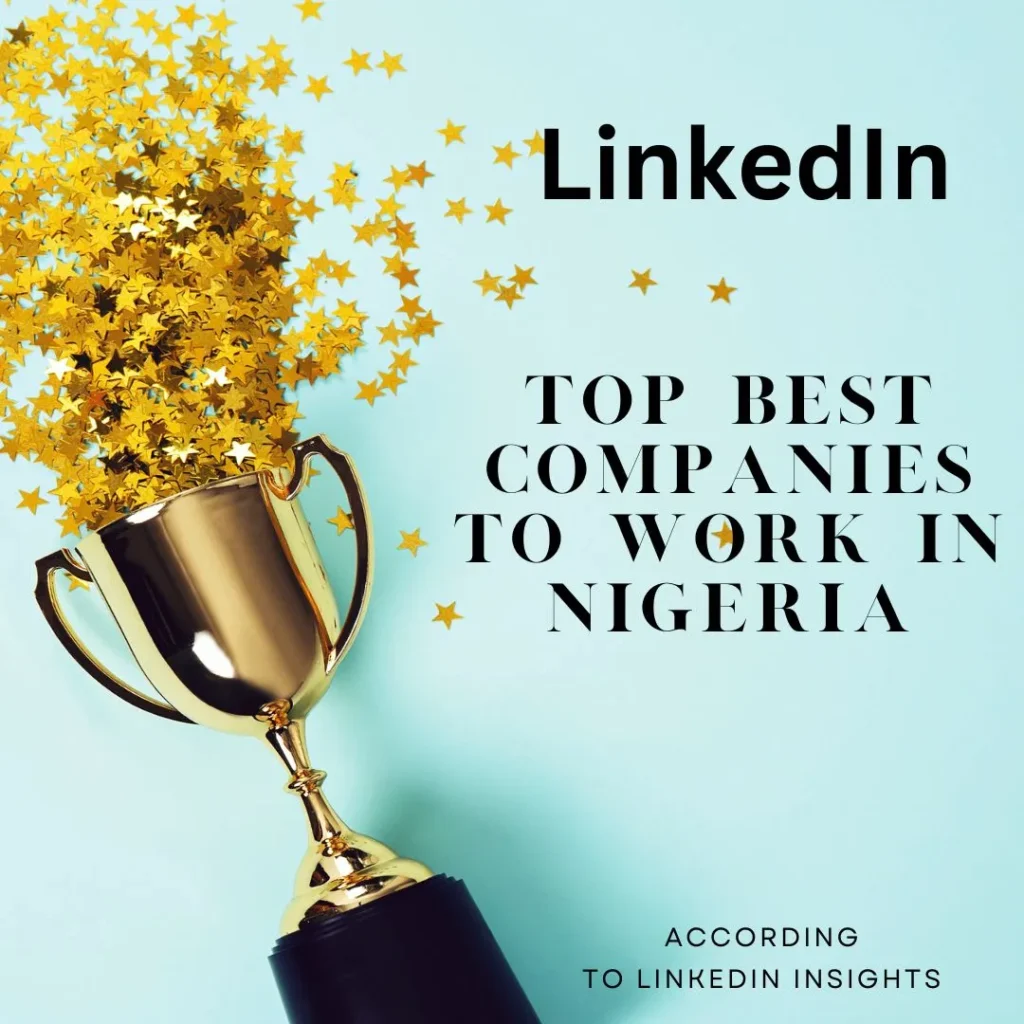 Table of Contents
25 best employers of labor in Nigeria 2023
The top 25 best companies to work in Nigeria in order of LinkedIn ranking performance are:
1) Ernst & Young (EY)
EY is an international company with clients in more than 150 countries.
Service: Audit, tax, advising, and transaction services.
Previous position: Not listed
2) MTN
MTN is a telecommunications company with operations in more than 20 countries in Africa and the Middle East.
Services: mobile and fixed-line phone services, internet and digital services to customers.
Previous rank: 22
Note: MTN Nigeria has notably improved compared to its ranking in the 2022 top companies when it ranked 22 out of 25 companies.
3) Sterling Bank
Sterling Bank is a financial institution that provides a wide range of banking services, consumer and investment banking, trade finance and capital market activities, and wholesale banking services.
Previous rank: 7th position
In the 2023 best companies to work in Nigeria, Sterling Bank outranked its competitors in the banking industry.
Access Bank, GT Bank, Stanbic Bank, Zenith Bank, and Union Bank of Nigeria made the top five in 2020 LinkedIn Insights
4) Interswitch Group
Interswitch Group (parent company of Verve) is an integrated payment and digital commerce platform with a presence in more than 20 African countries.
Services: payment processing, card services, and digital commerce solutions.
2022 rank: 11
5) First Bank of Nigeria
FBN for short is the oldest commercial bank in Nigeria. In the first edition of Linked Top Companies Nigeria 2022, First Bank of Nigeria was ranked ninth.
Services: retail and corporate banking, treasury, and international banking among others.
Previous rank: 9
6) Standard Chartered Bank
With more than 150 years of banking around the world, Standard Chartered Bank's services include corporate and retail banking, wealth management, and investment banking.
Previous rank: 13
7) NNPC Limited
For the first time since the government-owned oil company transformed from a corporation to a limited liability company (July 2022), NNPC Limited made an impressive performance in the indicators used by LinkedIn.
Services: it manages and operates Nigeria's oil and gas resources with a focus on sustainable development.
Previous rank: not listed.
8) Eko Electricity Distribution
EKD is a power distribution company in Lagos.
Service: electricity solutions to individuals and businesses
Previous rank: Not listed.
9) British American Tobacco (BAT)
BAT is a multinational tobacco company that produces and sells cigarettes, tobacco, and other nicotine products.
Previous rank: None
10) Ikeja Electric
Ikeja Electric is an electricity distribution company based in Lagos, Nigeria.
Services: electricity supply to both residential and commercial customers.
2020 ranking: Not listed
11) Nestlé 
Ranked 22 in the first edition, the second edition see Nestlé improves in the indicators to 11th position.
Services: produces and distributes products such as baby food, bottled water, breakfast cereals, coffee, tea, confectionery, dairy products, ice cream and frozen foods.
Others are:
12) ExxonMobil
13) Anheuser-Busch InBev, or AB InBev
14) UBA Group
15) IHS Towers
16) SLB, formerly known as Schlumberger
17) Halliburton
18) Shell
19) TotalEnergies
20) Tropical General Investments (TGI)
21) Konga Group
22) Huawei Technology
23) Wema Bank
24) Deutsche Post DHL Group, DHL short
25) 9mobile
LinkedIn says it ranked the best companies to work in Nigeria based on eight pillars that strengthen employees' professional goals and their ability to gain new employment even when they leave their current job.
The eight ranking factors according to LinkedIn report as seen by infomediang.com are:
ability to advance;
skills growth;
company stability;
external opportunity;
company affinity;
gender diversity;
educational background and
employee presence in Nigeria
Companies that didn't make the list
In case you're wondering why your company didn't make the list, LinkedIn Insights has a few reasons:
Companies that have sacked 10% or more of their workforce between Jan.1, 2022, based on public announcements based on LinkedIn data didn't make the list.
The professional networking platform says Linked parent companies Microsoft and its subsidiaries, staffing and recruiting firms, educational institutions and government agencies were excluded from the list.
Conclusion:
While this list will motivate thousands of job-seekers in Nigeria to embrace job opportunities in the aforementioned best companies to work in Nigeria, we believe that this shouldn't stop job-seekers,
They can expand their careers by exploring their skills by starting their own businesses and rendering services to individuals and companies to earn a living.
For instance, English Language majors, ICT graduates, and Estate Management degree holders can set up their own ventures to make a living without depending on government or corporate jobs.