Gone are the days when you must wait for your favorite movies or shows to air and watch them over cable or satellite television.
Today, many streaming platforms have launched their services to stream video content like movies, shows, events, and many more to entertain viewers.
Transmitting a wide variety of media like video, audio, and other data over the internet from the host to the viewer is called streaming.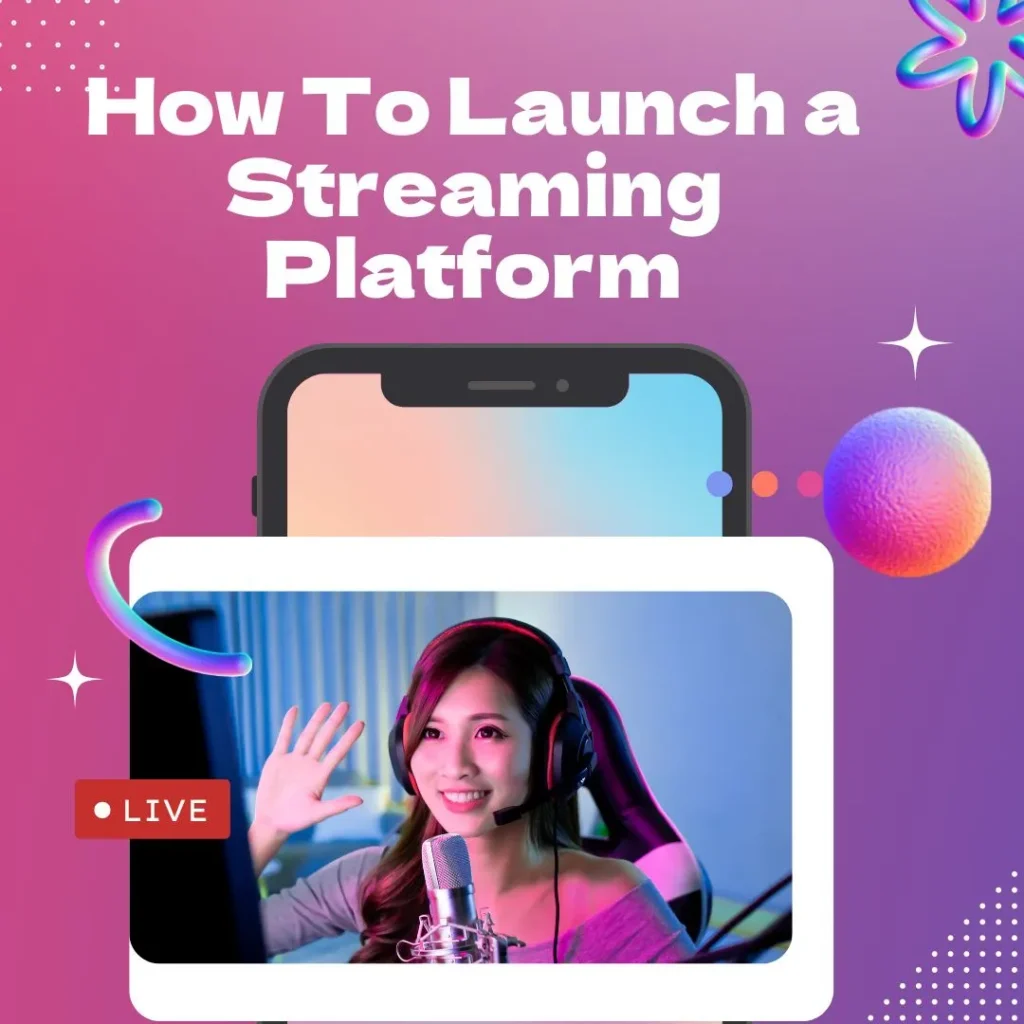 Of all the different types of content, video has taken center stage and sits at the top in new-age content consumption.
Video content in any form, be it movies, shows, short clips, and many others help individuals to kick off boredom by entertaining, engaging, educating, and informing the viewers throughout the day.
All you need is an internet connection and an internet-enabled device to sit back, relax and binge-watch global content.
In this article, let us look at how to launch a streaming platform, but before that, one must understand the fundamental difference between VOD and live streaming platforms, having different purposes.
Types of Streaming
Launching a streaming platform has become all the way easier than before, thanks to the advanced technology that enhanced lives for the better.
Nothing gets as blissful as watching a movie or show together with family. It is not just enjoying a film, but also making many memorable moments.
The two prominent video streaming are live and on-demand. Although both focus on providing customer-centric content, VOD offers a massive library of content accessible on demand, and live streaming distributes content in real time.
1) Video-on-Demand Streaming
Over-the-Top streaming is a lucrative business, and the presence of several platforms in today's market testifies to it.
While this business expects to grow beyond leaps and bounds, starting a streaming player at this point will prove a smart idea.
The number of users from both urban and rural areas will see a multifold rise. Over-the-top platforms build a massive content library and stream it to subscribed customers directly.
Companies like Netflix and Hulu use the SVOD model and offer different services for different subscription plans. Technology partners like YVS, Janya, Viewlift, and many more are some reliable allies in launching your own streaming platform. 
To build a profitable streaming service, it needs –
A fully supportive app
Complete understanding of streaming service functionality
User-friendly interface/design
Relevant technology
Marketing
Monetization
Feedback mechanism
Customer support
Cloud-based streaming platforms like YVS, Janya and others provide end-to-end support to brands in starting OTT platforms and deliver content on multiple platforms, multi-devices, and across regions.
Besides transcoding the entire workflow, it allows clients to take control over configuration. They offer customized services to suit client requirements like encoding, ad integration, content promotion, audience engagement, customer retention, and many more.
From organizing a massive content library to engaging subscribers with content based on preferences and retaining customers, it precisely takes care of all backend work and supports business growth.
One of the biggest advantages of these techno partners is that they enhance adaptive streaming and provide a better user experience.
The user-friendly interface, dynamic design, and automated publishing allow users to will enjoy an enhanced viewing experience.
It provides flexibility to choose from different modes of video on demand and supports monetization of content with greater control over the revenue stream.
It also supports all kinds of integrated payment gateways, unlocks rewards, refer and earn, cross-platform coupons, and more for subscription and retention.
The 24*7 customer support team is ready to clear all queries and keep customer satisfaction at its core.
2) Live Video Streaming
It has become easy today for anyone to host a live video stream where content gets delivered in real-time, meaning viewers will watch media when it is still recording.
The technical configuration is a bit more complex in a typical live production and editing. However, many cloud-based playout platforms like Janya are available today that are not only fast but also cost-effective. Linear channel owners can customize the need and make it effortless. 
Here are some of the important features of the cloud playout –
Highly scalable
Flexible
Pay as use
Advanced graphics
Multi-channel switch
Cloud-based automation platforms like Janya will improve live channel production capabilities for live production, video clipping, editing, publishing, distribution and monetization.
Due to modern streaming technology like cloud playout, one can create multi-stage events and host virtual events.
This technology helps individuals and broadcasters to launch a linear channel for streaming live events with less effort and relatively affordable.
Creators can host live streams like broadcasting a football game, live shopping, newsrooms, and much more. With Janya, it is easy to configure, ingest media, distribute channels to multiple platforms, and manage the output.
Besides being robust and scalable, it is secure and reliable too. Broadcasters can monetize by dynamic ad insertion and increase revenue through personalized advertising. 
Launch your linear channel with an easy, quick, and effective Cloud-based platform. It is no longer a tedious job but has become all the way easier due to advanced technology. Check out platforms like Janya and YVS to get more details.
Author: Praveen Myathari is a Senior Copywriter interested in entertainment, technology and lifestyle. Analyzing in and out of Cloud Playout Automation and Live Video Streaming, he feels he has found his niche. Besides writing engaging content and blogs for several brands, the author is busy scripting his own life.