Last updated on April 20th, 2023 at 05:22 am
Are you a computer engineering graduate willing to build a computer-related career by starting your own business because of the increasing unemployment rate? Then you're in the right place.
With the demand for computer-driven solutions for businesses, you might not need to waste your time in search of a job.
In this post, we cover 20 startup ideas for computer engineering graduates who are ready to put their coding and computer skills into a money-making business.
Table of Contents
What is Computer Engineering About?
Computer Engineering is a broad discipline that incorporates the science and technology of design, construction, implementation, and maintenance of components of computer-controlled equipment.
It's one of the disciplines that afford graduates a wide range of opportunities to explore other fields and not just engineering alone.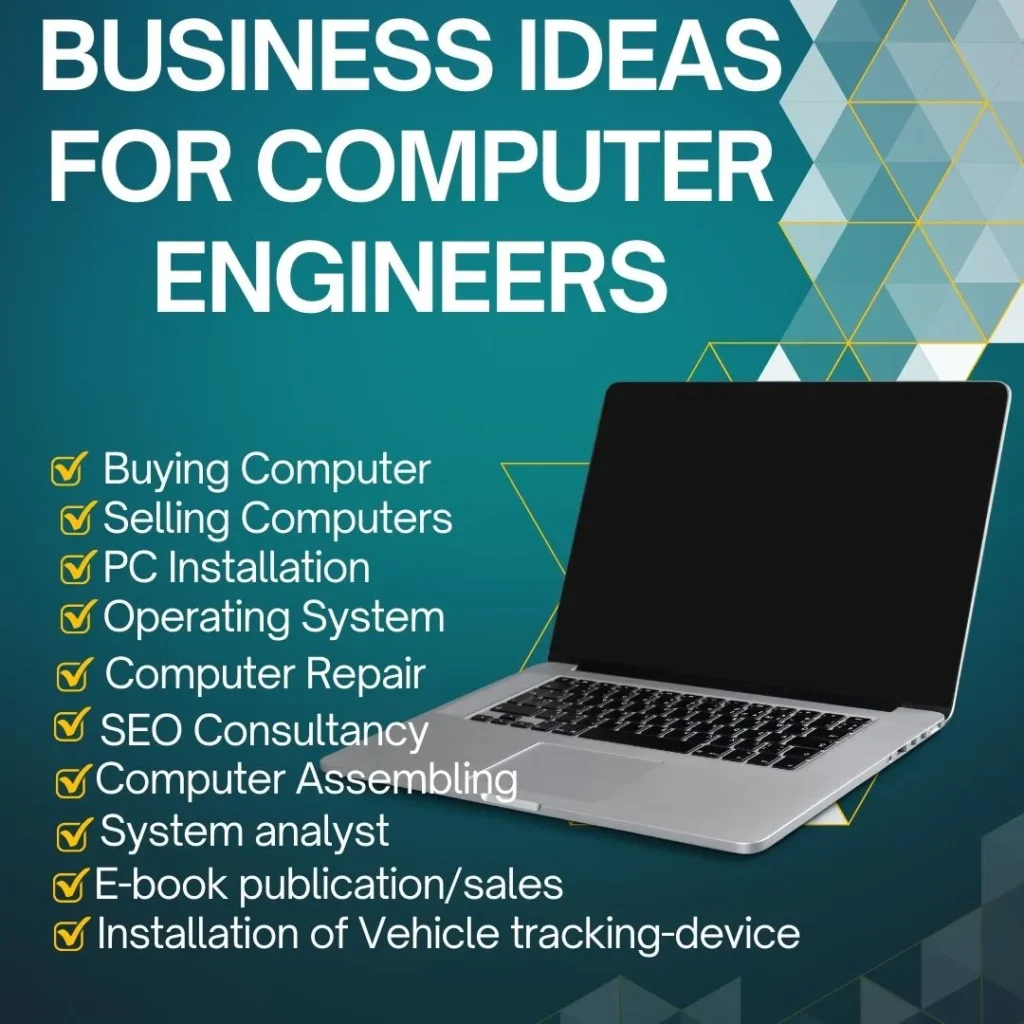 From computer assembly, and computer repair to system analysis, here are the entrepreneurial business ideas for a degree holder in Computer Engineering.
Computer Training Service
Computer skills are one of the most sought-after skills worldwide.
A lot of people need these skills either at beginner's level or advanced and that's where you come in.
Web Development
Just like how ICT graduates who are business-minded can set up web development services, Computer Engineering graduates are not also left out.
You can put your computer skills into play by offering to build websites for clients, especially if you are good at coding and programming.
Your services will be needed by business owners who wish to take their services online by having a business website.
There are a lot of website-building tools online but not everyone can understand them or even devote the time to start them.
So they will always need the service of a good web developer.
Computer Repair Business
More often than not, the computer repairs business comes to mind first when considering small business ideas as a computer engineer.
Targeting large businesses as clients is a lucrative move as they're likely to budget a lot of money for computer repairs and they won't want any computer crash to jeopardize the success of their business.
Phone Repair Service
Android phones have some similarities with computers, so, you can also offer phone repair service for businesses alongside repairing computers.
This means that as a self-employed computer technician, your services will also be in demand.
Start an Ebook Writing Service
One of the growing startup ideas for computer engineering graduates is E-book writing and sales online.
Hundreds of people around the world are interested in learning computers and coding. You can write e-books on several computer topics and make money from them through E-book sales.
If you have a passion for writing, you can also offer your service to write for people and get paid. There are platforms to advertise your service like Fiverr, free e-books.net, and Pressbooks.
Start a computer exports/imports business
This business depends on your region. If you reside in a country that depends largely on the importation of hardware, then starting computer importation will be a nice idea considering your extensive knowledge in computers.
Computer Assembling
One of the profitable business ideas for computer engineering majors is computer assembling.
You can kickstart this startup by liaising with retailers of computer parts (both new and old) so that when they make sales, you deliver and assemble for the customer.
Computer Rental services
If you have computers you are not putting to personal use, you can start a rental service.
There might be people or businesses who need them for short-term use, you can rent them out for a fee.
Start installation of vehicle-tracking device
Companies and business owners, even individuals are protective of their belongings, one such is vehicles. You can start offering a vehicle tracker installation business to reduce car theft.
Internet Café Business
Despite the fact that nearly every youngster now has a phone to browse, some tasks are best executed on a computer or laptop.
Putting this in mind, you can start an internet cafe service. People can walk in to browse the internet either with your computer or with their phones or computers using your WiFi service for a fee.
Software Engineering Service
This is an entrepreneurial idea for computer engineering graduates that want to be business owners.
As a computer engineer, you're a part of the software development process.
You can offer to test systems for bugs, look over programs and come up with solutions to difficult issues in that area.
Provide SEO consultancy service:
This way, you assist companies and business owners to make their products and businesses visible to search engines and to potential clients online.
Provide E-Tutoring Service
Online teaching and learning have come to stay. It has gained more acceptance in recent years.
People who want to acquire knowledge in certain areas but for various reasons which could be proximity or busy time schedules opt for online training due to its flexibility and convenience.
With just your computer and internet, you can comfortably do this business from home.
System Analyst
As a system analyst, you will be engaged with both computer software and hardware. Companies will pay for your service either as a freelancer or full-time.
Start a Tech TV programme
You can decide to start a TV show to talk about computers and tech. You may not be the first to start a program like this but you can make yours unique.
Talk about computers and latest tech gadgets, offer advice to users and give reviews too. If your show is informative enough, you could attract a wide audience and huge sponsorship deals.
Start Up A Data Recovery Service
Not everyone who operates a computer knows its capabilities. Your service in this area will be to recover lost data for users who didn't back up their data and need to recover them.
System Upgrade Service
Some people may not be able to afford a new computer so they do is hire the service of a Computer engineer to upgrade their systems to newer versions.
You may also need to replace hardware, add more memory to the hard drive, or add an additional hard drive.
You can offer this service for a fee. With zero capital, you can launch a system upgrade service by sharing tips on your social media profiles.
Provide IT Consultancy Services
Your wealth of knowledge and experience in computers can benefit someone else.
In providing this service, you will have to deal with various computer and tech issues.
Start an online video editing business
In recent times, demand for online video editors has increased tremendously because short and captivating video goes a long way.
Web Domain Reseller
Anyone who wants to create a website will need to purchase a domain.
You can buy these domains on NameCheap, GoDaddy and other domain registrars and resell them to anyone interested.
Data Wiping Business
With your vast knowledge in the use of computers, you can assist business owners who want to get rid of old computers and wipe off sensitive data on these computers.
Start a Tech Fair
A tech fair is an event that gathers members of the tech community together to meet, interact and share ideas.
You can make money starting up a tech fair through subscription fees.
Affiliate Marketing Blogging
By driving traffic from your blog or website to someone else's to buy a product or subscribe for a service, you get paid a percentage or commission when there is a purchase using your link.
You can also make money as an affiliate marketer without a blog or website.
Tech Support Call Centre Service
You can offer technical assistance over the phone.
Start up your call center where people with tech issues can call in and you provide solutions.
Computer setup business:
You will help businesses to set up their office computers in a more professional way. This way, you will help them to implement LAN.
According to CloudFlare, LAN means Local Area Network which consists of a group of two or more connected computers.
Other business ideas for computer engineers who want to be self-employed are:
26) Begin a 3d printing business
27) Start a computer accessory business
28) Start a virtual assistant service
29) Start a server-building business
30) Setup mobile app development business
Conclusion
There are a lot of small startup ideas for computer engineering graduates, the aforementioned are evergreen, you can start any of them or combine two of them when you are well established.
The era of building a career in computer engineering around government jobs and corporate space is over, you can kickstart your own computer-related business as an undergraduate or after graduation and make money online.