Last updated on August 5th, 2023 at 09:35 pm
The story of Liquorose, one of the housemates of the Big Brother Naija Season 6 is one that caught our attention while going through her beginning and how she turned her passion to a multi-million naira business despite the odds.
In this biography, we will be looking at how one of the founders of Girls Got Bold, a famous dancing group, rose from a humble background to one of the most sought-after dancers in Nigeria and across the Africa continent.
Christened Afije Roseline, Liquorose was one of the eleven ladies who were ushered into the Shine Ya Eye edition of the reality TV show on July 25, a day after 11 guys were unveiled by the organisers of the show. You can check the update at: https://infomediang.com/names-age-20-big-brother-naija-season-6-housemates-2021 for happenings in the house.
So…
Who is Liquorose?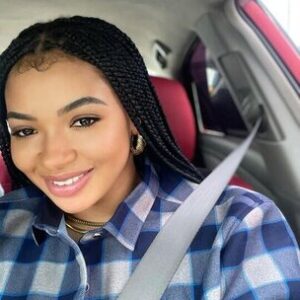 Full name: Afije Roseline Omokhoa
Stage name: Liquorose
Date of birth: March 31, 1995
State of origin: Edo State
Dance group: Girls Got Bold (ggbdancecrew)
Dance group members: Odiley Emmanuella aka Ellaley, Ifeoma Efiokwu aka
e4ma, and Liquorose
Nationality: Nigeria
Area of interest: Dancing, Acting, Creative Directing, Choreography, and a professional Video vixen.
Marital status: Single
Networth: Unknown
Background:
Liquorose was mostly popular among music fans and some people in the showbiz until she joined others to contest for the N90,000,000 total prize of the season 6 edition of BBnaija.
Those who knew her before the show were optimistic that the rest of the housemates had a competition at hand, not just about her personality, but because of her talent.
Born on March 31, 1995, Afije Roseline Omokhoa is from Edo State, South-South Geo-political zone of Nigeria.
Education:
Born and nurtured in the commercial city of Nigeria, Liquorose attended Itire Nursery and Primary School, Lagos, for her elementary education after which she proceeded to Del International College, Ijeshatedo area of Surulere, Lagos.
Since her secondary school days, her passion for dance was unequaled and classic and her connection with the right set of people catapulted her to the lady she is today.
Projects And Collaborations
As a professional dancer, Liquorose, has taken part in tons of popular events and appeared in several music videos with famous Nigerian artistes.
Some of the events include: performing at Headies award, Falz industry night, MTN Project Fame, Skales album lunch, Gidi fest, and MTV Road to MAMA among others.
Apart from that, she was in other multi-million naira TV commercials like MTNPulse TV, and Glo commercial with Psquare, Delta soap commercial, and Fidelity bank dance contest commercial.
She had also performed along with singer Flavour in Glo commercial, took part in the awareness campaign by the All Progressive Congress (APC) about the need for eligible Nigerians to get their permanent voters card, she was one of the stars signed by the ruling government to spread the message.
Her Dance Moves:
With a seemingly muscular body when at the gym, yet her ability to twist and tweak to any form of sound makes her one of the voices that add flavour to music videos in the entertainment industry.
Her classic dance moves in the industry caught the attention of music directors like Clarence Peters, one of the influential music directors.
Over time, her talent made her featured in music videos of notable artistes like Dija, Lil Kesh, Runtown, Lynx, Patoranking, Skiibii, Aramide, CDQ, Iceprince, and Orezi among others.
International Voyage
Apart from featuring in Oritse Femi, Bracket, Selebobo videos, Liquorose has also featured in music video of Tanzanian music sensation Naseeb Abdul Juma Issack popularly known as Diamond Platnumz.
Other foreign singers she has partnered with include another Tanzania singer Vanessa Mdee; Kenya singer, Victoria Kimani; Ghanaian musician, Livingstone Etse Satekla popularly known as Stone boy; and South African-based Nigerian singer Emmy Gee among other African music sensations.
Her Successes In BBNaija Tasks
Roseline is extending her success in the music scene to the BBNaija season 6. Her groups in the house had won more than others.
View this post on Instagram
Guinness Performance Task:
On August 11, 2021, her group which comprised Nini, Tega, Princess (now evicted), Peace, Emmanuel, and Michael won the Guinness Task and each of the group members walked away with N500, 000 cash prize plus six months supply of Guinness products
Supersport Artwork Task
Again, on August 12, Liquorose team during the Supersport Artwork Task, Team Jolli emerged victorious.
Her group members included: Yousef, Emmanuel, Maria, and Arin (now evicted). The group shared N1,500,000 among themselves. Again, the professional dancer added another N300, 000 as bonus to her bank account.
Bet9ja Task:
On August 12, Liquorose, who appeared to have the group winning trick won a trophy and an N100,000 voucher for coming out victorious in the Bet9ja task.
Darling Hair Story task :
Just like Oliver Twist, who always wants more, on August 17, 2021, Liquorose's group, Team Braids, won the task sponsored by Darling Hair.
The team which comprised Michael, Queen, JMK, and Yousef added N750,000 each to their bank account.
Patricia Task:
On Saturday, August 21, her team, Team Grey, won the Patricia Task. The team was rewarded with $5000 worth of Bitcoins to share among themselves
How She Turned Her Passion To Business
We've heard about people who turned what they love doing into a stream of income, of course, Afije Roseline isn't an exception.
In 2012, she had the privilege to fixture in the TV series, "The Johnson", the series later won several awards.
And the TV series was one of the platforms that sold her to the rest of the world. She was a talent-filled personified who would later shake the dad some interesting and entertaining dance moves to music video everyone wants to watch over and over again.
Three years after that explosive performance in The Johnson, the Edo-Lagos girl was given a role in a movie, "The OAP", and by 2016 another one followed as she appeared in "HEX"
Girls Got Bold (GGB Dance Crew) Was Born
She was a shining star and leverage her performances in the movies plus her passion for real energetic dance moves, she moved closer to friends who shared the same goal with her.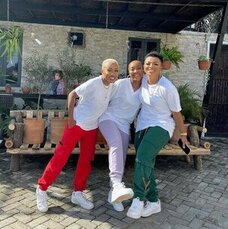 And Girls Got Bold, a dance crew, was birthed along with her two other friends: Ifeoma Efiokwu popularly known by her stage name as e4ma, and Odiley Emmanuella known as Ellaley who she met during an invitation by Clarence Peters during a music shoot.
Since then, her dance crew had won several contracts to starred in music videos in Nigeria and other African countries. Some of them include Timaya, Yemi Alade, and Patoranking among others.
One of her explosive moments was when her group fixture in "Spiritual Healing" music track by 2face.
Relationship:
We can't precisely say what her love life is, but she seems to be showing interest in a fellow housemate, Emmanuel.
The last time Emmanuel survived eviction, she was the first to jump up and gave him an emotional hug, saying:
"You can't come into my life, mess up shit and leave. I will never forgive you, what am I supposed to do?"
On his part, Emmanuel told her to stay focused,
"Stay focused and win the money, you are a born winner."
First Season 6 Housemate to Cross 1M Instagram Followers:
Roseline Afije had 400+ followers when she came into the bbnaija shine ya eye edition on July 25, 2021, less than four weeks, the dance oracle gained more 800,000 followers.
At the time of this report on August 18, Liquorose, the okoto (a Yoruba adjective to describe someone who dances extremely and impressively well) had 1.2 million followers on the photo-sharing social media platform.
She is the first season 6 housemate to achieve the feat.
We're updating this biography…
References:
vanguardngr.com/2021/08/liquorose-becomes-first-bbnaija-s6-housemate-to-hit-1-m-followers-on-instagram
thenationonlineng.net/bbnaija-shine-ya-eye-i-cant-see-emmanuel-get-evicted-liquorose
punchng.com/bbnaija-s6-team-braids-wins-n750000-each-in-darling-task
dailypost.ng/2021/08/18/bbnaija-liquorose-michael-yousef-emmanuel-become-millionaires