Last updated on August 5th, 2023 at 09:12 pm
Since the Central Bank of Nigeria (CBN) announced the launch of a digital currency dubbed "eNaira" which is known as Central Bank Digital Currency (CBDC), Nigerians expressed mixed reactions to the project.
While some Nigerians praised it, some berated the apex bank for coming up with such an idea as having "ban" trading of cryptocurrency in the country in early February 2021.
UPDATE:

eNaira was launched on Monday, October 25, 2021 by President Muhammadu Buhari at the State House after the CBN said it has fully consulted with bankers, stakeholders in the digital world.

The apex bank has changed from enaira.com domain to enaira.gov.ng. And the digital wallet by the CBN is now live on Google playstore, Apple store while the USSD code would also be made available.
Irrespective of what people say, at InfomediaNG Business Solutions, we examined the ways Nigerians can explore it and use it as an additional source of income to boost their existing business, this is in addition to the several ways eNaira will improve business activities in Nigeria as we pointed out in one of our articles.
We'll be sharing with you several ways you can make money from eNaira digital coin by offering services to those who do not have a wallet or whose accounts have been restricted due to send limit.
But before we do that, we login to our GTCO online Banking platform a few minutes ago, and you know what? The option to integrate or connect eNaira to a bank account has been activated.
How Does Nigeria's Digital Coin Work?
In case you just seeing this, Nigeria's digital currency which provides a unique form of money denominated in Naira, will complement what the physical naira does in the market or to perform business transactions
Note

eNaira isn't going to replace the physical naira and it isn't like a cryptocurrency. While, no one regulates cryptos like bitcoin, ethereum, and litecoin among others, eNaira is a liability of Nigeria's apex bank which is going to be monitored and regulated.
This means there will be a limit to the amount you can send per day or per month or in a year. Once you exceed your spend limit you have to wait for another day or month, whichever comes first.
Charges on eNaira Wallet:
| | |
| --- | --- |
| Amount | Charges |
| Below NGN5,000 | NGN10 |
| NGN5,001 to NGN50,000 | NGN25 |
| Above NGN50,000 | NGN50 |
However, the Central Bank of Nigeria (CBN) during the launch says transactions will be free for the first 90-day
Spend Limit on eNaira Wallet and Requirements
Unlike bitcoin or other cryptocurrencies where no one regulates the amount you can send, the CBN says there will be limit to how much you can send.
| | | | |
| --- | --- | --- | --- |
| Category | Requirements | Daily Limits | Cumulative Limits |
| Tier 2 Existing Account Holder | A valid primary ID card Means of address verification e.g utility bills One passport photograph | 500,000 | 5,000,000 |
| Existing Account | BVN Valid means of identification | 200,000 | 500,000 |
| No Existing Bank Account | NIN verified telephone number | 50,000 | 300,000 |
| No Existing Bank Account | NIN verified telephone number | 20,000 | 120,000 |
How To Get eNaira Wallet
To get on board, follow the simple steps below:
Download the app from the app stores
Enter some details about you and other KYC
Choose your username
Choose a secured password
Agree to the T&C
Click setup and you are ready to start using it
How to Send eNaira Coin from Your Bank Account To Another Person
As millions of Nigerians and indeed the entire world are waiting for the Godwin Emefiele-led apex bank to upload eNaira App on Google Playstore (termed "Speed") and Apple Store, Nigerian banks have begun to activate the option to integrate your eNaira wallet to your bank account.
Before you send some digital coins to your colleague, you must have been onboarded on the platform and it's simple.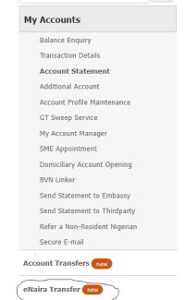 So, head over to your online banking platform or your bank app. For instance, the integration button is already live on the Guaranty Trust World app
On GTCO (formerly known as Guaranty Trust Bank) for instance, on login click eNaira transfers
Select account type 1) Individual or 2) Merchant
Choose who you're transferring to: to yourself or third party?
Enter the amount you want to transfer
Enter your eNaira username and password
You may enter remark, but this is optional
Enter your token
Click summit
That's all the third will receive the amount you transferred immediately
Note:

You can fund your bank account through your eNaira wallet. You can also make transfer from your bank account to your eNaira
What is eNaira USSD Code?
We gathered that the CBN is working on USSD code for those who do have a browsing phone or who can't download app on their phone
The code will be made available when the apex bank makes the announcement. We're optimistic that the USSD code will be available when the app is live on app store simultaneously
How To Make Money from eNaira
There is no gainsaying the fact that the CBN's digital coin is going to compete with the Point of Sale or POS as we move into the use of the CBDC
Below are some of the services you can provide on your eNaira wallet and make a profit as you would as POS agent
1) For someone who has the digital coin but needs physical cash, he can make transfer to your wallet while you give him the cash, you can either take your charges from the transfer or collect cash.
2) If a parent who wants to send digital cash to his child in school approaches you, you can help him/her send the digital naira cash while you get physical cash plus your charges
3) Today, Nigerians prefer to watch PayTv than the conventional DVD, as such you can help people in your community pay bills like GOTV, DSTV, PHCN among others through your wallet while you charge them for this service
4) Help users resolve technical issues and get paid as well. Although it's digital currency that is backed by a ledger, some issues might arise, when such happens, you're advised to contact your bank.
But in a situation whereby your bank isn't responsive, you can send a complaint to CBN Digital Wallet unit at helpdesk@enaira.com
Of course, some people do not have an email account, you can help complainant set up email and send complaints via their email account, you can charge them for this service or do it FREE depending on how convenient it is for you.
5) If you're firstmonie agent or you're already performing banking services, you can guide your customer on how to upgrade their bank account in order to receive or send more on their wallet
What Is The Exchange Rate of eNaira
The introduction of the CBN digital naira isn't meant to bring the USD/NGN to N1, but on a long term it may have some positive effect on the value of naira, if the CBN put in place other measures.
In one of our articles, we pointed out some of the faulty things about digital naira, yet it comes with some benefits. According to CBN, "will circulate alongside cash. The eNaira will complement cash as a less costly, more efficient, generally accepted, safe, and trusted means of payment."
So, eNaira will have the same value as the physical naira. As such, 1,000 eNaira coin is NGN1,000, no difference in value unlike what we have in the foreign exchange market where the US dollar is more valuable than the Naira.
List of 33 Banks That Have Joined The CBN's Digital Coin Platform
You can sign up by linking any of the below 33 banks to create a wallet
FSDH Group
Globus Bank
Greenwich bank
GTCO
Heritage Bank
Jaiz Bank
Keystone bank
Lotus bank
Nova Merchant bank Limited
Parallex bank
Polaris bank
Providus bank
FCMB
Taj bank
Titantrust bank
UBA
Sterling bank
SunTrust bank
Access bank plc
Citibank
Coronation Bank
Eco bank
FBNQuest
Fidelity
First bank
CBN
Union bank of Nigeria
Unity bank
Wema bank plc
Zenith bank
Rand merchant bank
Stanbic IBTC
Standard Chartered
Take Away:
As controversial the CBN's digital coin is, it will open the market for hundreds of Nigerians to make money from the project.
Someone who help fellow Nigerians to convert their digital currency to cash can make money from it
It is also a source of revenue for someone who helps others to convert physical naira to eNaira.
Above all, Nigeria's digital coin is going to redefine mobile banking. It's going to be the true definition of a cashless policy.
If you have more question on how to tap into the wide range of opportunities the digital currency of the CBN have, don't hesitate to reach us. Let's give you ideas on how to make some legitimate monies through the services you provide in your community.