Last updated on August 5th, 2023 at 10:14 pm
On July 14, 2021, history was made as a re-branded Guaranty Trust Bank which is now known as Guaranty Trust Holding Company Plc' (GTCo) officially announced Mrs. Miriam Chidiebele Olusanya as its  Managing Director.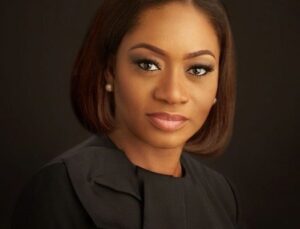 He succeeded Mr. Segun Agbaje, who is now the Group Chief Executive Officer of GTCO. Mrs Olusanya emerged after months of who should step into the shoes of Agbaje, who had been paddling GTB canoe since April 2011.
Mrs Olusanya's promotion at at GTBank isn't by accident. Her two-year experience at GlaxoSmithKline (GSK) formerly known as SmithKline Beecham Nigeria played a major role.
What Makes Mrs Olusanya's Appointment Significant
Insiders say the brilliant Miriam Olusanya was not the only potential candidate for the job. Ademola Odeyemi was one of the possible candidates before some powerful stakeholders pushed for her. If she's qualified for the job, why not?
Her appointment came a few months after a woman, Mrs Nneka Onyeali-Ikpe, was appointed as the Managing Director and Chief Executive Director of Fidelity Bank.
What makes her appointment significant is the fact that she is the first woman to be appointed as MD of GTBank.
Not only that, Mrs Olusanya also becomes the first woman to be appointed as the MD of the Guaranty Trust Holding Company Plc (GTCO)
In a notice seen by InfomediaNG, singed and sent to the Nigerian Exchange Group Limited (NGX by the secretary of the financial institution, Erhi Obebeduo, Miriam Olusanya's appointment takes immediate effect.
How she rose from Graduate Trainee To Become MD
The new MD of GTCO joined GTB as a Graduate Trainee in 1998 before she was moved to the bank's treasury group in 1999.
She didn't get promotions at GTBank by accident. Her two-year experience at GlaxoSmithKline (GSK) formerly known as SmithKline Beecham Nigeria played a major role.
At the treasury group, she was responsible for the management of local and foreign currency trading desks.
By 2003, Miriam Olusanya became GTB's Chief Dealer and within a year she rose to become Treasurer (2004).
She had barely spent two years as a treasurer when she was appointed to lead a powerful team in 2006. Miriam Olusanya-led team succeeded in securing the appointment of the GTB as a Primary Dealer/ Market Maker in Federal Government of Nigeria (FGN) Bonds with the Debt Management Office (DMO).
Like Oliver Twist is always asking for more, the management of GTBank supported her with all the resources again to lead another team. Again, the bank was 'commissioned by the Central Bank of Nigeria (CBN) to be the Money Market Dealer in Nigerian Treasury Bills.
Mrs. Olusanya would later become the Head of Corporate Finance and later head of Investors Relations.
Her years of success in her former roles led to her appointment by the GTB as Executive Director in 2018, the position she held until July 14, 2021, when she was appointed as GTCO First Female Managing Director.
Her over two decades of banking experience isn't a joke.
Educational Profile:
In 1995, Mrs. Olusanya graduated at the premier University, UI, where she bagged a Bachelor of Pharmaceutical Science.
From the University of Ibadan, Oyo State, she proceeded to the University of Liverpool where she bagged a Masters of Business Administration from the University of Liverpool, the United Kingdom in 2011, specializing in Finance and Accounting) .
Professional Courses:
1) The new GTCO boss has a professional certificate of the ACI (Association Cambiste Internationale)
2) Dealing certification
3) The Financial Markets Association.
4) She also attended various courses and Executive programmes at institutions such as the Cranfield School of Management, Bedford, Bedfordshire, with a focus in General Management between 2011 to 2012.
Is Miriam Olusanya Married?
She's married to Olusanya Abiodun, a US-based investor. But it was alleged that she was served a divorce paper in May in the United States of America, brandnewsday reported.
Announcement of her appointment can be found at: https://doclib.ngxgroup.com/Financial_NewsDocs/33688_GUARANTY_TRUST_BANK_PLC%20POSITIONED_FOR_GROWTH_GUARANT.pdf
At InfomediaNG, we wish Mrs. Miriam Olusanya the best as she pilot the affairs of GTCO in the years ahead.