Last updated on January 19th, 2022 at 12:26 pm
Without a doubt, Orji Uzor Kalu is one of the proficient and influential politicians in Nigeria today. More than that, he is also a successful businessman serving as the CEO and chairman of SLOK Holding, the Daily Sun, and New Telegraph newspapers in Nigeria.
Also, concerning his political pursuit, he is the current senator representing Abia North. Kalu is an interesting personality among which we will be discussing How Orji Kalu Became a Billionaire Before 30, and Why Orji Kalu Was Expelled From UNIMAID, But Later Became Billionaire among others.
Profile of Orji Uzor Kalu
Nationality: Nigerian
Home State: Abia State
Home town: Igbere
Birth Date:21 April 1960
Religion: Christian
Marital Status: Married since December 1989
Spouse: Mrs Ifeoma Ada Menakaya
Children:4
Career: Businessman, Politician
Education: Christ the King School Aba and Government College Umuahia (Abia State), Barewa College, Zaria (Kaduna State), and the University of Maiduguri (Borno State)
Net Worth:$3.2 Billion (as of 2021)
Most people, especially the young ones are not familiar with the history behind the rising and making of Uzor Kalu. He is a native of Igbere Bende LGA in Abia State been born to Mr Johnson Uzor Nesiegbe Kalu and Mrs Eunice Kalu, a middle-class family.
Uzor was raised like every other child of his parents as he was home trained and disciplined to live a moral life befitting society. Interestingly, Kalu attended several schools starting from the popular Christ the King School in Aba.
He later attended Government College Umuahia, an independent secondary school for boys. However, he attended Barewa College Zaria, Kaduna State in the northern region of Nigeria to complete his high school education.
Having completed his secondary education and all requirements met, he was enrolled at the University of Maiduguri (Borno State) where he studied political science.
Furthermore, Kalu obtained another degree from Abia State University, and an honorary doctorate from the universities of Maiduguri and Abia State, with an incredible Certificate in Business Administration from the prestigious Harvard University.
Expulsion from From UNIMAID, But Later Became Billionaire
Before we go further, we quickly want to discuss a major issue that occurs during Kalu's undergraduate days at the University of Maiduguri. Kalu rose to become a well-known student who later became a student activist on the campus fighting for the right and welfare of students. I believe this must have sparked his interest in politics.
Notably, Kalu participated and was instrumental in the "Ali Must Go" riots against Col. Ahmadu Ali, the then Minister of Education in 1978 during the regime of Gen. Olusegun Obasanjo. Ali would later become the National Chairman of Peoples' Democratic Party (PDP) from 2005 to 2007.
The riot was due to an increment in tuition fees which did not go down well with the students as at that time. His involvement in this activity eventually led to his suspension from UNIMAID.
Kalu left school upon his suspension to build his business empire and he has since then grown to become a formidable businessman and influential personality in Nigerian politics, and also an employer of labour with thousands of Nigerians working across his businesses.
After Kalu left the university to concentrate on business ventures which he started by trading palm oil. This he achieved by buying palm oil from eastern Nigeria, transporting them to Northern Nigeria to sell and then selling it in northern Nigeria.
Did I mention to you how he got the capital to start his business…? No, I didn't. So, Kalu was able to raise the capital to start his palm oil business by lending $35 from his mother. Interestingly, He was 19-years old when he was expelled and began his business pursuit.
I am impressed that he did not give up on his dream to be great. With that being said, you are now acquainted with how he raised finance to begin his business empire. Soon afterwards, the business Mongol began buying and reselling furniture on a large scale to further expand his business horizon.
With this new business venture, Kalu attained the title of a millionaire at the age of 20. He did not stop there, with hard work and positive planning, Kalu was able to enlarge his business which led to the establishment of SLOK Holding, a conglomerate that consists of arrays of successful companies, among which are but not limited to Ojialex Furniture Company, SLOK Nigeria Limited, Adamawa Publishers Limited, SLOK Vegetable Oil, Aba, SLOK Paper Factory, Aba, Supreme Oil Limited, SLOK Airlines, Sun Publishing Limited, First International Bank Limited, and host of other international businesses under SLOK Holdings.
However, it is believed that Kalu's business breakthrough came around in the early 80s when he was contracted by the Nigerian military government to import and supply arms and ammunition to Nigeria's military and defence forces.
In addition to Kalu's business empire, he also dived into the media world where he currently serves as the chairman of the Daily Sun newspaper, one of the most trusted and read newspapers in Nigeria. Not forgetting that he serves as the chairman of the New Telegraph.
How Babangida Identified Orji Kalu at 26 and Honoured Him with National Honour
With such a big fit, Kalu's enthusiasm and hard work were recognized by the then Nigerian president, Ibrahim Babangida who presented Kalu with the National Merit Award making him the youngest Nigerian to receive such a befitting and prestigious recognition at the age of 26 in 1986.
As an Activist at UNIMAID
It is said that once a soldier, ever a soldier. The saying is true concerning Kalu who was heavily involved in the "Ali must go" movement that led to his expulsion from the University of Maiduguri, years later became the pioneer of the "Njiko Igbo Movement".
The movement was created to help the easterners (Igbos) secure the presidential seat. The move was brought about with the viewpoint that an Igbo citizen has only occupied the position of the presidency for six months since Nigeria's independence.
Kalu was not alone on this as he was supported by other prominent Igbo personalities including the former Nigerian Senator Emmanuel Onwe, a human rights advocate and lawyer earlier based in the United Kingdom.
Kalu as a Politician
We have discussed Kalu the businessman, it is time to shine the light on his political career. The Nigerian politician was elected twice as the governor of Abia state. He was first elected in 1999, and then reelected as governor in 2003, both terms under the platform of the Peoples Democratic Party (PDP).
However, before being veered to become governor, Kalu served as the chairman of the Borno Water Board and the chairman of the Cooperative and Commerce Bank Limited.
Interestingly, Kalu left the PDP to establish a new political party PPA (Progressive Peoples Alliance) under which he contested for the seat of presidency in the 2007 election which he eventually failed.
He defected from PPA back to PDP and vice versa until 2016 when he eventually joined 2016 was the year, he joined APC (All Progressive Congress) under which he contested and won the Abia State Senatorial Election in 2019.
Kalu Declares 2023 Presidential Ambition
On Tuesday, 11, 2022, throwing behind him the corruption allegation case hanging on his neck, the former Abia State Governor and Chief Whip of the Senate, made his intention known to his fans that he will be contesting for the 2023 presidential election.
What this means is he joined the list of presidential aspirants under the ruling All Progressive Congress (APC).
What does this mean?
Considering the fact that another powerful politician from the South Bola Ahmed Tinubu had earlier made his intention known, Kalu will be contesting the APC ticket with former Lagos State Governor, if the party zones it to the South.
Kalu said he's the most qualified and most prepared candidate to replace occupy the number seat by May 29, 2023, when the terms of Muhammadu Buhari comes to an end.
He said: "I'm the most prepared Presidential candidate in Nigeria. I'm capable healthwise, I'm capable as a person, I'm capable in my pocket. I'm capable to face anybody. But the party is supreme. I only wait for APC as a party."
It is the turn of the South East, he said, stating that:
"Obasanjo has been President for eight years. Osinbajo is doing eight years as Vice President. And no Igbo man since independence has been a democratically elected President. So it is always good to think of what is reasonable and what will be more sellable.
He said he believed he can lead Nigeria to an economic miracle, "I'm not against Tinubu. If it's zoned to his area and the party said he should go. Well, the party is supreme. I'm only waiting for the party."
He also said his hands were clean of the corruption allegation levelled against him by Nigeria's anti-graft agency (EFCC).
On how he became a billionaire, Kalu said was involved in supplies of military equipment to the Nigerian Army and food to soldiers at the battlefronts during the military regime.
He told hosts on Arise TV morning show that
"When I went to Maiduguri I found out that palm oil is very lucrative in Maiduguri, they don't have it. So whenever I am back in the house for the holiday, I will buy palm oil and go back. When I go back on another holiday, I will buy dried fish and sell (them).

"I was one of the largest importers of rice and sugar. For me, making money is an art, then I started building industries in Aba and Ota."
Kalu's Family
Kalu is a well-known man however, he manages to keep his personal life away from the limelight except for the things which he wants to be made known to the public. As of this time, Kalu remains a married man to his wife of over 3 decades. This beautiful union has produced 4 children which are:
Neya Lawrence Iyere
Michael Uzor Kalu
Olivia Uzor Kalu
Nicole Uzor Kalu.
The Conviction Orji Uzor Kalu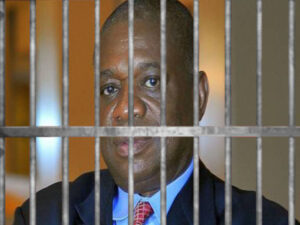 With glory comes several challenges and Kalu is not without his share of problems. For starters, in 2007, he was charged and arrested by the Economic and Financial Crimes Commission (EFFC) for corrupt practices during his time as governor of Abia state.
After several summonses by the anti-graft agency, the famous politician was convicted by the Lagos Division of the Federal High Court in 2019 and was sentenced to 12 years in prison fraudulent act worth N7.65 billion. He was held at the Ikoyi prisons, Lagos, Nigeria's commercial city.
However, in 2020, Kalu was released from the custody of the Nigerian Correctional Service Kuje. That was after the Supreme Court of Nigeria ruled that Senator Kalu's trial was wrongly conducted and thereby released from prison while ordering a retrial.
Kalu's Honours
With hard work comes honour and accolade. This can be said of this successful businessman and politician who has over the years consistently build his net worth into billions of dollars.
Kalu's honours aside from the National merit Award include but are not limited to the following:
Award from the Nigerian Chamber of Commerce as the  Industrialist of the Year.
Humanitarian Award of the University of Nigeria, Nsukka's Humanitarian Club
Volunteer Award of the International Association of Volunteers
The EU Special Award in Brussels, and
The World Bank Leon Sullivan Award.
Final Words
Orji Uzo Kalu whose net worth was $2.3 billion in 2019, $2.8Billion by 2020, and by 2021, the business mogul's wealth had risen to $3.2 Billion.
He is a man of emulation especially dusting himself up and making the most of his life after his expulsion from the University. He became a millionaire shortly after that having ventured into business.
Today, he has risen to the rank of the notable politician in Nigeria having held notable positions of the state governor and currently an incumbent senator.
This is an incredible story of an expelled undergraduate who become a billionaire through hard work, diligence, and consistency.
Sources:
Featured Image by sunnewsonline.com
Forbes (November 18, 2015). "2015 Africa's 50 Richest Net Worth

". forbes.com. Retrieved January 10, 2022

Kabir, Adejumo (December 5, 2019). "ANALYSIS: Orji Kalu: From Governor to Senator to Prisoner

". premiumtimesng.com. Retrieved January 11, 2022