Last updated on August 5th, 2023 at 09:30 pm
One of the most controversial cabinet members in the second term of the administration of President Muhammadu Buhari was Sabo Nanono, a former banker who was the Minister of the Federal Ministry of Agriculture and Rural Development until his sack on September 1, 2021
Unlike his predecessor who was always in the news by ditching out statistics and how Nigeria was making progress in the Agriculture Ministry, one of the backbones of Nigeria's economy, the Kano-born farmer and a politician was none of but he was known for making inflammable statements.
Table of Contents
The last straw that broke the camel's back was when he controversially dipped his hands into the ministry's allocation and to build a mosque for herders.
Who Sabo Nanono?
Full Name: Muhammad Sabo Nanono
Date of birth: April 11, 1946
State of origin: Kano
Party: All Progressive Congress (APC)
Date of appointment: July 3, 2019
Date of sack: September 1, 2021
Marital status: Married with many children
Born in Gabasawa Local government area of Kano State on April 11, 1946, the former university lecturer had an inspiring career before joining politics to work for the All Progressive Congress (APC), a task that earned him a federal portfolio.
Education:
Nanono attended Zakirai and Gwarzo primary schools for his elementary education in the most populated Northern state, Kano.
In 1972, he bagged in a degree in Business Administration at the prestigious Ahmadu Bello University, Zaria, Kaduna State at the age of 26. He achieved this feat after passing out in flying colours at Birnin Kudu Secondary School and Government College Kano.
At 31 years old, Nanono proceeded to the University of Wisconsin, Madison, the United States of America where he bagged a Master's Degree in Public Policy and Administration in 1977.
Professional Courses:
Like Oliver Twist who always asks for more, the farmer attended numerous professional courses which included Advanced Management Course at Harvard Business School, Boston Massachusetts In 1994. He was 48 years old at the time.
Apart from other foreign workshops and conferences he participated in, Sabo Nanono is also a fellow of the Institute of Management Consultants of Nigeria.
Career As A Banker
His first job was working as a clerk at the Kano branch of the Central Bank of Nigeria (CBN) while he first got his first professional job as a graduate in 1972 as the planning officer in Kano State Government.
From 1973 to 1978, he was a university lecturer until July 1978 when he moved to New Nigeria Development Company as a Senior Investment Executive.
Managerial Roles
At the Kano State Investment and Properties Limited, Mr Nanono rose to the post of Managing Director and Chief Executive, having worked with the company from 1980 to 1983.
As a banker at African International Bank Limited, he rose to become the Managing Director and Chief Executive of the now-defunct bank.
Appointment By Buhari
Sabo Nano was among the 43 cabinet members appointed by President Muhammadu Buhari on July 3, 2019.
He took over the management of the Ministry of Agriculture and Rural Development from Audu Ogbeh (who was in charge between 2015 till 2019).
Controversies:
Little was heard about the minister in other parts of Nigeria, but some of his controversies brought him into the limelight than the policies he implemented in the ministry he oversaw.
1) Nigerian Can Feed on N30 Per Day
During an interview, it was reported that the 75-year-old-man ridiculously said that N30 was enough for an average Nigerian to feed on.
He was reacting to the economic hardship during a radio interview and claimed that N30 meal can sustain a Nigerian.
2) Marrying an 18-Year-Old SSCE Holder In Secret Wedding
On April 8, 2021, an online news platform Daily Nigerian, Northern's one of the most investigative and authoritative online news platforms, revealed that Nanono secretly married an 18-year-old lady who just completed her secondary school education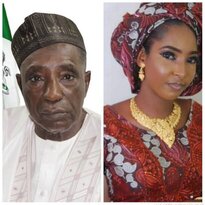 It was revealed that the 74-year-old man tied the knot with Rakiya, the bribe at a private wedding on Saturday, April 3, in Jere Town, Kaduna State.
While the ex-minister wanted the wedding to be kept secret, it was reported that he "warned them against disclosing the details of the marriage to people," the online news platform quoted a source as saying.
3) Spent N30,000,000 To Construct a Mosque
the ministry he headed took one of the most controversial decisions by allocating millions of naira for the construction of a worship place for some displaced herders in the far North, a region largely populated by Muslims.
While the decision to use part of the allocation of the Federal Ministry of Agriculture and Rural Development generated so much condemnation, his assistants in the ministry came out on May 20, 2021, to defend their master.
Nigerians only got to know the highly secretive project through a leaked memo, which the ministry barefacedly defended, saying it built the mosque for livestock farmers.
4) His Interference In AFAN's Internal Affairs
While he had more than enough on his table as a minister, he allegedly used his power to impose leadership on the All Farmers Association of Nigeria (AFAN).
At of his time of sacking, the association still have a pending case in court as there are two factional leaders, one loyal to the sacked minister, the other was relying on court for justice.
Why Buhari Sacked Nanono
Barely five months after the leaked memo which was seen as a slap on the APC administration even at a time the ruling government was running from pillar to post in a bid to borrow money, President Buhari came with a sledge.
He announced the sacking of Sabo Nanono as a minister. Although he wasn't alone, his removal outshone the second victim of the sacking, Power Minister Saleh Mamman.
Buhari described his contribution to the manifestos of the ruling party as "weak"
"Today, effectively marks their last participation in the Federal Executive Council deliberations and I wish them the best in all future endeavours," special adviser on Media and Publicity, Femi Adesina, said on behalf of his boss.
Mohammed Sabo Nanono's sacking came a day he disclosed that shutting of Nigeria's border increased the local production of rice.
His Achievements
1) He was one of the major backers of the National Fertilizer Quality Control Act 2019
2) He advocated for the diversion of Nigeria from oil to agribusiness.
3) His ministry ensure adequate procurement of fertilizer, seeds and some farm implement for a number of farmers to mitigate across Nigeria
4) He introduced and oversaw policies on local production of seedlings for agric produce
5) We wish the 75-year-old farmer, teacher, administrator, banker, and politician, the best.