Last updated on December 9th, 2022 at 07:35 am
The United States is the largest producer of crude oil accounting for 14.5% of world crude oil production in 2021, according to the U.S Energy Information Administration (EIA).
From 1950 to 2022, U.S. crude oil production averaged 7643.54 barrels per day per thousand barrels, with a peak of 12860.00 in November 2019 and a trough of 3974.00 in September 2008.
As of 2016, the United States ranked eleventh globally in terms of proven oil reserves with 35,230,000,000 barrels. This amounts to around 2.1% of the world's total oil reserves of 1,650,585,140,000 barrels.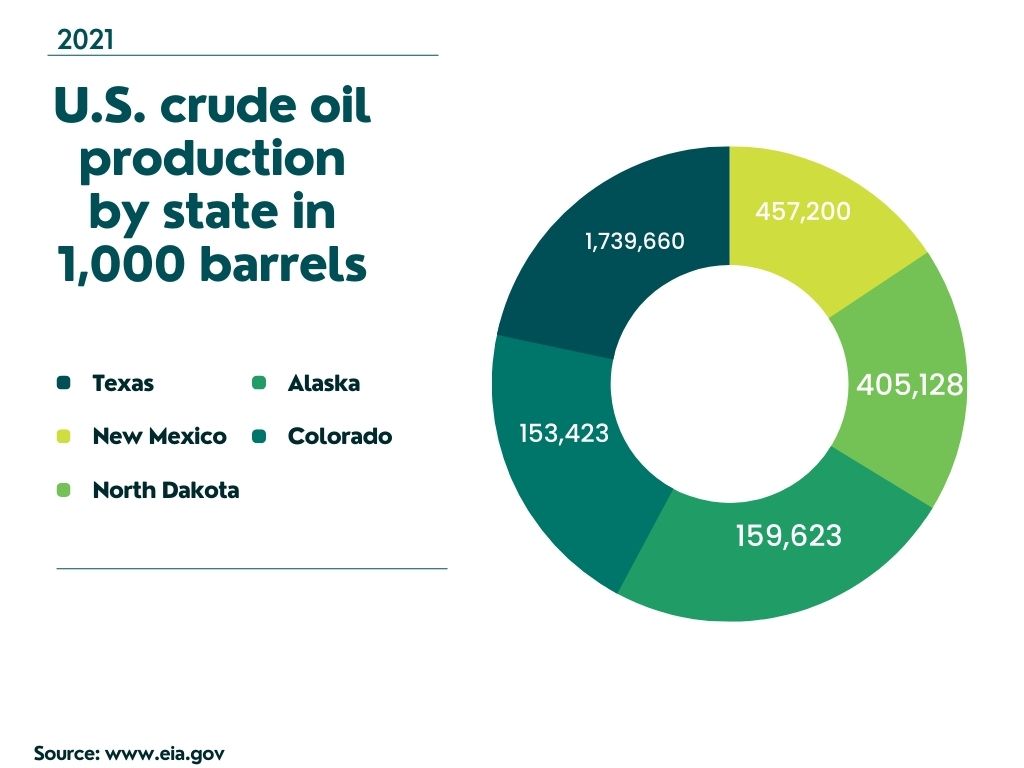 Out of the 50 states that made up the US, there about 32 of them refined crude oil, it's remarkable that only five of these states accounted for 71% of total U.S. oil production. Additionally, 14.6% originated from the federally administered Gulf of Mexico.
Overview Of The Oil Production in the US
Since the oil discovery in the Oil Creek area of Titusville, Pennsylvania in 1859, petroleum has been a major industry in the United States.
Natural gas and petroleum product manufacturing, distribution, and retailing are all part of the oil and gas sector.
The United States surpassed Russia and Saudi Arabia as the world's top crude oil producers in 2018. American oil production accounted for 15% of global crude oil production in 2018.
The offshore federal zone in the Gulf of Mexico produced the second-most oil in the US in 2019, at 1.90 million barrels (302,000 m3) per day, followed by North Dakota and New Mexico.
Texas produced the most oil in 2019 at 5.07 million barrels (806,000 m3) per day.
Texas accounted for 43.0% of total U.S. oil production in 2020, followed by 10.4% in North Dakota, 9.2% in New Mexico, 4.1% in Oklahoma, and 4.0% in Colorado.
The US produced a record 4.47 billion barrels of crude oil in 2019 (about 12.25 million barrels per day), at a wellhead price of US$55 per barrel.
In 2019, American oil production was 2.5 times more than in 2008. (when it reached its lowest level since 1946).
From 2011 through 2014, natural gas output in the US set a new annual record. Natural gas production for sale on the market in 2014 was 74.7 billion cubic feet per day, up from 51.9 billion cubic feet per day in 2005.
Natural gas liquids output surged by 70% from 2005 levels to 2014 levels, going from 1.74 million to 2.96 million barrels per day. It was estimated that 79.4 billion cubic feet of natural gas were generated daily in April of 2015.
Over half (63.5%) of America's energy needs were met by petroleum and natural gas in 2014. (oil provided 35 per cent and gas 28 per cent).
In 2008, Americans went through 19.5 million barrels (3,100,000 m3) of petroleum products every day, with gasoline accounting for 46%, diesel and heating oil for 20%, and liquefied petroleum gas accounting for 10%.
The US consumed roughly 18.19 million barrels per day in 2020, the lowest yearly consumption rate since 1995.
This decline can be credited in large part to the international community's swift action in the face of the COVID-19 epidemic.
In 2020, 35% and 34% of the US' energy consumption was derived from petroleum and natural gas, respectively.
What are the largest producer of crude oil in the United States?
As of 2021, the United States is number one on the list of top five crude oil producers in the world: USA (14.5%); Russia (13.1%); Saudi Arabia (12.1%); Canada (5.8%), and Iraq (5.3%), according to EIA data.
So, which states in the US contribute immensely to oil production in the states?
Texas
Year of crude oil discovery: 1543
Production in 2021: 1.7 million barrels
Production percentage: Produces 42.4% of US' crude oil production
In July of 1543, Spanish explorer Luis de Moscoso of the DeSoto expedition spotted oil in the water near Port Arthur in Galveston Bay, between High Island and the Sabine Pass.
It took another three hundred years for Texas to make its first commercially significant oil discovery.
While the discovery of oil in the Corsicana oilfield was pivotal in integrating Texas into the national oil industry, the oil found in the Spindletop well south of Beaumont had a far greater impact on the state's oil production.
By comparison, the Corsicana field only produced 839,000 barrels of oil by the end of 1900, whereas Spindletop brought in nearly 17 million barrels.
In the first year following its discovery, more than 500 oil companies from Texas set up shop in Spindletop.
Companies like Texaco, Gulf Oil, Magnolia Petroleum, and Exxon, USA were among those involved. The oil industry's success at Spindletop spurred them to start drilling in the Gulf of Mexico in hopes of finding more deposits.
Texas has 31 petroleum refineries with a combined daily processing capacity of over 5.9 million barrels of crude oil, making it the largest domestic producer of crude oil in the US.
New Mexico
Year of crude oil discovery: 1911
Production in 2021: 457,200 barrels
Production percentage: 11.1 %
Since petroleum was initially discovered in New Mexico in the early 1920s, the state has become a major producer of oil and natural gas.
New Mexico produced 145 million barrels of oil, 1.27 trillion cubic feet of natural gas, and 97 billion cubic feet of carbon dioxide in 2016.
There are around 2,000 oil and gas fields that provide these precious goods. Taxes and royalties on oil, natural gas, and carbon dioxide extraction have provided more than 25% of New Mexico's general fund receipts in recent years.
New Mexico's oil production peaked at 129 million bbls per year in 1969, nearly two decades after the state's initial discovery in 1924.
However, the decline in output was mitigated in the 1980s and 1990s by the discovery of new trends in the Permian Basin, the redevelopment of underdeveloped fields, and the implementation of enhanced recovery projects in existing, older fields.
Oil production has recently increased thanks to horizontal drilling and the application of hydraulic fracturing techniques to horizontal wells in unconventional deep basinal reserves in the southwestern corner of Lea County and the southeastern corner of Eddy County.
As a result of these efforts, annual oil output surpassed its previous high by 14% in 2015, reaching 147 million bbls.
Despite the decreased demand caused by the pandemic, New Mexico saw a rise in oil output from 2019 to 2020, making it the third-largest domestic oil producer.
New Mexico's first successful commercial well wasn't drilled until 1924, making it a relative novice to the oil market compared to other top producers.
The oil and natural gas industry is still a significant contributor to the state's economy. Over $2.5 billion annually goes to New Mexico's public schools, highways, and other public facilities, making it the state's largest employer.
North Dakota
Year of crude oil discovery: 1951
Production in 2021: 405,128 barrels
Production percentage: 9.9%
Beginning in the early 1910s, a number of shallow oil wells were dug in North Dakota, but due to insufficient exploration, they yielded negligible quantities of crude.
On APril 4, 1951, oil was discovered in a wheat field on the Clarence Iverson farm in Williams County, not far from the town of Tioga. The Clarence Iverson No. 1 was the first well to produce oil.
Over 585,000 barrels of oil were extracted from Clarence Iverson No. 1 between 1951 and 1980.
During the '70s and '80s, North Dakota experienced an oil boom. The boom reached its height in 1984 when production reached 154,000 barrels per day at an average price of above $35 bbl.
From 2016 to 2019, North Dakota grew at a much faster rate than any other state in its production of crude oil, making it the second leading producer of petroleum in the United States.
The discovery and subsequent development of the Bakken Shale formation in the Williston Basin have been the driving force behind this phenomenal expansion.
The first oil was discovered in the Peace Garden State in 1951, however, oil exploration in the state began in the early 20th century.
Initial production was low until horizontal drilling and hydraulic fracturing were employed to the Bakken formation more than a decade ago, which greatly increased output.
The vast majority of oil rigs in North Dakota are concentrating on the same formation.
Alaska
Year of crude oil discovery: 1968
Production in 2021: 159,623 barrels
Production percentage: 3.9%
The discovery of oil at Prudhoe Bay on Alaska's North Slope on March 13, 1968, gave the United States hope for a major new source of competitive domestic supply on a global scale, as oil production in the Lower 48 states began to wane.
An original assessment put the find at 9.6 billion barrels of oil, making it nearly twice as the largest field ever discovered in North America.
Supply from Prudhoe Bay came online in 1977, offsetting most of the reduction in Lower 48 supply into the mid-1980s, despite high prices, unfriendly climate, untested technology, unsettled land claim disputes, and substantial environmental challenges.
By the mid-1980s, the North Slope of Alaska was responsible for supplying almost 25% of domestic oil demand in the United States.
The estimated resource potential of the North Slope began to rise at the same time as production at Prudhoe did.
Colorado
Year of crude oil discovery: 1862
Production in 2021: 153,423 barrels
Production percentage: 3.7%
Weld County in Colorado is the source of 90% of the state's crude oil production, placing Colorado in the top five states for crude oil production.
In 2020, the state produced around four times as much crude oil as it did in 2010, owing to advances in horizontal drilling and hydraulic fracturing techniques.
The Niobrara Shale formation in the Denver–Julesburg Basin in northeastern Colorado is the primary source of Colorado's oil output.
Weld County is home to a substantial portion of the Wattenberg field, which ranks as the fourth largest oil field in the United States in terms of proven oil reserves.
In January of 1862, roughly 45 miles southwest of Colorado Springs, a well was sunk near Caon City that proved to be commercially successful, making it the first oil well in Colorado.
Just three years after Edwin L. Drake drilled the first American oil well at Titusville, Pennsylvania for the Seneca Oil Company in New Haven, Connecticut, this well struck oil.
G.Bowen & Company, founded by industrialist Gabriel Bowen in 1860, is sometimes cited as Colorado's first oil enterprise.
Bowen staked his claim to the land above the oil seeps at Oil Spring, which turned out to be the Florence oilfield.
Despite the fact that mining and oil and gas producers use a lot of energy, Colorado's energy usage is lower as a percentage of GDP than about 80% of the other 31 oil-producing states.
Despite this, the demand for refined petroleum products in Colorado is almost 2.5 times higher than the state's refining capacity.
Additional pipelines are being built or repurposed to transfer Colorado crude oil to out-of-state refineries as oil production from the Niobrara Shale continues to expand and exceeds local processing capacity.
Oil is carried into Colorado via train and truck, and there are also several pipelines that bring in petroleum products from neighboring states including Wyoming, Texas, and Kansas.
Other major crude oil-producing states in the U.S include Oklahoma, California, Wyoming, Utah as can be seen in this table:
2021 crude oil production in the US by state (in 1,000 barrels)
| | | |
| --- | --- | --- |
| States | Year of discovery | 2021 Production |
| Texas | 1543 | 1,739,660 |
| New Mexico | 1911 | 457,200 |
| North Dakota | 1951 | 405,128 |
| Alaska | 1968 | 159,623 |
| Colorado | 1862 | 153,423 |
| Oklahoma | 1859 | 143,052 |
| California | 1865 | 134,612 |
| Wyoming | 1863 | 85,429 |
| Utah | 1940s | 35,488 |
| Louisiana | 1901 | 34,719 |
| Kansas | 1860 | 27,905 |
| Montana | 1864 | 18,994 |
| Ohio | 1884 | 18,688 |
| West Virginia | 1815 | 18,241 |
| Mississippi | 1939 | 13,434 |
| Illinois | 1860s | 7,057 |
| Pennsylvania | 1859 | 6,253 |
| Michigan | 1925 | 4,339 |
| Alabama | 1880s | 4,289 |
| Arkansas | 1920 | 4,211 |
| Kentucky | 1818 | 2,464 |
| Nebraska | 1883 | 1,706 |
| Indiana | 1876 | 1,523 |
| Florida | 1943 | 1,490 |
| South Dakota | 1954 | 1,028 |
| Nevada | 1954 | 218 |
| Tennessee | 1866 | 157 |
| New York | 1865 | 147 |
| Missouri | 1860s | 60 |
Source: eia.gov
Note: Oil Production is measured in thousand barrels.
One state that is worth monitoring in terms of crude oil production is California. Crude oil production in the Golden State may decline in future because of the state's environmental policies, which can hugely be attributed to the high cost of gas in CA.
Conclusion
The United States has been the world's greatest crude oil producer every year since 2018, and that trend continues until 2021.
E|ach state has its own unique crude oil production. While some states' crude oil production remains at historically high levels, others have seen theirs steadily decline over time.
References: