Last updated on May 17th, 2023 at 11:31 am
The recent crash of cryptocurrencies vindicated the proponents of the popular investing advice: "Don't invest what you can't afford to lose in digital assets".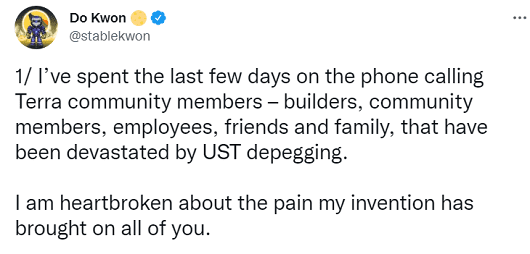 The fall affected major coins, however, LUNA crash is the most disastrous as it fell from $86.16 (May 5, 2022) to $0.003559 (May 12), which means the market capitalisation of Terra coin crashed from $28,350,264,055 to $603,434,696 within a week, prompting a question: Is it still safe to invest in LUNA after the crash?
Table of Contents
If we're to calculate the difference between its All-Time High of $119.18 (on April 5, 2022) to the current market value of $0.0001776 (May 23, 2022, at 14:24), it means billions of dollars have been lost like the case of FTX which was confirmed hacked a few hours the founder filed for bankruptcy.
Hundreds of LUNA investors around the world – including the founder of Binance Changpeng Zhao – revealed that their net worth had depleted because of the LUNA's disastrous crash.
Can I Invest In LUNA In The Face of Poor Performance?
Strategically, it's imperative to consider the future of a business before one dives in. There is no business that has never gone through a troubled time. But it's also germane to know if the founder of such a business has effective recovery plans in place.
Added to this is the pre-degree of the team behind the scene: Are they sincere? Are they only buying time to calm the situation?
A few days ago, the troubled co-founder of Terra LUNA Do Kwon took to Twitter to propose amendments aimed at reviving LUNA.
The proposal was put through voting by major investors, majority overwhelmingly voted "YES" for terra blockchain fork which means the creation of a new blockchain without the algorithmic stablecoin would be implemented.
Officially, the new proposal is known as Terra Builders Alliance: Rebirth Terra Network which is available at station.terra.money.
If Kwon and his team go ahead with the forking – which is very likely – it means the old chain will be retained while a new chain is created.
According to his explanation to most of the panicking investors, the new chain retains features of the old blockchain but with major changes while those who choose to stay on the old chain will not be able to access the new features.
He disclosed that the old blockchain will be called the LUNA Classic (LUNC), the new blockchain will be called Terra (LUNA), and the UST will cease to exist.
There are also plans to reimburse small wallet holders so build the confidence of the community would be reinvigorated.
As earlier said, investing in cryptocurrency is the most volatile investment ever anyone can take. As such, you need to provide answers to the following questions:
Will I not be affected if my investment turned to $0?
If your answer is YES, then you can still invest in LUNA if your means of survival will not be jeopardised losses can not affect your means of livelihood.
For instance, the Binance founder lamented how his holdings in LUNA affected his net worth, yet he's able to focus on other things.
Can I be patient for the recovery plan to be implemented?
A recovery plan is a brilliant idea, but it isn't something that would start yielding the desired result overnight. It takes time. It takes the confidence of the old investors.
Note that some major stakeholders in the blockchain industry doubted the effectiveness of the LUNA revival plan.
But hundreds of others like White Whale:
White Whale supports this proposal for Terra 2.0. We understand that it is impossible to make everyone happy in this situation and the proposal will never be perfect, however all things considered we are in agreement with the other builders that this is a viable path forward

@WhiteWhaleTerra
If patience isn't your problem, then investing in LUNA shouldn't be a huge thing to worry about.
Besides, LUNA wasn't the only digital asset that was affected by the recent crash, it cuts across, except some newly created assets like Sweet SOL (SSOL), United Bitcoin (UBTC), MarsRise, InPoker (INP), and Goblin which are on the list of top gainers in the crypto industry in the last 24 hours, according to LUNA live stats on CoinMarketCap.
Can I make a profit from the LUNA crash?
Nobody can assure you that profit is guaranteed in crypto. Even as you cautiously watch the market and factor in many actions or policies that could trigger a spike or fall in price, you can't be so sure if your $5,000 investment would turn in $10,000 profit in the next five months.
Imagine a situation you can take the risk of investing $5K in LUNA when it's currently $0.0001776?
That translates to holding 28,153,153 LUNA. That sounds profiting, right? But what happens if LUNA is unable to make a comeback?
If you're well familiar with buying the dip, it's a good time to buy LUNA, however, you keep in mind that LUNA Classic (the old blockchain) will most likely struggle to survive once Terra LUNA (the new chain) rolls out.
It's 50-50!
Disclosure: This is not investment advice. InfomediaNG will not be liable for losses whatsoever. Don't use your life savings for crypto investment. And talk to your financial adviser before venturing into a highly volatile market like cryptocurrency.