Last updated on November 15th, 2022 at 07:25 pm
Following the official announcement by the founder of FTX Samuel Bankman-Fried on Friday, November 11, 2022, that he filed for bankruptcy of the crypto exchange, different authorities confirmed that the FXT exchange has been hacked.
The world's largest crypto tracking portal CoinMarketCap (CMC) on its site warned traders to be careful and warned them to, "avoid any interactions with the website and uninstall all related apps" while another update revealed that the FTX App had been infected with Trojans.
On the FTX community on Telegram, a security warning says, "Ftx has been hacked. Chat is open. Don't go on ftx site as it might download Trojans."
A check on the crypto site shows that trading activities have been halted while it warns that, "All onboarding of new clients has been suspended until further notice."
Similarly, FTX US general counsel Ryne Miller confirmed that they are "investigating abnormalities with wallet movements a few minutes after Bankman-Fried announced bankruptcy of the crypto exchange.
It was a late-night hack – John Ray
In a statement by the new CEO and Chief Restructuring Office John Ray, on Saturday confirmed that FTX and FTX US were hacked last night in an attack that drained hundreds of millions of dollars in crypto out of the exchanges' wallets.
In a subsequent tweet by FTX US general counsel Ryne says they are making efforts to secure all assets wherever they are located.
"Among other things, we are in the process of removing trading and withdrawal functionality and moving as many digital assets as can be identified to a new cold wallet custodian. As widely reported, unauthorized access to certain assets has occurred.

"An active fact review and mitigation exercise was initiated immediately in response. We have been in contact with, and are coordinating with law enforcement and relevant regulators."

@_ryne_miller
A blockchain researcher and cryptocurrency writer Zack Voell, tweeted, "It's rumored that updating FTX App now loads a Trojan. Suspicious on-chain txs currently total $400M."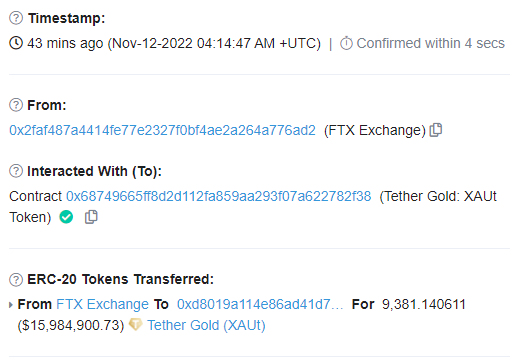 Zack also tweeted a screenshot of the withdrawal showing the time and date, saying, "they are draining everything", so also @OXfoobar tweeted similar evidence of the withdrawal.
On several platforms including Reddit, it was rumored that the collapse of FTX was premeditated by some of the inner decision-making of the crypto exchange.
An Agreement with Tron
Meanwhile, the management of the bankrupt exchange promises that holders of TRX, BTT, JST, SUN, and HT would be able to swap their crypto assets from FTX 1:1 to external wallets, promising that the "functionality will be enabled at 18:30 UTC, November 10, 2022".
The unfortunate collapse of FTX is a reminder of the crash of Terral Luna owned by Do Kwon.
At the time of publication, FTX token price (FTT) has fallen to $1.89Will FTX bankruptcy lead to a general fall in the crypto?