Last updated on December 19th, 2022 at 06:15 am
On November 11, every year, Americans honor the men and women who have served in the U.S. armed forces. It highlights the significance of this day by its name "Veterans Day".
What Does Veterans Day Represents?
It's a day set aside to recognize all the valiant soldiers who have put their lives in danger while serving their the United States of America: A country that has seen massive military action in the last century.
It can simply be called a remembrance day to appreciate the efforts of men and women who stood in for the US in the country's fighting forces within and outside the US soil.
Since World War I and continuing into today, many young men and women have been putting their lives in danger to protect US's freedom, values, and beliefs as a nation.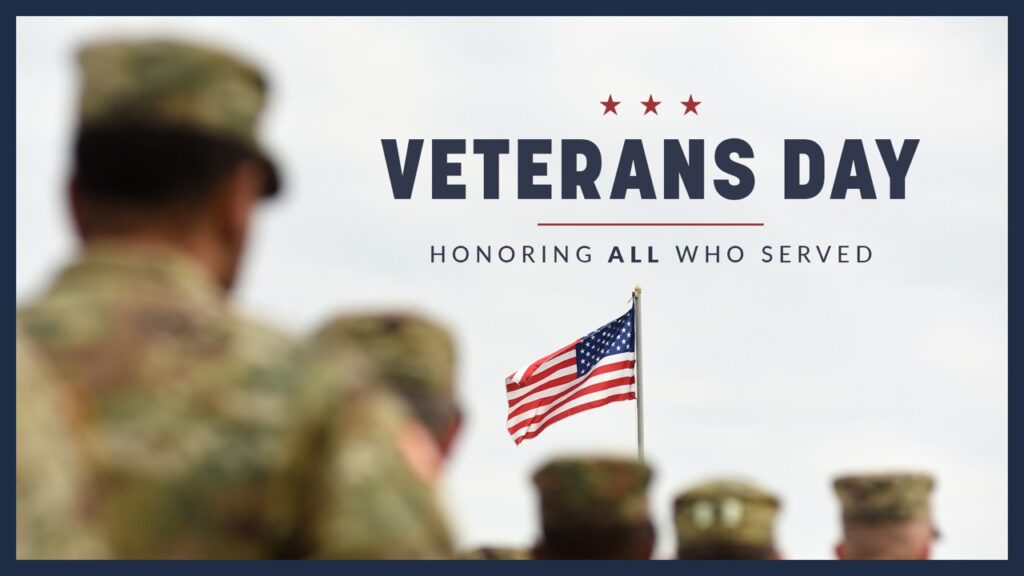 Who are the Veterans?
These heroes are known as veterans because they've served in one of several branches of military service: Army, Navy, Air Force, Marine Corps, or Coast Guard.
And they've served as such for at least a period of time following their discharge from active duty.
This article gives a breakdown of what Veterans Day means in the United States, why it's essential today, the history behind Veterans Day, the benefits veterans enjoy in the USA on the special day and businesses that are closed to commemorate the celebration.
History of Veterans Day
The Treaty of Versailles was signed on June 28, 1919, and officially ended World War I. Fighting had stopped seven months earlier, on the 11th hour of the 11th day of the 11th month, when the Allies and Germany agreed to an armistice or temporary cessation of hostilities. As a result, November 11, 1918, is widely considered the end of "the war to end all wars."
After a year, in November 1919, U.S. President Woodrow Wilson announced November 11 as the first Armistice Day commemoration.
The day's events included public gatherings, parades, and a brief pause in business and school activities at 11 a.m.
Congress passed a resolution on June 4, 1926, stating that the "recurring anniversary of November 11, 1918, should be commemorated with thanksgiving and prayer and exercises designed to perpetuate peace through good will and mutual understanding between nations".
It also stated that the president should issue an annual proclamation calling for the observance of Armistice Day.
November 11 became an official national holiday in the United States in 1938, and in 1954 President Eisenhower changed the name to Veterans Day to respect those who had served in all U.S. wars.
Every year, ceremonies occur at the Tomb of the Unknowns, and flowers are placed on the graves of service members across the country. Naturalization ceremonies have evolved into an essential part of the day's activities.
Who proclaimed Veterans Day?
The 34th president of the United States, President Dwight D. Eisenhower proclaimed the celebration of Veterans Day to honor American veterans of all wars.
So, on October 8th, 1954, President Eisenhower issued the first Veterans Day proclamation, according to a document on the official website of the U.S Department of Veterans Affairs.
Eisenhower was a former Army Officer and the Supreme Commander of the Allied Expeditionary Force in Europe during World War II.
The Importance of Veterans Day for Americans
The purpose of the Veterans Day is numerous. Below are the summarized versions of the significance of the Veterans Remembrance Day
1) Veterans Day is when Americans honor and show appreciation to all who have served in the United States Military, whether in war or peace, living or dead.
2) And it's also the time of year when veterans reveal their experiences, struggles, and triumphs.
3) Whether it's in a speech, at a dinner, or in an article, veterans can share their stories, and Americans can learn from them.
4) It's a chance for veterans to gain more respect and for Americans to show more gratitude and appreciation to these brave men and women for putting their lives in danger for the protection of the United States.
5) It's an opportunity for veterans to speak out about any issues they face and for Americans to hear them out.
6) It's a way for veterans to get their needs met and for Americans to provide them with the help they need.
7) And it's a way for veterans to suggest ways that Americans can help veterans and to let them know how much their support means.
8) It is a day when the country unites as one – as always – to send warm messages to men and women who keep the country safe from any external aggression.
Warm appreciation messages to Veterans
Below are some of the warmest messages sent out by the U.S President, friends of the United States around the world, U.S celebrities, actors and actresses among others to the Veterans on November 11, 2022, to celebrate the special day:
"This Veterans Day, we honor generations of patriots who have earned the title of "American veteran" — a badge of courage that unites the finest group of former service members the world has ever known. We owe them an incredible debt that can never be fully repaid."

President Joe Biden
Despite the war in Ukraine, President Volodymyr Oleksandrovych Zelenskyy of Ukraine also sent a Veterans Day message to the U.S.
"For almost 250 years the men and women of the United States armed forces have prevailed against tyranny. ​Your example inspires Ukrainians today to fight back against Russian aggression. On behalf of all Ukrainians, Happy Veterans Day and thank you for your service." President Zelenskyy says in a video message on his Twitter.

@ZelenskyyUa
"Thanks to all those who have proudly served our country in uniform, and the families who have served alongside them. We owe you so much—on Veterans Day, and every day." Barack Obama, the 44th president of the United States.

@BarackObama
"Happy Veterans Day! Our veterans have made countless sacrifices to protect our freedoms. In Florida, we are working hard to ensure they have the resources and support they need to be successful and take care of their families." Ron DeSantis, 46th governor of the state of Florida.

@RonDeSantisFL
"We are the land of the free, because of the brave! Thank God for our Veterans. Happy Veterans Day."

Kevin Sorbo, American actor
"#VeteransDay is an opportunity for all to reflect on & appreciate the founding principles of this country, the freedoms we hold dear, & the servicemen & women who for generations have served & sacrificed to protect those freedoms. Honor those who serve by honoring WHY we serve." Tulsi Gabbard, a former soldier, former Congresswoman, and the 2020 presidential candidate.

@TulsiGabbard
"Today, we reflect on the sacrifices of all veterans who have dedicated themselves to preserving our freedoms during times of war and peace." U.S. Marines

@USMC
"Thank you to all those who have proudly served to uphold the construct of the inalienable rights." John Cene, American professional wrestler and actor

@JohnCena
"I, along with fellow Americans, honor the service, dedication, and valor of our nation's veterans. I also thank those who continue to answer the call to serve our nation, especially those with us @StateDept. We are eternally grateful for your sacrifice." Anthony Bliken, 71st Secretary of State.

@ABlinken
And among millions of messages including the one from Congressman Matt Gaetz, a lawyer and politician.
"America is the greatest nation that has ever existed. We are the best because we have select individuals who are willing to express their patriotism at an elite level through military service. We are so grateful for every veteran, and I'll always have your back."

@RepMattGaetz
Benefits the U.S Veterans Enjoy November 11
1) In honor of Veterans Day, Veterans and active-duty military personnel can get a variety of free meals, coupons, and discounts at restaurants and fast-food chains across the country.
2) The United States Government dedicated a full ministry to take care of the welfare of the veterans, it is called U.S Department of Veterans Affairs.
3) Most discounts and free meals are only available on Veterans Day, and proof of service, such as a military I.D. or dressing in uniform, is usually required.
4) Veterans can also use discharge papers, V.A. cards, and membership cards from a veteran organization. Offers are typically restricted to dine-in customers as well.
5) Some of the restaurants and fast food chains giving out these offers include; Hooters, Olive Garden, Dunkin', Starbucks, Applebee's, Buffalo Wild Wings, Red Robin, and Wendy's.
6) Also, a Veterans Day free meal is provided to veterans and other military personnel at the Veterans Administration Hospitals.
7) All veterans are allowed free admission to all national parks, museums, and monuments. It is one of the supports offered to the Veterans.
8) Newspapers publish special veterans' editions, and all federal agencies conduct special programs to honor veterans.
Businesses that are closed to commemorate the celebration
Many businesses close on Veterans Day to pay respect to the veterans who fought for our country.
These include:
Federal government offices
Federal courts
US embassies around the world
Garbage pickup
Some schools such as Cincinnati public schools
Post offices, gas stations, and pharmacies.
Some businesses will have limited hours or may close early so employees can be home with their families to participate in the holiday.
Conclusion
Veterans Day is a special day to acknowledge, honor, and thank our veterans for their service to our country and commitment to protecting our freedom. The holiday is also a time to reflect on veterans' sacrifices for the United States of America.
This day of remembrance is essential because it helps heal the wounds of war and allows us to offer our gratitude to veterans for all they have done.
Veterans Day is a time to show veterans that their sacrifices and efforts have not gone unnoticed.
It is a day to help restore the balance of the traumatic experiences of war by acknowledging the positive impact veterans have had on the lives of their fellow citizens.
As you enjoy this special day, take time to thank your veterans for their service. Let them know that you appreciate what they have done for this country.
Let them know that you will never forget their dedication and devotion.
Happy Veterans Day!