The most indebted state in Nigeria in terms of domestic and external debts Lagos generated the highest Internally Generated Revenue (IGR) with N651.15 billion in 2022, data from the National Bureau of Statistics revealed.
Table of Contents
It isn't the first time Nigeria's commercial capital will be on top of the list of IGR in Nigeria. In 2021, Lagos topped the list with 651.14 billion.
Ranking States in Nigeria By Their IGR 2022
Ranking states using their Internally Generated Revenue, Lagos (N651.2 billion), Rivers (N172.8 billion), Abuja (N124.4 billion), Ogun (N120.6 billion), and Delta (N85.9 billion) are the top five with the highest IGR in 2022.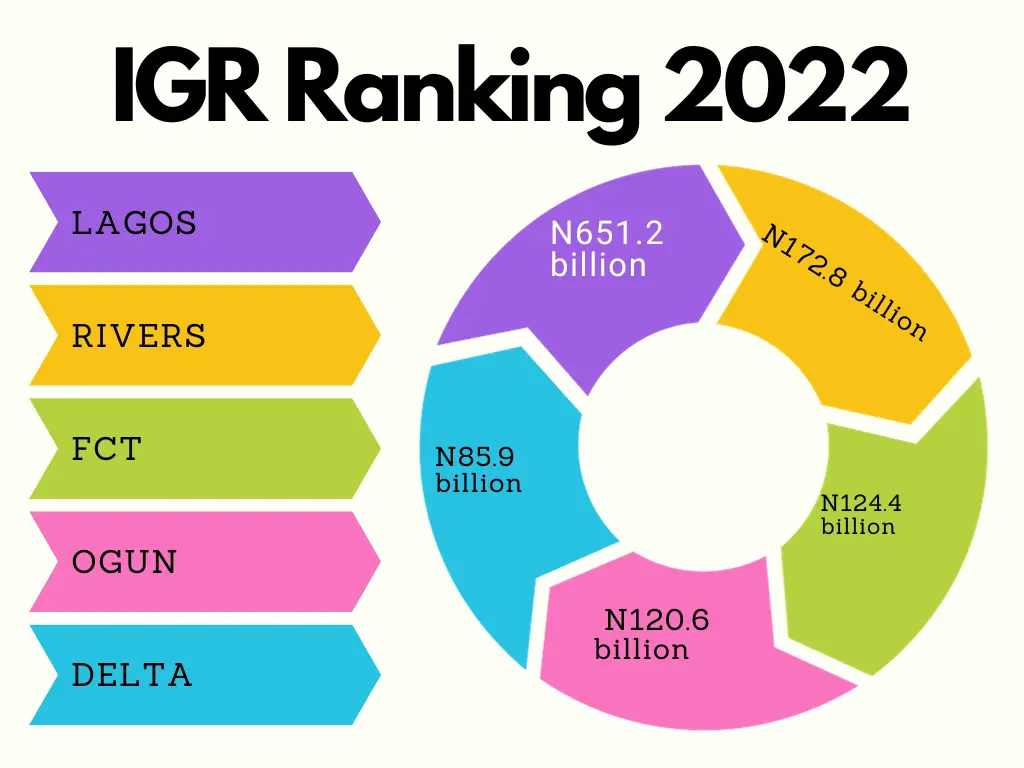 "Like what was recorded in 2021, the leading states in total IGR during the year were Lagos, Rivers, as well as the FCT with 651.14 billion, 172.82 billion and 124.36 billion respectively."

NBS Report
From the bottom with the least IGR in 2022 are Kebbi (N9.1 billion), Taraba (N10.2 billion), Yobe (N10.5 billion), Ebonyi ( N12.4 billion), and Katsina with N13 billion.
The NBS report shows that all 36 states plus the Federal Capital Territory (Abuja) generated N1.9trillion in IGR in 2022 compared to 1.89 in 2021.
According to NBS, 2022 IGR had two major revenue sources:
Taxes
MDAs' revenue
Taxes sub-category recorded in 2022 are:
PAYE,
Direct Assessment,
Road Taxes,
Stamp duties,
Capital gain tax,
Withholding taxes,
Other taxes and
LGAs revenue
"PAYE contributed the most revenue year under review with 67.6 percent share to the total tax generated revenues nationwide.
Here is the 36 states' IGR in 2022 below:
Lagos: N651.2 billion
Rivers: N172.8 billion
FCT: N124.4 billion
Ogun: N120.6 billion
Delta: N85.9 billion
Oyo: N62.2 billion
Kaduna: N58.1 billion
Edo: N47.5 billion
Kano: N42.5 billion
Kwara: N35.8 billion
Akwa Ibom: N34.8 billion
Anambra: N33.9 billion
Ondo: N32.6 billion
Enugu: N28.7 billion
Bauchi: N25.5 billion
Osun: N24.6 billion
Sokoto: N23.6 billion
Cross River: N21.1 billion
Jigawa: N20.5 billion
Abia: N20.1 billion
Zamfara: N19.4 billion
Imo: N19.3 billion
Nasarawa: N19.3 billion
Borno: N19.1 billion
Kogi: N18.2 billion
Ekiti: N17 billion
Niger: N16.9 billion
Benue: N15.9 billion
Plateau: N15.9 billion
Bayelsa: N15.9 billion
Gombe: N13.6 billion
Adamawa: N13.2 billion
Katsina: N13 billion
Ebonyi: N12.4 billion
Yobe: N10.5 billion
Taraba: N10.2 billion
Kebbi: N9.1 billion
How Huge Is Lagos IGR in 2022?
To measure what it means for Lagos state to generate N651.15 billion within 12 months, we compared Lagos' IGR in 2022 with 25 states that make up four zones: North-central, North-west, South-east, and North-east. All four geopolitical in this review generated approximately N639.3 billion.
South-east: N114.5bn
North-west: N186.4bn
North-central : N246.4bn
North-east : N92bn
This means that Lagos IGR for 2022 is more than N11 billion more than what all the 25 states in this review generated.
In IGR, Lagos swallowed them. That's cheering news for those at the helms of affairs in the state, but in terms of indebtedness, Lagos account is RED!
Highest IGR, Yet The Most Indebted
While that is good news, the contradiction to this news is that Lagos State also remains the most indebted state in Nigeria for both domestic debt – N812.4 billion – and external debt ($1.3 billion), as of July data from NBS.
Lagos' IGR compared to its debts shouldn't be a source of concern if there is enough infrastructure.
for instance, the biggest economy in the World the United States also doubles as the most indebted country in the world. In fact, data show that the U.S. spends more than its income and the last time it had a budget surplus was 2001.
What this means is that Lagos needs to do more, and be transparent and accountable in its revenue and spending.
Apart from this, Lagos has a comparative advantage over its pairs: access to the sea, centralized ports in Lagos, headquarters to most foreign companies etc.
So, Lagos shouldn't compare itself to other states, instead, Lagos should be competing with countries such as Qatar, United Arab Emirates, and Rwanda, if all its IGRs are channeled to the right infrastructural development.
It has done well with its Blue Line, an electric rapid transit line launched in 2009 and commenced commercial operation on September 4, 20233. It needs to do more.