Last updated on September 13th, 2021 at 02:19 pm
Nigeria is filled with investment opportunities, but the major challenge facing millions of people at home is finance while hundreds of Nigerians abroad are at crossroads over how and where to invest their monies.
Apart from the issue of trust and the fear of falling victim to some dubious friends and family members back home, some Nigerians in diaspora are unsure of the profitable business to put their hard-earned money on.
The Risk of Investing In Nigeria
A few months ago, I stumbled upon a story of how a German-based Nigerian man was 'dubed' by a relative while he was trying to invest back home.
According to him, he wasn't discouraged by the ugly incident as he carried out personal research on how to invest in Nigeria. His search landed him on the page of an investment advisory firm.
There are hundreds of Nigerians abroad who have had similar ugly experiences and how they were let down by those they trusted.
The Beauty of Modern Day Investment
In the 1990s Nigerians abroad send money to family members back home to either invest for them or help them execute projects.
Today, technology has changed the way we invest. There are some investments you can access wherever you are. Though, you still have to be physically present for some.
Whatever the case is, below are the 20 most profitable industries Nigerians in diaspora can invest in right here in Nigeria:
Media
Online lending
Agribusiness
Air transport industry
Education and Training
Skilled Workforce Development
Health Care Services
Distribution network
Entertainment
Hospitality and Tourism
Real Estate
FinTech Investment Options
Manufacturing
Maritime and Shipping
Extractive Industries
Telecommunications
Technology
Innovation
Waste Management
Transportation
Media
With over 200 million population, Nigeria is a huge market for media, social media, and other internet-related products.
A report by datareportal reveals that in January 2020, Nigeria had 169.2 million mobile connections while the number of mobile connections keeps growing astronomically as it grew by 7.7% within a year (January 2019-2020), meaning 12 million connections joined the existing ones.
What does this mean?
The market is here, no wonder Chinese media companies penetrated the Nigerian market through browsers like Opera, Phoenix, etc.
To invest in the Nigerian media industry, you have to be strategic, your marketing strategies have to be top-notch and tight.
The fact is that some of the foreign media firms in Nigeria have effectively utilised emerging technologies, such as virtual reality and Artificial Intelligence (AI).
To make a way to dominate the market, make your news app or video app a one-stop-shop for your consumers.
For instance, incorporate social media into your news app, allow your news consumers to socialise right within the app.
 Challenges:
While there are challenges in the media industry in Nigeria, it's a lucrative business with potentially millions of naira in revenue every month if you can deploy financial resources into it and recruit the right set of people to achieve your goals.
In an analysis, Olumuyiwa Olowogboyega of TechCabal says:
" While media is typically a difficult business, having your own platform gives you an edge especially in terms of your ability to generate revenue." ( https://techcabal.com/2021/04/29/opera-news-q1-result )
How to explore the economic potentials:
The data is there. As of January 2020, Nigeria has 27 million social media users and between April 2019 to January 2020, it's reported that the consumers of social media increased by more than 14%, meaning more 3.4 million people joined.
Be data-driven if you want to penetrate the media market in Nigeria. The income potential of media in Nigeria is huge. While those
Online Lending
Almost 2 billion people are unbanked globally, most of which are domiciled in an emerging market like Nigeria. That's one of the reasons online lending platforms are continually growing in the country.
As the rate of unemployment grows among graduates in Nigeria, more than 80% of them who couldn't find job are embracing entrepreneurial skills, establishing small businesses.
But accessing credit facilities from commercial banks is probably the most difficult thing for SMEs generally because of the banking collateral. That's a problem, but a problem is also an opportunity for those who see beyond the difficulties. This is where the online loan comes in.
Surprisingly, online banking investors from the US are coming into Nigeria to explore these untapped opportunities and they are making waves.  The CEO of FairMoney is one of them.
This is one area Nigerians abroad can invest in back home by tapping into FinTech to solve and fill in the gap conventional bank are finding challenging.
Challenges:
It doesn't come as easy as you think. The rate of loan defaulters in Nigeria is high, but online loan platforms like FairMoney, Carbon and lots of others have been able to penetrate the market.
Economic potentials of online lending:
It's important to note that FairMoney which launched in Nigeria in 2017 with less than 100, 000 users had 1.3 Nigerian users as of February 2021, a report by Tage Kene-Okafor of TechCrunch says.
One of the ways some of the online loans in Nigeria has been making huge profit is through interest. The deployment of AI and the use of Bank Verification Numbers (BVN) through a partnership with Nigeria Inter-Bank Settlement System Plc (NIBSS)  has further reduced the rate of default.
Agribusiness
Some businesses and sectors the people back home underrate or are finding difficult to penetrate bring in the largest turnover. Agribusiness is one of them.
Agriculture is the largest economic activity in the rural areas where almost 50% of the population lives.
The agriculture sector in Nigeria is divided into four: 1) crop production, 2) fishing, 3) livestock, and 4) forestry.
Of all the categories, an associate director at PricewaterhouseCoopers (PwC), Mr Taiwo Oyaniran, in a paper titled, "Current State of Nigeria Agriculture and Agribusiness Sector" at AfCFTA Workshop says crop production is the largest sector and contribute about 87.6% of the sector's total output; livestock contribute 8.1%, fishing turn in 3.2% while forestry is the least with 1.1%
Nigeria's economy is also benefiting largely from the input from Gross Domestic Product (GDP). Agribusiness contributes an average of 24% between 2013 to 2019.
In the area of employment, it took more than 36% of the country's labour force off the streets between the same period, making it the largest employer of labour.
What does this tell Nigerians in the UK, Canada, United States, and the rest of the world?
It's a huge business. No wonder firms like Ajanla, Tuns farm, Nagari Integrated Dairy owned by Abdullahi Adamu, Maizube Farms owned by Abdulsalami Abubakar, and Obasanjo Farms among others invested heavily in agric. Nigerians abroad who have the money but don't know which area of the economy to invest in can explore agric
Economic potentials agribusiness:
Within a period of 3-year (between 2016 to 2019), Nigeria spent N3.335 trillion to import agricultural products as against N803 billion that was generated through the export of the same products.
This means the agribusiness in Nigeria is yet to be fully tapped. It is the second major economic activity after oil.
Air transport industry
The Air transport industry allows tourists, importers, and exporters who need foreign medical care because of the inadequate and ill-equipped government clinics, students, and millions of people to travel to new countries where their needs can be met.
Air transport brings more people together apart from the millions of direct and indirect jobs that are created through the aviation industry.
The air transport industry, according to the International Air Transport Association (IATA), is estimated to contribute at least  US $600 million to Nigeria's GDP.
Another report in 2019 by Pew Research Centre reveals that 45% of Nigerian adults plan to move to another country for a greener pasture in the next five years.
We saw how Nigerian youth stormed the Murtala International Airport in April and May 2021, ready to leave the country. This is an opportunity for Nigerians abroad to tap into.
The economic potential in the aviation industry in Nigeria:
The number of airlines in Nigeria isn't enough. It isn't sufficient enough to serve the growing population of youth who leave the country for job opportunities abroad.
Challenges:
You may have some registration bottlenecks from the regulatory agencies, but they are surmountable.
Education and Training
Why do some Nigerians send their kids abroad? Dilapidated buildings, inadequate funding for research, and maltreatment of lecturers are some of the problems facing education in Nigeria.
Nigerians are faced with multi-faceted challenges studying at home, the strike actions by lecturers due to the lack of commitment from the government, outdated curriculum that doesn't align with solving world emerging problems are some of the reasons they choose foreign universities in Canada, Germany, Finland, United Kingdom, and Sweden among others.
The economic potential of the education sector in Nigeria:
A report by Campus France's Chiffres Cles 2021 showed that close to about 80, 000 Nigerians enrolled in foreign universities in 2018 and by 2020, the number had grown to nearly 100,000.
This is a huge market for Nigerians abroad who are looking for the right industry to invest in back home.
But the inefficiencies in the education sector have created enormous business opportunities for individuals who have the financial strength to dive into.
Challenges:
Approval from NUC is characterized by delay and bribery to get an accelerated approval of courses. But this is surmountable provided you put in place the required facilities and machines.
Skilled Workforce Development
In countries like the United States, United Kingdom, Canada, and the Netherlands among others pay more attention to develop a skilled workforce.
What training are Nigerians seeking abroad?
You can invest in Skilled Workforce Development Centre, train Nigerians at home and make your centre a point of call for companies that need such specialties in achieving their goals.
FinTech Investment Options
A report by the Central Bank of Nigeria (CBN) shows that $17.5 billion USD was received in Nigeria as foreign remittances from more than 10million Nigerians (unofficial figure) in the diaspora.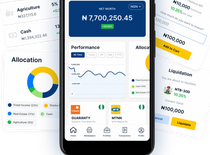 In 2017, such remittances from the US back home were $6.2 billion, this means this figure will keep increasing as more Nigerians relocate to foreign countries.
Most of the foreign remittances are sent back home for projects, investments, and to support family members.
But financial technology (FinTech) investment options are making it possible for Nigerians in diaspora to invest back home right from their country of residence.
Today, the advent of FinTech applications invented by some stocks advisors and companies have made investments in real estate, stocks, treasury bills, and agrifinance easy.
Investment in agribusiness can turn in as much as 22% interest per year, real estate can bring you at least 20% per annum while some stocks can turn in more than 20% per year, depending on the product.
How does it work?
Head straight to the official website of the Securities and Exchange Commission to see the list of wealth management firms.
For instance, axamansard and wealthng are some of the wealth investment companies that have integrated the fintech into stock, treasury bill, and buying corporate bonds like we pointed out in one of our guides at: https://infomediang.com/investing-corporate-bonds-nigeria
Most importantly, they make investment easier by integrating multiple payment options on their platform.
Distribution network
A guy once said, "If I'm able to purchase just a truck, with the opportunities in chain distribution, I can earn at least N200K per week from distributing products for companies."
Haulage companies in and around Apapa and other ports in Nigeria have insufficient trucks to deliver goods to major wholesalers across Nigeria.
To explore this industry, do your feasibility study, know about the registration process, network with the right people, and hit the ground running.
In case you are interested in this, a distribution network is an interconnected transportation system and storage facility that receives and delivers inventories to customers.
Income potential:
Some manufacturing companies don't really have enough trucks to deliver their products to the final consumer, they contract it to owners of trucks or distribution network firms.
It's a huge market.
Challenges:
Finding a trustworthy driver may be difficult, however, you can tap into a truck tracking device and set up a control centre to monitor the activities of your trucks on the road.
Health Care Services
Government hospitals are poorly funded, most times, some state clinics can't boast of other drugs apart from paracetamol.
The issue of poor health care has been around for decades. Instead of fixing the ones at home, the president, governors, even local government chairmen travel to foreign hospitals for medical care for minor cases like headaches.
Not just that, Nigeria's government most times refuses to pay medical practitioners allowance and salary as at when due. That's one of the reasons the population of medical doctors in the U.K, USA, and other reputable clinics around the world is exponentially high.
For instance, there are over 8, 000 medical doctors of Nigerian origin working in the United Kingdom, data from the U.K. General Medical Council website reveals.
Income opportunities in Nigeria's health care:
The problem is another opportunity Nigerian medical doctors in the diaspora can explore. Establishing world-class hospitals in Nigeria can reduce medical tourism by the wealthy class just like Dr. Adeyemi Onabowale of Reddington Hospital, Lagos.
For instance, Nigerians spent $1.2 billion on foreign medical care in 2020, that's about N576 billion while only N632.7 billion was allocated to the health sector in the 2021 budget, the National Association of Resident Doctors (NARD) says in a report.
Investment in Real Estate
Investing in real estate for Nigerians abroad is tricky and most of them want to stay away from it. This is because most of them have had bad experiences in the past.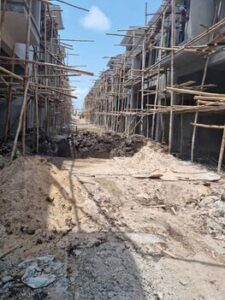 The problems:
Some of the challenges facing prospective Nigerians in diaspora range from fake land documents to other issues or other ugly experiences they had in the past, but despite the risks and challenges, real estate investment brings in turns of return. And the problems are surmountable.
Profit projection of real estate investment in Nigeria:
If you choose locations like Lekki, Ibeju-Lekki, where Dangote Facilities are located, you can earn as high as 25-30% interest per year on your investment.
Here is the problem and how you can tap into the challenges of the housing deficit in Lagos.
A report by Nancy Kacungira of BBC revealed that over 500,000 people relocate to Lagos every year, thereby creating a deficit of 17 million housing units.
Although the ongoing mega housing project known as Eko Atlantic is expected to accommodate over 500,000 people, the multibillion-dollar project may not be affordable for an average Lagosian.
More people are still moving to the megacity at the time of this publication, here is how investors can come in.
If you are looking elsewhere, consider buying some plots of land at Bucknor, Ikeja, Ibeju-Lekki, Abraham Adesanya, and Magodo among others.
You can buy completed apartments, bungalows, terraces, or plots from reputable real estate companies like dradrock, PWAN group, and GtextHomes among other trustworthy ones around.
Alternatively, you can delve into the real estate business right away if you found a trustworthy partner back home who can help you get plots of land with verifiable documents and monitor your projects for you, you're definitely lucky.
If you can get this right, you'd be the reason your colleagues abroad will want to pump in some dollars into the real estate business.
Already, there are UK-based, Canadian-based Nigerians who are exploring this option. They buy plots of land in Nigeria, build the apartment, and sell to their colleagues who are Nigerian around the world.
Final thought:
As a Nigerian abroad who is looking for profitable investment back home, it's very important to work with someone who shares your dream and can help you achieve your goal.
You must also carry out a feasibility study so that you don't jump into a business you know nothing about.
The writer:
Opeyemi Quadri is a real estate broker based in Lagos. He also offers business solution services like business registration and filing of company's annual returns on InfomediaNG
References:
datareportal.com/reports/digital-2020-nigeria
techcabal.com/2021/04/29/opera-news-q1-result
techcrunch.com/2021/02/18/with-over-1-3-million-users-nigerian-based-fintech-fairmoney-wants-to-replicate-growth-in-india
pewresearch.org/fact-tank/2019/03/27/many-nigerians-tunisians-and-kenyans-say-they-plan-to-leave-their-countries-in-the-next-five-years
bbc.com/news/world-africa-38688796
pwc.com/ng/en/assets/pdf/afcfta-agribusiness-current-state-nigeria-agriculture-sector.pdf
iata.org/en/iata-repository/publications/economic-reports/nigeria–value-of-aviation
guardian.ng/news/nigeria-loses-over-n576b-yearly-to-medical-tourism
atag.org/our-activities/social-and-economic-benefits-of-aviation.html