Last updated on August 26th, 2022 at 03:05 pm
In 2019, ginger export brought in $10.4million for Nigeria. In this guide, we'll show you at least 30 countries where you can find international buyers for ginger which is also known as chita in the North.
Apart from its medicinal use, ginger is used for spices and the demand for it in the international continues to increase every year. So, if you're already local suppliers, you already have enough jute sacks of ginger in-store, but you don't know how to establish direct contact with foreign buyers, we'll show you some of the international platforms to find large-scale buyers.
Quick facts
Botanical name: Zingiber officinale
Family: Zingiberaceae
Local names: Atalẹ (Yoruba); Chita (Hausa)
Nigeria has the production capacity to produce 522,000 metrics to buyers per year
Ginger from Nigeria is preferred because it's tasteful and has incredible flavour
It has a high level of oleoresin oil, according to data from the Nigerian Export Promotion Council (NEPC).
Varieties of ginger from Nigeria
Fresh,
Dried-split
Crushed
Why do foreign buyers prefer Chita from Nigeria?
Apart from the varieties, we give foreign buyers, the market is also backed by national quality infrastructure (NQI).
Medical Benefits Of Ginger
You may be wondering why countries like the United States spent as much as $154.1M to import ginger in 2019 while The Netherlands, which is the second-highest importer of Atalẹ (ginger) expended $143.1M in the same year, according to data by tridge.com
The reason for these huge sums isn't far-fetched from the medical health proven of ginger They include:
1) It contains some chemical compounds, most especially fresh one, that helps to fight the growth of some bacteria in the body, according to WebMD.
2) It stimulates circulation
3) According to everydayhealth, ginger may also help to prevent stomach ulcers.
4) It may also help in reducing blood sugar, says Healthline among others
The data about ginger is huge, so how can you get started?
How To Start Ginger Export Business In Nigeria
Data is very important in every business one does, the ones aforementioned are to open your eyes to many opportunities in the business of chita
Here is how to get started:
Market research
Know the season
Learn about storage and packaging
Company registration
Find foreign buyers
Compliance with safety standards
Join the right association
Platforms to find foreign buyers
Online visibility
Export and payment
Market Research:
If you're coming into the ginger export business a fresher, you definitely need to do your due diligence on how to first source locally and then find foreign buyers.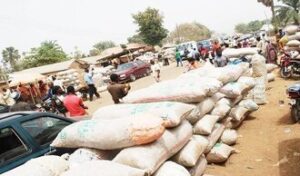 Your market research should also cover local pricing.
For local suppliers, you can get them mostly in Nigerian states where ginger is most grown in large quantities, they include:
Kaduna
Gombe
Bauchi
Benue
Nasarawa
Know The Season
The season for ginger in Nigeria runs from May to October while supply goes on for upward of nine months. This should guide you on when to start contacting local suppliers.
Learn About Storage and Packaging
It's most likely that your products spend some days or weeks in-store before you find a buyer or before being exported, so you must learn how to preserve them in the most acceptable and approved international standard.
The beauty of chita is that you don't really need preservative chemicals because it contains some substances that are capable of fighting bacteria or fungi.
The packaging is also simple. Jute sack is mostly used, dried ginger is packed in 30KG to 60KG while the powered variety is between 12kg to 25kg.
Company registration
Are you ready to kick start? We're sure that your target is an international market that can convert it to finished products.
If you want to connect with foreign buyers and gain the trust of prospective buyers, it's very important to register as an incorporated business with the Corporate Affairs Commission (CAC).
With less than N30,000, you can this done by yourself and get your company certificate in less than two weeks (you can check out our guide).
Note:

The trade flow of ginger of the aforementioned countries are not all from Nigeria. There are market African, Middle-Eastern and European market
 Compliance With Safety Standards
If you're just starting off, you should first connect with all exporting companies in Nigeria. Most of them will be ready to guide you through some rules that guide export and compliance and other tips.
Join The Right Association
While many exporters succeed without joining any association in their chosen products, the benefits that come with joining the right association can not be underrated.
You can join the National Ginger Association of Nigeria to gain more insight into real market data and some of the incentives from the government that passes through the association.
Top 6 Platform To Find Foreign Buyers for Ginger
There are several ways to source for ginger buyers around the world, some of the platforms are:
HKDC
eWorld Trade
Trade Wheel
Alibaba
Export Hub
Export Genius
HKDC
With 50 offices around the world, HKTDC is one the places where you can find honest ginger foreign buyers. Set up and account and start your search for ginger buyers in the Unites States, Netherlands, and Japan
Tips:

Target the top buyers or narrow your search to a specific country at a go, this way, you would be able to get a great result
eWorld Trade
Repeat the same process as outlined in HKDC, register as a supplier, and start searching for buyers.
Trade Wheel
One thing I loved about tradewheel.com is the fact that it is based in USA, a country that's one of the largest importers of ginger.
With its efficient and intelligent tools, you should be able to explore the platform to become a major supplier of Nigerian ginger to the USA market.
Alibaba
Personally, I have got more than five orders from Alibaba, one of the largest B2B marketplace.
In case you don't know, the products you find on Alibaba are uploaded and sold by millions of sellers spread across the world.
Is it time you set up a seller account on Alibaba and start selling to buyers in Canada, USA, and other foreign buyers?
To do this, head straight to https://seller.alibaba.com/pages/gpc? create a seller account to upload your products
Export Hub
Don't stop at one platform, head straight to exporthub.com to set up an account, search for buyers. You can also get orders from buyers.
Online visibility
Have an online presence for your ginger export business. The first point of call for a prospective buyer is Google or other search engines.
Google My Business is a free tool you can use, you can get a free website URL for your business on GMB.
If you're a good content marketer, you can explore LinkedIn to find buyers and connect with the world.
Export and payment
So, you've found a buyer, it's time to start selling after obtaining export licence from NEPC.
Make an arrangement with the buyer on the medium or mode of payment. This could be done through cash in advance through bank wire, letter of credit, or draft documentary.
Where to Find Foreign Buyers
The international market is huge for Nigerian ginger and at the time of publication, the most populous African country supplies 14% share in the total global production while almost 90% of the production is exported. To tap into this data, you need foreign buyers from top importers.
Below is a list of countries where you can find foreign buyers for ginger:
United States
Japan
United Arab Emirate (UAE)
Netherlands
Bangladesh
Pakistan
Germany
United Kingdom
Saudi Arabia
India
Malaysia
Russia
France
Indonesia
Spain
Morocco
Singapore
Italy
South Korea
Poland
Philippine
Sweden
Kuwait
Austria
Poland
Sudan
New Zealand
Turkey
Norway
Iceland
Armenia
Paraguay
Costa Rica
Takeaway:
In 2019, Nigerian ginger exporters earned $10.4million, more could be made from the product if it's fully explored.
The Federal Ministry of Trade and Investment is working with the Ginger Association of Nigeria on how Nigeria can become the leading exporter of the product. This means that the market continues to expand and grow to meet global demand
References:
WITS (2019). "Spices; ginger imports by country in 2019". wits.worldbank.org. Retrieved September 14, 2021
Falaju, Joke (October 14, 2020). "Nigeria earned $10.4 million from ginger export in 2019

". Guardian.ng. Retrieved February 10, 2022

White, Linda (December 23, 2014). "7 Health Benefits of Ginger

". Everydayhealth.com. Retrieved September 13, 2021.