Last updated on October 17th, 2022 at 07:21 pm
There have been worries over how beneficiaries of the COVID-19 NIRSAL Loan can repay. Some of them say all efforts to repay the loan proved abortive. But to simplify the process, NMFB has activated a repayment schedule link on its portal.
To check your loan statement and schedule for repayment:
1) use this link: nmfb.com.ng/repayment-schedule
2) Enter your BVN to validate
3) Your loan repayment schedule will come up.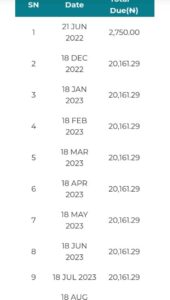 In this post, we'll show you how to settle your COVID-19 loan so you have access to another SME loan ready to roll out by the Federal government.
We'll tell you more about how to go about this, and let's share with you the stories of some beneficiaries who are unable to repay.
How repayment should be paid
The CBN once said repayments of disbursed loans will be made in instalments.
The apex bank said the instalments will be repaid to the microfinance bank according to the nature of the enterprise and repayment schedule/work plan provided during the application process.
But in a tweet Adegbola said
"Earlier this year, my business got a federal government loan (via NIRSAL MFB) as a relief for COVID-19. I have been seeking information on how to begin to pay back but been unable to find it".
Steps to take to repay your COVID-19 NIRSAL loan
Usually, direct debit should be placed on the beneficiary's account so that repayment would be automatic every month. If you don't have an automatic debit activated on your account, visit Nirsal Microfinance bank branch near you to have it activated.
Stories of those who find it difficult to repay COVID-19 loan
A few weeks ago, a lead advisor at Golborne Road Advisory and Legal Offices Mr Kayode Adegbola said says he was unable to access information on how to repay the CBN loan.
Adegbola is one of the lucky beneficiaries of the N50 billion targeted credit facility (TCF) COVID-19 loan launched by the Central Bank of Nigeria (CBN) in 2020.
The TCF was an initiative of the Emefiel-led apex bank to assist households and small and medium-sized enterprises (SMEs) that were affected by the pandemic.
NISRAL Microfinance Bank (NFMB) was in charge of the disbursement of the funds to applicants.
The COVID-19 loans were disbursed at an interest rate of 5% with a moratorium period that lasts till February 28, 2021, and reverts to 9% from March 1, 2021, at the expiration of the moratorium.
NOTE:  Your BVN has been linked to all your accounts, if you default, the amount will be deducted monthly from your account.