Last updated on September 30th, 2023 at 07:24 pm
Damage to cell tissue and DNA, sleep disorders, vulnerability to lung diseases, and Alzheimer's disease are some of the health risks of living close to a telecommunication mast.
Table of Contents
Telecommunication mast health hazards can be enormous in the long term, particularly to those who live closer to it as a result of the vibration, noise and smoke that come from the generating set powering it.
All telecommunication carriers in Nigeria- Globacom, MTN, Airtel, and Etizalat- have their mast sited in different parts of the country for effective service delivery.
We shall highlight some of the health implications of living close to a telecom tower, but let's take a quick look at the body saddled with the responsibilities of issuing certificates for the operation of telecommunication companies in Nigeria.
The Position of The NCC on the siting of telecom mast in Nigeria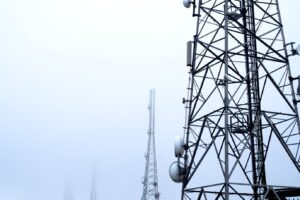 The Nigerian Communications Commission (NCC) was established by Decree number 75 in November 24, 1992 as an independent regulatory authority for the telecommunications industry in Nigeria.
Section 70 of the Nigerian Communications Act 2003 (NCA 2003) empowers it to make and publish regulations on matters such as, but not limited to:
Written authorisations, permits, assignments and licences granted or issued under the NCA 2003;
The assignment of rights to spectrum or numbers;
Communications-related offences and penalties; any fees, charges, rates or fines to be imposed; a system of universal service provision; Quality of Service (QoS) standards; and any other matters as are necessary to enforce the provisions of the NCA 2003," that's according to the regulatory functions of NCC.
NCC began issuing GSM licenses in 2001 and telecom revolution began in Nigeria.So, it is the Commission's responsibility to specify and publish technical code and specifications in respect of communications equipment and facilities in use in Nigeria.
The technical code of NCC includes the following:
Promotion of safety of network facilities
Adoption of technical standards promulgated by international bodies.
To ensure that operators take all reasonable steps to protect the safety of persons, property and the environment.
Supervision and adherence to guidelines on technical specifications for the installation of telecommunications masts and towers.
To ensure that environmental safety and sound engineering practices are adhered to.
To ensure that telecommunication masts sited in residential areas are at least five metres away from homes.
Why do Nigerians allow the siting of telecommunication masts in their homes?
Telecommunication masts can be found virtually in every part of Nigerian villages and cities. The siting of telecom mast isn't done without the consent of the owners of a piece of land.
Some residents have control over the location of telecom tower, while some others do not have. The former are those who have received compensation for having sold or leased their piece of land to a telecommunication firm. The latter are those who live close to the mast, the telcom firm feels their consent isn't needed.
So why do they allow the location of a telecommunication mast close to their house in face of the health implications?
Monetary benefit  of telecommunication mast to residents
Siting of such masts isn't for charity, millions of Naira are paid in exchange for such a choice of location.
Some years back, an excited Nairalander sought the views of Nigerians on how much it cost for a telecommunication mast to be sited on his family piece of land in an area in Ogun State.
He claimed that one of the biggest telecom firms in Nigeria was ready to pay the sum of N3.5 million. He didn't specify whether it was on a lease or a one-time payoff.
According to him, the proposed location was behind his family home. He was particularly concerned about the monetary benefit rather than the health hazards of living close to a telecommunication mast.
In some areas in Osun State, telecommunication masts are sited inside palaces, and inside the church compound.
In some parts, traditional rulers benefit from the power supply from the generating set of mast located within their compound.
This means that neighbours will have no choice but to benefit from smoke, noise and vibration (from the masts' generating sets) and possibly from the partially good network access.
In October 2016, Vanguard Newspapers reports a lawsuit, where Nigeria's indigenous telecom firm GloBacom was directed by a Bayelsa High Court sitting in Sagbama to vacate a piece of land belonging to the Agbereowei family of Bolou-Orua in Sagbama local government.
It was reported that the family had leased a portion of their land to the telecommunications firm to host its telecom mast, and ordered Glo to pay N32.5 million representing N24 million unpaid rents at N3 million per annum from 2008 to 2016 and N8.5 million as damages for distress and hardship caused the Agbereowei family.
That kind of case is to attest to the economic gain of telecommunication mast.
Joy over good network service
Good network service and connection is other reasons some internet users cited as their excitement about the location of telecommunication mast at their home or office..
"Location of GLO telecom mast has assisted my business in so many ways. I get more customers because I get things done easily and faster because of the closeness of glo mast to my office," a cyber cafe operator in Osogbo, Osun State told infomediang.com.
"Noise coming from the generating set isn't a big problem to me in as much my business is moving fine. My business depends on a strong internet connection," he said.
Health risks of living close to a telecommunication mast?
Research has been conducted to ascertain if actually living close to a telecommunication mast has health implications for humans
One of such research was WHO's 2005 International Workshop on Base Stations and Wireless Networks: Exposure and Health Concerns.
It's concluded that "overall, there is no evidence of deleterious biological effects that could be associated with health hazards" – and that "exposure to base stations does not cause health effects," since the exposure levels are very low, which they submitted is typically 10,000 times lower than what could be harmful to humans.
The WHO review paid attention to the effects of telecom mast radiations on sleep, blood flow, cognitive functions and general well-being.
The conclusions were that there may be alterations to sleep and blood flow caused by exposure, but the data are still inconsistent. Moreover, there is no known effect on health attributable to these "low-amplitude" alterations of sleep and blood flow (Hubber et al. 2002, 2003, 2005 & Loughran 2005).
Even at low levels of radiation,  telecommunication mast Health hazards are pointed out to include the following:
1. Evidence of damage to cell tissue and DNA.
2. In one of such studies, it was revealed that: During the first 3-5 years of exposure, people suffer sleep disorders, melatonin reduction which leads to immune deficiencies.
3. From 5-7 years, neurological problems become noticeable with headaches, confusion and memory loss.
4. After 10 years, serious disorders such as cancer occur and health damage becomes irreversible.
5. From epidemiologic research, living close to places where telecommunication masts are erected could make residents vulnerable to disorders like cancer, lung diseases, sleep disturbances and even physical disabilities.
6. Radiation has also been linked in a host of research to brain tumours, depression, miscarriage, Alzheimer's disease, and other deadly illnesses.
7. Children are said to be at the greatest risk because of their special vulnerability during periods of development before and after birth.
8. Over 100 physicians and scientists at Harvard and Boston University Schools of Public Health have called cell towers a radiation hazard while 33 delegate physicians from seven countries have declared cell phone towers a 'public health emergency.
9. Cell phone towers expose the public to involuntary, chronic cumulative radiofrequency radiation. Harmful low levels of radiation can reach as far as a mile away from the cell tower location.
In addition to the effects on humans, studies have found that animals are also affected by emissions from telecom facilities.
10. Similarly, the doctors at the University College Hospital, Ibadan linked the emission of electromagnetic impulses from the masts located close to the homes of the Adebusola Ogundipe family of Ibadan to their ailments.
The health of the whole family is said to be in danger. The matriarch of the family suffers from the sensation of pain and tingling in her legs and in addition, has been diagnosed to have developed leukaemia.
Some members of the family reportedly suffer memory loss, dizziness and bleeding from their noses. Their ailments were linked to certain environmental hazards.
The proposal made by the Chief Medical Director of the University Teaching Hospital, Ibadan, Prof. Temitope Alonge, caught the attention of medical researchers, where a 20-year epidemiological study was submitted.
The proposal is aimed at digging deeper into possible health and environmental implications of radiation emitted by telecommunication masts.
Effects of vibration, according to OHSREP, include lower back pain (damage to vertebrae and discs, ligaments loosened from shaking), motion sickness, bone damage, stomach and digestive conditions among others.
The effects may not be immediate, but it may continue to cause gradual damage to the parts of the body.
How to limit telecom mast health hazards
It's believed that the health implications of telecommunication towers can be minimized by abiding by the standard set back guidelines.
But there is conflicting set back guideline between NESREA and NCC.
National Environmental Standards Regulatory and Enforcement Agency (NESREA), which is "charged with the responsibility of enforcing all environmental laws, guidelines, policies, standards and regulations in Nigeria," stipulated a 10-metre setback.
NCC's guideline is a five-metre setback, which NESREA considers too close to residential buildings.
The point is to try as much as possible to maintain a 10-metre setback considering the long-term health implications of telecom mast on humans.
Final thought:
Even though the level of radiofrequency radiation has been said to be low, its long-term effect could be hazardous. Therefore, exposure of the general public to radiofrequency radiation from wireless transmitters should be limited to a minimal level.
No clear effects on cognitive functions (memory comparison, visual selective attention, and dual tasking) were identified but analysis of the data from a Dutch study in 2003, showed some minor effects of Universal Mobile Telecommunications Systems (UMTS) signals on general well-being (no effects from GSM signals)."This report concluded that UMTS signals had an adverse effect on well-being," (Zwamborn et al., 2003).
References:
ohsrep.org.au/hazards/vibration/effects-of-vibration
vanguardngr.com/2016/10/court-orders-globacom-vacate-base-station-pay-n32m-landowners/
tandfonline.com/doi/abs/10.1080/09553008614550841
Written by:
A.O.Olaniyi (Engr.)