Last updated on June 9th, 2023 at 12:38 pm
Nigerian lawyer and investor, Jimoh Ibrahim, is a well-known personality and on the list of indigenous people who rose from grass to stardom. Little is known about the reclusive billionaire, but in this biography, we've gathered little information about the Ondo-born diversified businessman.
Table of Contents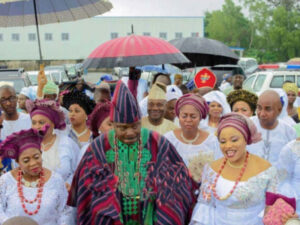 Overview:
Name: Jimoh Ibrahim
Born: February 24, 1967
Home town: Igbotako
LGA: Okitipupa
State: Ondo
Business interests: Hospitality, Oil and Gas, Insurance, Education, Real estate
Wives: 1) Modupe 2) Biodun
Born to the family of Alhaji Yakubu and Omofemiwa Jimoh on February 24, 1967, Jimoh Ibrahim was raised with other family members. His father was a bricklayer with many wives and his mother worked as a fish vendor in the fish market in Ilaje, Okitipupa area.
Education
Jimoh Ibrahim attended the Saint John's school in Igbotako, Ondo State, for his elementary and secondary studies. He received his Bachelor of Laws (LLB) from Nigeria's Obafemi Awolowo University in Ile Ife, Osun State.
He went on to get a Master of Public Administration (MPA) from the same university. He would later proceed to Harvard University in the United States, graduating with a Master of Laws (LLM) and a Master of international taxation
Career
As an undergraduate, Jimoh advocated organizing seminars on law for all Nigerian local governments in order to teach them how to write their own laws. Upon learning that only the federal and state governments had laws, he made this decision.
According to rumours, he made a tidy sum of money by holding lectures in all of Nigeria's local governments. He learned that the government was having difficulties recouping its withholding tax from large international oil firms.
With this information, he devised a plan to assist the government in recouping billions of dollars in unpaid withholding tax from global oil firms. So, he got the green light for his plan and maintained his word to get the money back and make some money in the process.
In addition, Jimoh served as a tax consultant for the IMF and was a member of the Harvard team that advocated for tax reform in Bangladesh.
Business Empire of Jimoh Ibrahim
When Jimoh Ibrahim first began out, he used his father's bricklaying materials to do small-scale jobs.
He is a savvy investor who has stakes in a wide range of businesses, including oil and gas, hotels, aviation, banking, real estate, insurance, and the publishing and media industries. In order to manage all of Jimoh's investments, he named them all under the Global Fleet Group.
Some of his companies under the Global Fleet Group include:
Global Fleet Oil and Gas
Air Nigeria
NICON Insurance
NICON Luxury Hotel
Energy Bank, Ghana
Energy Bank Sao Tome & Principle (formerly known as Oceanic Bank)
Newswatch Magazine
Apart from his investments in Nigeria, the owner of NICON Luxury Hotel also invested heavily in the United Arab Emirates (UAE) where he lives with his second wife Biodun.
In March 2020, he led other dignitaries to commission his private institution called Fortune University at his home town in Ondo State. Some people refer to the institution of learning as Jimoh Ibrahim University.
It was alleged that the OAU-trained lawyer made his money during the regime of Late dictator, Gen. Sani Abacha when he was a consultant to the military regime on taxation.
Governorship Ambition
Jimoh Ibrahim ran for governor of Ondo State in 2003 as a member of the All Nigeria People's Party (ANPP). He contested again in 2016 under the People's Democratic Party (PDP) but was defeated.
Senatorial Election Victory
After several years of politicking behind the scene, the Ondo billionaire obtained a nomination form to contest Ondo South Senatorial District ahead of 2023 under All Progressives Congress (APC).
Ondo South Senatorial District consist of six local government areas of Ese-Odo, Irele, Okitipupa, Odigbo, Ilaje and Ile-Oluji/Oke-Igbo.
The oil mogul won the primary election by defeating four other aspirants by polling a total of 190 out of the 330 votes cast during the election.
Other contestants Mathew Oyerinmade scored 92 votes; Boye Oyewunmi got 23 votes, Morayo Lebi and Sola Iji had nine votes each.
And in the February 25, 2023, Senatorial election, the Ondo billionaire emerged victorious with 110,665 votes.
He defeated his main rival, the former deputy governor of the state, Agboola Ajayi of the Peoples Democratic Party (PDP), who polled 65, 784 votes.
The Okitupupa-born billionaire will be among the 109 senators in Nigeria's 10th Senate in Abuja.
Burden of Debts
The former governorship aspirant in Ondo state is one of the Nigerian billionaires whose properties may be taken over by the Asset Management Corporation of Nigeria's (AMCON).
For instance, the billionaire lost a case on November 18, 2021, over the taking over of 12 of his assets by AMCON over NGN69.4 billion debt. Some of the affected properties include:
The building of NICON Investment Limited at Plot 242, Muhammadu Buhari Way, Central Business District, Abuja.
NICON Hotels Limited building at Plot 557, Port-Harcourt Crescent, off Gimbiya Street, Abuja.
The building of NICON Lekki Limited also at No. 5, Customs Street, Lagos
The building of Abuja International Hotels Limited located at No. 3, Hospital Road, Lagos.
The property at Plot 242, Muhammadu Buhari Way, Abuja.
The former Allied Bank Building on Mile 2, Oshodi ExpressWay, Apapa Road, Lagos
The NICON Luxury Hotel's Building, Garki I, FCT, Abuja.
Energy House located on No. 94, Awolowo Road, Ikoyi, Lagos
NICON Building at No. 40, Madeira Street, Maitama, Abuja
Net Worth of Jimoh Ibrahim
Little is known about the private life of the Global Fleet founder, even at that, he is one of the billionaires in Nigeria.
His Collection of Cars
Little is known about his garage, but when he clocked 50 in 2017, the billionaire gifted himself a 2017 model Rolls Royce Ghost. The monster car was valued at NGN300,000,000, according to ondoevents.com
Conclusion
The making of giants they say is not easy and one is not come by easily, this is the case of Jimoh Ibrahim who came from an average family background but never allowed that set his back on the ground. He rose from nothing to shining stars and is also one of the business moguls to reckon with when it comes to Ondo state and Insurance in Nigeria generally.