Last updated on December 29th, 2022 at 06:20 am
On December 1, 2021, MTN Nigeria made a public statement that it would be selling part of its shares to Nigerians who were interested in buying stocks, the question some Nigerians have been asking since the digital sale began are: 1) how can buy MTN Share? 2) Do I need to go to my bank to purchase the much anticipated public offer?
To address all these and other inquiries you might have, we've put together a comprehensive guide on how to purchase MTN Nigeria share right on your smartphone.
In less than 24 hours, if there is no delay from your stockbroker, you should be one of the shareholders in MTN Nigeria in the comfort of your home.
We'll get on that and other issues, but first…
What's the value of MTN Shares offer for 2021?
The latest MTN public offer is 575 million shares which began on December 2, 2021, at exactly by 8:00 am
Closing date: Application for MTN Share (Nigeria) will close on December 14, 2021, at exactly 5:00 pm
Minimum units: 20
Price per unit: NGN169
In a statement made available to NGX Exchange by MTN Nigeria secretary, Uto Ukpanah, the offer includes a bonus share of one share for every 20 shares bought by a retail investor subject to maximum bonus shares of 250 per investor.
To qualify for the free share, a retail investor must buy and hold the shares for at least 12 months after the allotment date.
Equally, MTN Group President and Chief Executive Officer, Ralph Mupita, said the Offer is part of MTN Group's strategic move to prioritize the creation of shared value.
Objectives of the MTN Public share:
There are two major objectives MTN Nigeria is offering a public offer, they are:
To reduce MTN Nigeria's shareholding from 78.8% to 65% over time.
To provide Nigerian retail investors with an opportunity to own shares in MTN Nigeria.
The good part…
The share price is NGN169 while the current market price is NGN170. This means if you bought 5,000 shares, you automatically gain NGN5,000 instantly
The minimum order is 20 units, which means you can invest in MTN Nigeria with just NGN3,380
Tips:
To appropriately calculate the number of units you have a budget for, divide the purchase price by your budget e.g
I have budgeted NGN100,000 to buy MTN Share, all I need to do is 100,000/169=591.7
As such, you can simply buy 590 units of MTN share which is NGN99,710
In the course of your application, you're going to need to setup CSCS Account (the primary offer app has even made it easy for investors to get CSCS number) and CHN so, if you're wondering what CSCS or CHN means, we've got you covered.
Meaning of CSCS and CHN
CSCS means Central Securities Clearing System while CHN stands for Clearing House Number. You need CSCS number as an investor which is your unique identifier to purchase and/or sell securities.
So, let's get started…
Create a PrimaryOffer account on the app
Second, setup CSCS account
Buy share
How to Create an Account on PrimaryOffer Account
Follow the guide below using PrimaryOffer App (digital product of NGX) to join MTN shareholders in Nigeria.
1) Download the PrimaryOffer App from Google Playstore store or Apple Store
2) Click create account
3) You need your Bank Verification Number (BVN) and Date of Birth on the account creation page
4) Click proceed to continue
Note:

Ensure that your date of birth corresponds with what you have with your bank
5) The next page automatically fill the data you have on your BVN
6) While filling other spaces, note that your mother's maiden name is her surname before marriage
7) Mark the terms and conditions to submit your MTN share online application.
8) A 6-digit security code would be sent to your email address, check your inbox or spam folder and enter it on the app
9) Click validate button to complete your application
10) A congratulatory message will pop up if your code is rightly filled.
How To Buy MTN Public Offer on Primary Offer App
Now that you've set up an account to purchase MTN Share Primary Offer, you need to access your account using the same app as thus: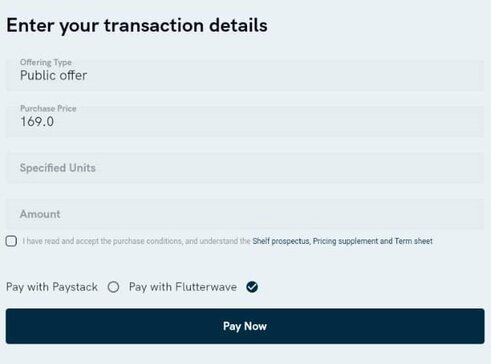 1) Login by using your email address and the password you set during account setup
2) Now you need to click MTN Nigeria Offer on the home page to proceed
3) Agree to the T&C again to proceed to the next page
4) Enter the number of MTN Share units you want to buy (the minimum is 20)
5) When you enter your details on the purchase page, you will be prompted to create a CSCS Account
How To Get CSCS Number
We already have a guide on how to open a CSCS Account, don't worry if you don't have a CSCS account, the MTN Share PrimaryOffer App has even made it easier and you don't even need to pass through the hassle of getting one. It's easier on the app
You will be prompted to create a CSCS account on Primary Offer App and details would be sent to your mail.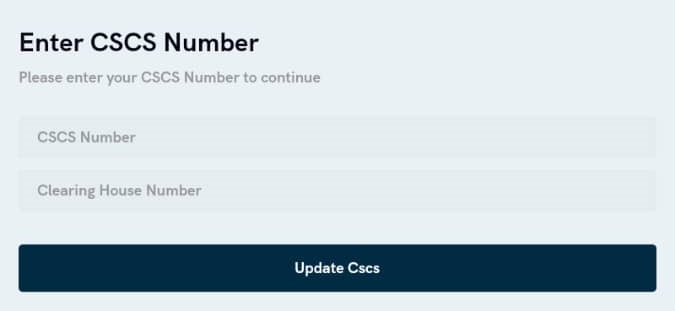 2) Choose from the list of certified brokers from the menu
3) Update your bank details on the next page
4) It would return you to the CSCS page to complete your application
5) After this completion, your stockbroker will send details to you or you can notify your stockbroker to complete your registration to get CSCS Number and CHN
6) When you get your CSCS number and CHN, proceed to buy your shares
That's all, you just bought MTN share.
Easiest Way: Use Browser Version of Primary Offer to Purchase the MTN Offer
While the guide on MTN Online page says you can easily buy the public offer on the NGX app, we noticed some glitches: the payment page refused to come up without first getting a CSCS number, however, the browser version of NGX app (primary offer) makes it easy. It'd prompt payment and your CSCS number would be initiated and mailed to you.
Follow the steps below:
In a situation whereby the payment option doesn't come up on the application, your best option is to head straight to the browser version of the Primary Offer App
Use retail.primaryofferng.com/auth/login to access your account on your preferred browser (chrome, Mozilla work fine) Use the same login details as you would for the app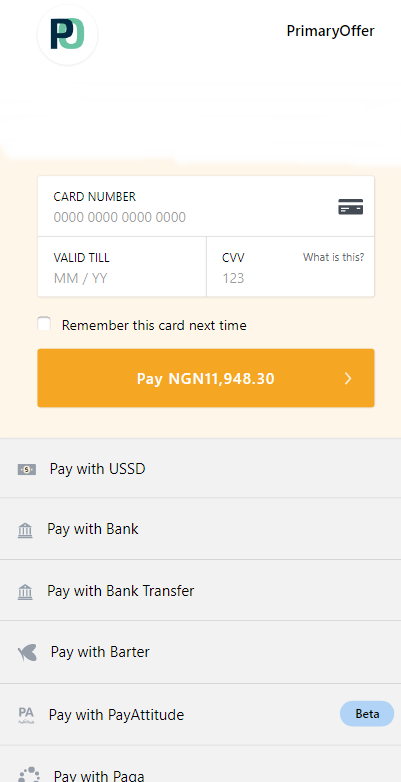 Click on offerings by the left handside
Choose MTN Nigeria Offer
Enter the number of units
Click continue
Agree to the three T&Cs
And click pay with flutterwave
Enter your card details and click pay, you'd be returned to the transaction page
Check your inbox for details of your transaction
That's all.
You can log in to the App to see your portfolio. It should reflect your transactions. For the failed transactions, you can click the three dots and select "delete" to remove them from your transaction page.
NOTE:
Three important emails would be sent to you:
CSCS Account Creation
CSCS Account creation initiated
Transaction notification
Thank you for using Primary Offer

Your request to create a Central Securities Clearing System (CSCS) account is being processed, and you will receive a notification as soon as it's created.

Kindly note your CSCS number is your unique identifier to purchase and/or sell securities.

First Primary Offer email
The second message is titled, "CSCS Account Creation Initiated" which means once your CSCS account creation is completed, you'd be notified as the unique identified would be sent to you.

The transaction notification contains your name, transaction amount, units purchased, and description. You would be notified of your allotment when the process is completed
Wait for your CSCS number. But you already bought your share.
Still, have some questions to ask?
Here are a few answers to the questions are most likely going to ask:
Do I need to visit a bank to buy MTN Share?
You don't need to because everything can be done online right on your mobile phone. Follow the steps we have above to proceed.
What is a CSCS Number?
The CSCS Number (Central Securities Clearing System) and CHN (Clearing House Number) are investors' unique identifiers to purchase and sell securities.
I don't have a CSCS, how can I apply?
Follow the account creation stated above. Details will be sent to you
What are the requirements to create CSCS account with stockbrokers?
Your chosen stockbroker may request the following details from you in case you want to first setup CSCS account with a stockbroker
A recent passport-sized photograph.
Means of Identification e.g valid international passport, valid driver's licence, permanent voters card, or national id card or slip
Proof of Address e.g valid utility bill in your name within the past 3 months, recent bank statement bearing current and properly captured residential address, tenancy agreement with valid rental receipt, valid driver's license, permanent voters card (PVC), National Identification number (NIN) Slip
Signature specimen – image or document
Note: Any document you want to send should not be more than 2MB
How can I make a payment?
To make payment for your share purchase, there are two options: 1) Paystack 2) Flutterwave via Electronic transfer Pay
I'm unable to buy the share after setting up an account, what can I do?
As earlier stated, you need CSCS Number and Clearing House Number to buy the share, as such, after submitting your CSCS account application wait for your Stockbroker to send you details of how to complete the account creation and details of CSCS number and CHN. After this, you can buy the share.
What is MTN share contact details?
If you have any complaints regarding your MTN Share application process, you can reach out to support using any of the below phone numbers or email address:
070046837862452
0806 866 3337
info@primaryofferng.com
We noticed that issues are promptly attended to. But before contacting support, ensure that you follow the instructions above. It is very simple.
Is PrimaryOffer Application safe?
Primary Offer is a digital product of NGX Exchange formally known as the Nigerian Stock Exchange. Note that NSE now NGX has been in existence as far back as 15 September 1960.
As such, your information on Primary Offer is secured. However, ensure to take personal security seriously. Don't share your login details online on a public forum.
MTN Share is the first public offer the telecom giant will be selling after several years. You can buy as low as 20 units of share which is just NGN3,380. You can do this through these simplified ways:
Download and signup on NGX PrimaryOffer app or use the browser
Use your BVN and date of birth and email address
Using OTP sent to your email to activate your account
Login to fill in your personal details
After completing your profile on the app, log out
Login to

retail.primaryofferng.com/auth/login

on your browser
Click offerings
Choose NTM Nigeria
Enter the units you want to buy
Click Flutterwave
Enter debit card details
Click pay
Check your transaction page if it's successful or not. "Pay" is for Successful "Pending" is for failed transaction
Check your inbox for details
Tips:
How can resolve the issue of a pending transaction in MTN share?
One of the questions we've received is: "I made a payment this morning for MTN share, the bank has already debited my account but the share status is still showing pending instead of paid, what can I do?
If you encountered an error on the payment gateway due to a technical glitch, your payment may be pending. You need to exercise patience for some minutes, then check your bank account balance, if you've been debited, you'd see the units of share in your primary offer app within hours.
Alternatively, refresh if you are using a browser. Or log out and login to the app again and check your transactions. This time, it should show the following details:
Asset (which is MTN PO)
Share price
Units
Units allotted (it shows zero because this will be announced by MTN Nigeria at a later date)
Total cost
Date
Status (it should show "paid")
Will the amount I paid reflect on my dashboard even without the CSCS number?
Delay in your CSCS number and CHN does not hinder your payment of shares. CSCS number isn't immediate.
It would be processed by the stockbroker that is going to manage your account.
As such, the amount you paid will reflect on your dashboard even without CSCS number, IF your payment was successful.
Please can I use another account that doesn't bear my name to make payment on MTN share?
Do you have the consent of the account holder? Do you have access to his phone number where you can receive OTP? If YES, then you're fine to go ahead.
Besides, there are parents who bought shares for their kids who do not have enough credit to purchase the offer.
I can't verify my account, what is the problem?
Make sure you enter the correct 11-digit BVN number and ensure that the date of date is exactly the same in your BVN details.
Do you have any other challenges? Don't hesitate to drop your question.
References:
MTN Nigeria (December 01, 2021). "Own a share of MTN today". MTN online. Retrieved December 03, 2021.
MTN Nigeria (December 01, 2021). "Receiving Agents: Banks, Issuing Houses and Stockbroker

". MTN online. Retrieved December 03, 2021.

MTN Nigeria (December 01, 2021). "Application Form: Retail Offer

".

MTN online

. Retrieved December 04, 2021.

MTN Nigeria (December 01, 2021). "MTN Term Sheet

".

MTN online

. Retrieved December 04, 2021.

Featured Image: Screenshot on NGX Primary Offer App.