Last updated on November 13th, 2023 at 07:46 am
FGN Savings Bonds (FGNSB) are government-issued debt securities of the Federal Government of Nigeria
FGN Savings Bonds in Nigeria are designed to be long-term investments just like Series EE and Series I bonds in the United States.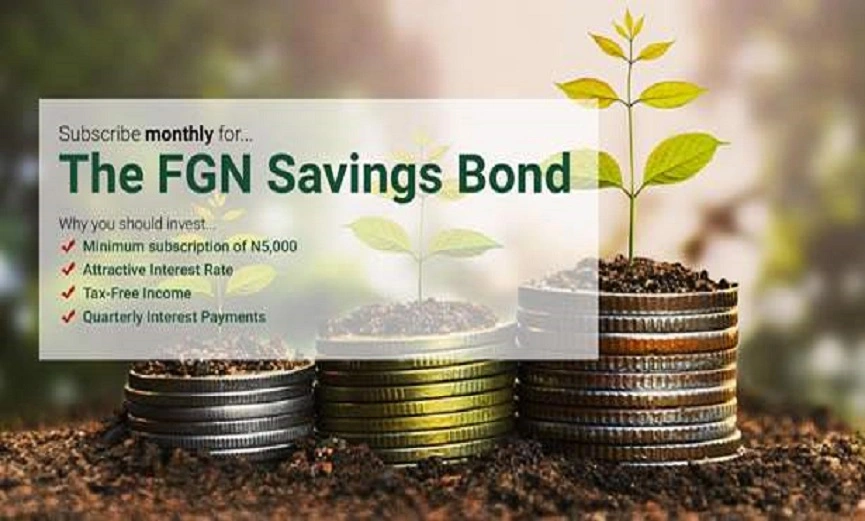 We will explore the meaning of FGN savings bonds, interest payments, and how to subscribe to FG-backed securities.
Table of Contents
What Are FGN Savings Bonds?
FGN Bonds are debt securities (liabilities) issued by the Debt Management Office (DMO) on behalf of the Federal Government of Nigeria (FGN) with a minimum maturity of two years.
However, there are FGN bonds with maturities that range between three to 10 years and between 15 to 30 years or more in the future.
How FGN Bonds Work
Buying FGN Bonds is like you are lending to the Federal Government of Nigeria for a specified period of time. It is like you are putting your money to work for you when you buy bonds of FGN
They are considered the safest of all investments in the domestic debt market because it is backed by the 'full faith and credit' of the Federal Government.
It is classified as a risk-free debt instrument. No default risk, meaning that it is absolutely certain you will receive your interest and principal at maturity.
Benefits of FGN Savings Bonds
The benefits of FGN Savings Bonds include:
They are a low-risk investment since they are backed by the full faith and credit of the Federal Government of Nigeria.
FGN Savings Bonds are non-marketable, which means they cannot be sold on the secondary market. This can be seen as a positive since it discourages speculative trading and provides a stable investment.
The FGN has an obligation to pay the investor (bondholder) the principal and agreed interest as and when due.
They offer tax benefits; for instance, interest is exempt from state and local taxes, and federal taxes. The interest income earned from the securities is tax-exempt.
For a retail investor seeking income, it's 100% risk-free as the Federal Government of Nigeria which is the issuer will not default on naira-issued instruments.
When you buy FGN saving bonds, you will get paid quarterly.
Downsides of FGN Bonds
However, investing in FGN bonds comes with some disadvantages, including:
FGN Savings Bonds have lower interest rates compared to other investments, reflecting their lower risk.
They are not as liquid as CBN T-Bills because you cannot access your money before a certain period.
You may be penalized if you plan to liquidate your investment before the maturity date.
Considering the rate of inflation in Nigeria, buying FG Bonds may not beat inflation.
In October 2023, for instance, Nigeria's inflation rate jumped from 25.80 per cent to 26.72 per cent, marking a 0.92 percent increase.
In 2022, the inflation rate in Nigeria was 18.85 per cent as against 16.95 per cent in 2021. In 2020, it was 13.25%, a 1.85% increase from 2019.
The point I'm trying to make is that you need to monitor the inflation and how it affects your return on FG bonds.
You don't really need to be overly worried about this because no regulated Naira investment is guaranteed to beat inflation.
What Is The Interest of FGN Savings Bond?
The maturity date may be a determining factor of FGNSB interest rate. For instance, in the November 2023 FGN bonds, the 2-year saving bond which is due in October 11, 2025, has a 12.46 per cent interest rate per annum while the 3-year savings bond that is due on October 11, 2026, has a 13.464% interest rate.
Interest Payment for Savings Bond in Nigeria
Interest payment of FGN savings bond is every three (3) months.
Minimum subscription
As per the November 2023 savings bond, investors would invest as little as N5,000.
Who can invest in the savings bond of FGN?
It is inclusive. It is designed for individuals, corporate bodies and businesses across various social classes. With as little as N5,000, you can buy the bond.
How to invest in FGN Saving Bond
There are two ways to buy FGN savings bonds:
Through the Primary Debt Market
Through the Secondary Debt Market
As for the Primary Debt Market, only Primary Dealer Market Makers or PDMMs that are certified by DMO are responsible for submitting bids for themselves and on behalf of their clients at the Auctions.
As for the Secondary Debt Market, you subscribe to FGN savings bonds through the licensed broker-dealers (banks and stockbrokers) on the floor of The Nigeria Exchange Group (NGX) and on FMDQ OTC Securities Exchange.
You can find the list of licensed brokers where you can buy FG savings bonds in Nigeria.
Recap:
The FGN savings bond is safe because it is backed by the "full faith and credit" of the government.
It is seen as a regular stream of income for some investors because you will receive interest every three (3) months.
If you buy through any of the PDMMs, you can use your investment as collateral for loans from your bank.
From the above, buying a FGN Savings Bond is a good investment decision, depending on your investment goal.