Last updated on November 29th, 2023 at 09:18 am
If you registered a company with the Corporate Affairs Commission and you failed to file a return every year, your company status will change to "inactive".
If the status of your company or business is "inactive", the issue is resolvable. We'll guide you on how to change your status to "active" on CAC portal.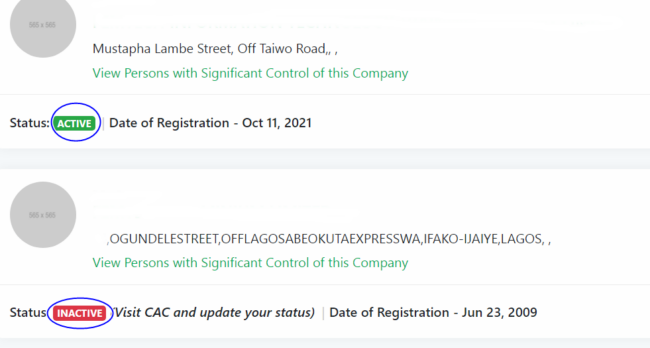 Before that…
What is delisting?
Delisting is one of the terms associated with the stock exchange which means the removal of security from stock listing. It usually happens when an issuer (company) is declared bankrupt or violates critical rules. It can also be voluntary or involuntary.
Delisting in CAC Context
1) Failure to file an annual return means that your company has violated the Companies and Allied Matters Act (CAMA), 2020 as such the commission has taken appropriate action against your company as required by sections 417 to 425
2) Filing annual returns shows that your company is in operation in the eye of CAC, failure to do that is treated as "company no longer carries out business."
3) Your company will no longer be regarded as a legally registered entity
4) Your business will lose all privileges so accorded them by law.
5) You can no longer use the name as a legal entity in accessing government loans
6) Delisting is another way the CAC generates more revenue by compelling businesses and companies to pay their return backlogs.
CAC's Long List of Delisting
As an agency of government in charge of regulation and supervision of business and company formation in Nigeria, CAC has been involved in many cases of threatening to delist registered companies or businesses.
On March 8, 2016, the agency in a statement stated that it would delist 38,717 dormant companies from its register because they failed to file their annual returns.
On Tuesday, February 21, 2017, Nigerian Tribune reported that 38,000 dormant companies were suspended for being inactive for a long period of time.
In the year under review, specifically in August 2017, another 44,000 companies were "removed" from its database, according to a report by Economic Confidential while it continued to review records of firms.
"The laws says that if the commission has a reasonable cause that the company is not carrying on business while in operation, then it has to enquire from that company and if no response is received within three months, the commission can proceed to strike off the name of the registered company, the DG was quoted as saying by The Punch in 2017.
Again in 2019, CAC showed that it wasn't tired of expunging inactive firms from its companies. In October of that year, it delisted another batch of 40,000 companies, claiming that the affected firms recorded no activity.
What the law says about annual return
Chapter 16, section 417 of the Company and Allied Matters Act, 2020 clearly states that:
"Every company shall, once at least in every year, make and deliver to the Commission an annual return in the form, and containing the matters specified in sections 418, 419 or 420 as may be applicable"
How To Change Inactive Status to Active on CAC Portal
One of the ways to check this is to run a check on the company's status at https://search.cac.gov.ng/home,
If you see the tag, "inactive" you have to pay up your annual return
Your status will automatically change to active when your payment if confirmed by the commission.
This above action means you're legally bring back your company on the database of CAC
To avoid the repeat, regularly file your company's annual returns, that's one of the easiest ways to avoid delisting.
Why is my business showing "inactive" after paying an annual return?
If your annual return is up to date but your status is showing "inactive", send evidence of payment and a complaint to CAC via spu@cac.gov.ng.
What are the consequences of delisting a company by CAC?
You may not be able to use the same company to access credit facilities from any financial institution. "Inactive" status may also affect the credibility of your company in the eye of potential foreign partners.
This is because most foreign firms love to dig into the record of a company before a business agreement is made.
Can CAC delete a company name from its database?
Delisting doesn't mean deletion. CAC doesn't delete companies from its database rather it imposes sanctions like tagging such violators as "inactive"
Specifically, on February 24, 2021, issued a disclaimer that it doesn't delete a registered company:
"Commission does not "delete" registered entities. Companies and Incorporated Trustees may only be dissolved (with or without liquidation) and Business Names removed from the Register in accordance with the procedures prescribed in the Companies and Allied Matters Act 2020 (CAMA). And none of these procedures includes "deletion".
Why is my business name showing inactive on CAC?
Two reasons: 1) Your company's annual return is not up to date; 2) CAC may also fail to update your status even after making payment. For the latter, refer to the number 1 question on sending a complaint to the commission
What does it mean when a business is inactive?
To CAC, an inactive business is no longer in business, to prove the commission wrong, ensure to file an annual return every year.
How do I know if a company is dormant?
To know if a company is dormant, run a check on CAC search database, if it reads active, it means your record is up to date. If it reads, "inactive" it means its record isn't up to date as such, is treated as dormant.
What's the cost of reactivating my company on CAC Portal?
For a Business Name, it's NGN5,000 per year. For a Registered Company, it's NGN10,000. However, a service charge will be applied if you're using a third-party service like CAC accredited agent.
Above all, reactivating your company means your annual return should be up to date
I need assistance
If you need help on how to change inactive to active on your business, check the details on our Contact Us page