Last updated on September 25th, 2023 at 01:18 pm
You can buy and sell APENFT on Binance, CoinMarketCap, and on 24 other cryptocurrency exchanges plus the market pairs you can use for the purchase. This article covers the step-by-step guide.
Table of Contents
What is APENNFT?
APENFT is a decentralized digital asset that is backed by ERC-20/TRC-20 protocols with support from BitTorrent File System (BTFS), the world's largest distributed storage system, to deliver the mission of registering world-class artworks as NFTs on the blockchain.
What is the price of APENFT?
Current Price of APENFT token: $0.0000003142 (At this time of updating this article)
All-Time High: $0.00000764
All-Time Low: $0.0000002889
Market capitalization: $$311,104,909 (subject to change on live stat on CoinMarketCap)
The total supply of NFT coins is 999,990,000,000,000
"Total supply of a digital asset is the number of coins that have been already created, minus any coins that have been burned. It is analogous to the outstanding shares in the stock market."
Where can I buy APENFT?
APENFT is only available on some cryptocurrency exchanges. But in this article, we'll show you how to buy APENFT even if it's not available on your favourite crypto exchange platform.
Binance
CoinMarketCap
How to Sell and Buy APENFT on Binance Using Metamask Wallet
So, let's specifically narrow down this guide to the connection between Binance and MetaMask Wallet where you can purchase Ethereum on Binance and then use it to buy apenft.
MetaMask is a software cryptocurrency wallet that interacts with the Ethereum blockchain. Simply put, MetaMask allows Ethereum holders to access their ETH wallets through a browser extension or mobile app. In turn, this can be used to interact with decentralized applications.
The Ethereum network is similar to Binance smart chain, a blockchain for developing decentralized applications (dApps). The blockchain connection is very useful.
Binance is the largest exchange globally in terms of trading volumes and the number of visits on its domain per week
You can achieve this by simply connecting your crypto wallet to a decentralized exchange (DEX) using your Binance account to buy the base currency.
Note: ApeNFT is not listed on Binance Exchange at the time of publishing, but below is the step-by-step guide to buy APENFT.
Step 1: Download a Metamask Wallet using metamask chrome extension on your browser or app. Supported browsers are:
Firefox
Chrome
Brave
Edge
If you prefer it on your mobile smartphone, you can find it on Google Play or iOS App Store. The Metamask download link for browser and mobile phone is available at: https://metamask.io/download.
Step 2: You need to set up a cryptocurrency wallet on metamask if you are a first-timer via the extension on your browser or mobile phone.
Security: A seed phrase will be displayed for you to save, keep it very well and take note of your wallet address because you are going to use it in the steps below.
Step 3: Create an account on the Binance exchange if you don't already have one. Fund your Binance account, you can use the P2P version or use buy by using your credit/debit card.
On Binance.US, United States residents can easily buy crypto assets using USD. Still on your Binance account, head straight to the Buy and Sell crypto webpage to buy the Ethereum (ETH). This means the ETH you just bought is your base currency.
Step 4: Now that your Binance wallet is funded with ETH, now it's time to send ETH from your Binance wallet to your Metamask crypto Wallet.
On eth wallet, click withdraw and fill up the pop-up form and set the network to Ethereum, provide your wallet address in step 2 above and the amount you want to transfer.
Step 5: Hit the withdraw button and wait for your Ethereum to appear in your Metamask.
Step 6: At this stage, you need to choose a Decentralized Exchange (DEX) and connect your wallet.
Note: There are other DEXs, the major thing is that the exchange must support metamask wallet. For the Metamask wallet, you can go to 1inch to make the transaction.
Step 7: Choose APENFT as the coin you want to purchase and select ETH as the payment and apply the swap.
Note:
In a situation whereby APENFT doesn't appear on the DEX, you can refer to the smart contract address at: etherscan.io, copy and paste it into 1inch and apply the Swap and hit the Swap button.
How to Purchase APENTF on CoinMarketCap
Don't get confused, CoinMarketCap isn't a marketplace, but a resource crypto platform that acts like a gateway to get every information and real-live data of crypto assets as a guide to achieving your crypto investment.
Apart from being a price-tracking website for crypto assets, the powerful mission of the most-referenced website in the crypto sector is to empower retail users with undiluted, accurate, and analysis.
As such, all the listed crypto assets on CoinMarketCap.com contains the history and buying process of crypto assets.
So, let's get started…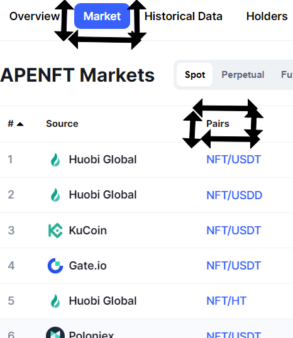 Step 1: Check APENFT dedicated page on CoinMarketCap. Alternatively use the link: coinmarketcap.com/currencies/apenft to see the list of crypto exchanges where you can buy.
Step 2: Click "Markets" located beside the "overview" or simply use the link: coinmarketcap.com/currencies/apenft/markets to see the list of supported exchanges where you can purchase APENFT tokens and the market pairs.
Note: Under "Pairs" you'll the second coin or currency you can use to buy. For instance, where you see the pair: APENFT/USDT, means you can buy apenft with USDT (meaning you can buy the NFT with the U.S Dollar).
Step 3: carefully choose your preferred exchange from the list we have above or choose on the CoinMarketCap directory.
Step 4: Make the purchase on your preferred exchange.
Caution: We urge you to check the antecedent of the exchange to trade on. Pay attention to security, support, reliability, and other important factors to consider before choosing a crypto exchange.
Some of the platforms have video guides to make your trade simple. One thing we've also noticed is that it is easier to buy crypto-assets using the U.S dollar or any other fiat currency than purchasing it with another digital coin.
Other platforms where to buy APENFT and their market pairs
Bitfinex: APENFT/USDT
Bybit: NFT/USDT
BitMart: NFT/USDT
BKex: NFT/USDT
KuCoin: NFT/TRX, NFT/USDT
OKX: NFT/USDT, NFT/USDC
LATOKEN: NFT/USDT
Hoo: APENFT/USDT
Bibox: APENFT/USDT
Poloniex: NFT/USDD, NFT/TRX, NFT/USDT
Bitrue: NFT/USDT
Pancakeswap: NFT/WBNB
CoinTiger: NFT/USDT
Jubi: NFT/USDT
Bitget: NFT/USDT
Coinone: NFT/KRW
Gate.io: NFT/USDT
Bingx: NFT/USDT
MEXC: NFT/USDT
Huobi Global: NFT/USDT, NFT/USDD,NFT/HT
Sun.io: USDT/NFT, NFT/TRX
BingX: NFT/USDT
CoinEx: NFT/USDT
Pionex: NFT/USDT
About APENFT (NFT) Token
It is impossible to discuss the idea behind the APENFT token without talking about NTF. NFT means a Non-fungible token which is a financial digital security asset stored on a blockchain with identification codes and metadata that differentiate them from each other.
The owner of an NFT can record their asset on a blockchain which can then be sold to a buyer or fans of NFTs. NFT implementation can now be found in almost every sector including healthcare which blockchain players prefer to call medical NFT.
Holders of NFT can vote, share profits, participate in community events, and receive NFT airdrops as we've seen in the case of some exchanges that support APENFT Airdrop programme some weeks ago, especially, Binance. In some cases, the recipient of NFTs would have to meet certain conditions to be eligible.
You can find APENFT (NFT) tokens on some cryptocurrency exchanges while it isn't on others. APENFT is the official governance token issued by APENFT Foundation after it was officially registered in Singapore on March 29, 2021.
APENFT Foundation
Apart from seeing APENFT as a token, the core businesses of APENFT Foundation include:
Investing in artworks and top Non-Fungible Token platforms
Motivating NFT artists by sponsoring galleries
Act a boost for art exhibitions
Setting up awards to support artistic creation and criticism
Establishing art collections
It provides support to government agencies, higher institutions, the legal profession, and other sectors in issuing policies that govern the healthy development of the NFT industry.
Recall in August 2021, the Chairman and a principal of IMG Artists, Barrett Wissman was appointed as the Chief Investment Advisor for the foundation. IMG Artists is the leading global arts management, touring, and advisory company.
Wondering what you can do with APENFT?
By the current market value, APENFT Token is $0.0000003142 (as of Monday, September 25, 2022; 14:02), meaning you can buy 75.4 million APENFT with just $50 USD.
That's huge for a promising digital asset, but then losses in cryptocurrency trading are something you must be prepared to bear at any given time as it is currently with bitcoin disastrous crash.
So, APENFT token is something you can buy and hold if you are a long-term investor.
Recap:
While the price of APENFT is still affordable in the market, as you're trying to become of the early birds to buy apenft in the US, Canada, Australia, and other crypto enthusiast countries around the world, it is very important to pay attention to any of the links to use for the purchase, attacks on cryptocurrency exchange are high and that's one of the reasons we use naked links in this guide.
Disclaimer: Check our trading disclaimer on how to trade crypto or token with caution. It's volatile and risky.
References: