Last updated on August 17th, 2022 at 03:21 pm
Networking is one way for entrepreneurs to understand their industry and meet experts to help grow their businesses. The benefits of having a network of individuals in your digital Rolodex greatly outweigh the time and effort necessary to establish and grow that network.
When it comes to networking, there are several ways to do it. The most popular way is to attend live events. However, networking at live events isn't always possible. Even more so, the emergence of online events makes networking a real possibility. So how do you network at online events?
We have several tips ready to go to help you do that. So without wasting your time, let's start.
Start Working on Your Profile
Much like in real life, organizers of the events will encourage attendees to create their online profiles. Online events for networking serve the exclusive purpose of helping attendees meet others in their industry to forge working relationships.
But how would others know who you are and what you do if you don't work on your profile? So the first thing to do is create your profile and show your qualifications and experiences. Here is where you'll need to do some thinking.
You'll most likely want to meet experts, and they will want to meet you. So it would help if you made yourself appear attractive to others. If the event allows you to create and edit your profile, add the most relevant information, skills, interest, and experiences that encourage others to chat you up.
Don't forget to add your contact information, as chances are attendees will want to hit you up after the event.
Use Social Media
You might think networking at online events is all about being there. When in fact, that's not always the case. When attending any networking event, you want to get as many people interested in it as possible.
You do this simply because it increases your chances of meeting professionals. Chances are, every attendee will share the event on their social profiles. While everyone will undoubtedly do it before the event, will they do it afterwards?
You can go further and share a post detailing your experiences at the event once it finishes. Again, this increases your chances of meeting professionals by creating engagement.
Some attendees will likely want to see if there's anyone they missed at the event. So they'll search the relevant keywords on social media to see if anyone's posted about it. And chances are that your name will appear.
Social media is a valuable networking tool that every professional uses when looking to forge working relationships.
Be the One Who Reaches Out
You might be a real pro when talking to people, but not everyone is as communicative as you. That gives you the unique opportunity to be the one that makes the first move at any online networking event. Chances are, there will be people sitting idly, not knowing what to do.
Even if you're shy, don't be that person. Instead, dare to talk to someone. Remember that this is an online event, so there is no need to be shy. You're not physically there, making it easier to reach out to someone.
Furthermore, reaching out first can be a real icy breaker, making it easier to start a conversation. Sooner or later, others will join in, and you'll find yourself in a situation where you'll be talking to multiple people simultaneously.
So, remember, reach out first, talk, and listen to what attendees say. You'll be exchanging contact information in no time.
Engage With the Speakers
Online events will most likely have key speakers. Even if the event has nothing to do with networking, you are still attending an online event centred around a particular topic, niche, or industry.
For example, you might be attending an online event about cryptocurrencies and the NFT industry. Your goals for this event might be to learn more about the industry and how to monetize your unique talent. So, naturally, you'll want to talk to as many people as possible.
But just like talking to attendees broadens your network of professionals, so is engaging with the speakers. Speakers at online events are just as likely to want to meet you as any other attendee. They want to talk to interesting people and explain their unique positions in their industry.
Since speakers are professionals and know more than you, engaging with them for the duration of the event might help you find the right mentor.
Follow Up In Real Life
Online events are great because they're flexible. Anyone worldwide can attend them, and we're not bothered with traveling. They're also significantly cheaper as we don't need to pay for accommodations. But they're not better than talking to someone face-to-face.
Sure, someone might prefer this networking method, but meeting someone in real life is the ultimate way to forge a professional relationship.
Follow up in real life when you meet a particularly interesting person at an online event. Doing this not only tells the person you're interested in knowing more about them, but you're serious about starting a professional relationship.
But to do that, you will need to talk to them, ask for their contact information, and arrange a professional meetup. So you'll still have to talk to people. Regardless, if you want the person to take you seriously and become an individual whom they can turn to for professional help, you will have to meet in person eventually.
Conclusion
Online events give us more freedom and flexibility to meet industry professionals and like-minded individuals to add to our digital Rolodex. Some say online events are specifically designed for networking. While the truth lies somewhere in between, what's important is to start networking at online events now.
Our tips should be enough to meet new people and forge professional relationships.
Author Bio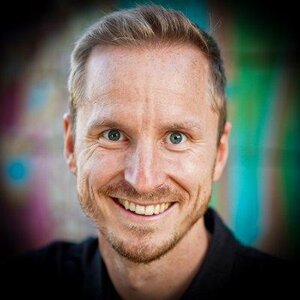 Erik Bergman co-founded Catena Media and helped grow it to over 300 employees and a $200 million valuation before stepping away to start Great.com, an iGaming organization that donates 100% of its profits to environmental charities.
In addition to running a successful online affiliate business, Erik also hosts the Becoming Great podcast, shares entrepreneurship tips with his more than 1 million social media followers, and contributes to sites like Entrepreneuer.com, Business Insider, Foundr, and Forbes.
Credit:
Featured image by Marvin Meyer on Unsplash