Last updated on August 12th, 2023 at 01:14 pm
Nowadays, there are a lot of brands and businesses that prefer to ply their trade online rather than sticking to traditional brick-and-mortar premises. And it makes sense, too.
According to Zippia, there are 12 – 24 million e-commerce websites on the internet as of 2022. And this number is constantly growing.
Table of Contents
In this vast number of businesses, it can be tough to make yours stand out from the crowd. If you are looking to grow your small business online, here are some useful tips and strategies that you can follow.
Make your business website user-friendly
If you have an online business, then it follows that you have a website that represents it.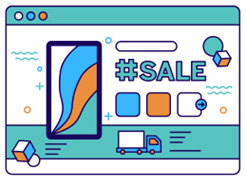 When it comes to your website, one of the main things that you have to do is make sure that visitors have a nice time on it.
If your website has a pleasant design and an easy-to-navigate interface, visitors will be more likely to interact with it and explore it. This will subsequently help them find out more about your business.
Considering the above, we can appreciate how a user-friendly website can become the means of a lead getting driven forward in the sales funnel.
But how does it help your small business grow? Basically, when you retain your visitors and lower the overall bounce rate of your website, your readership and audience will expand. This will lead to increased website popularity, which will further culminate in business popularity.
User-friendly interface -> Decreased bounce rate -> Increased readership -> Website popularity -> Small business growth
So, what are some things that you have to do to make your website user-friendly? Here is some of the main stuff:
1) Make sure you pick an easy-on-the-eyes color theme. A lurid mix of bright pink, green, orange, blue, and yellow won't be as easy to look at as compared to a gentle blend of white and light green. If you're using WordPress or a similar CMS for your website, you'll generally be able to access some excellent pre-made themes.
2) Make sure that all the menus and buttons are easily visible. Don't color a button the same color as the background, and don't make the text too small on a particular menu.
3) Another useful tip to follow when creating the site design is to keep all the main buttons and clickable stuff on the right side of the interface.
4) Be sure to pick a suitable font style, size, and color. All the text on your website should be easy to read, be it the labels on the buttons, the informational text, etc.
5) Make sure the text that you've written is not too difficult and complex. If you think that a particular piece of text on your website is too complicated, you can use a paraphrasing tool to rephrase it for better clarity.
Create a Blog
Along with making your website easy to navigate and use, you should also consider creating a blog on it. A blog is essentially a platform that you can use to share information with your website visitors. For a lot of websites, the blogging section can be the lifeblood, i.e., the reason that people come to the site in the first place.
But, even for other types of websites, having a blog can be very useful. It can become a means of attracting additional traffic to the site and boosting its overall popularity.
Blogs can also be a great way to make your website SEO optimized. When you publish posts relevant to your niche containing the right keywords, your website gets a boost in its SERP rank.
All of this collectively help your online small business to grow.
To give you some actionable tips regarding creating a blog and then running it, here are a few of the main ones:
1) Once you create your blog, be sure to publish blog posts that are relevant to your brand's niche. If you start publishing just about anything on there, it will bring about more harm than benefit. Your audience will get disappointed due to the changing topics, and the search engine will likewise get confused about the relevancy of your website.
2) Make sure that you publish the posts consistently. Sporadically putting out content now and then won't bring you the ideal results. Consistently can help you maintain your readership and attract new readers.
3) Ensure maximum content quality in your blog posts. Your blog won't be able to help your website out a lot if they are not high-quality. You have to keep in mind that there are a lot of blog posts already existing on the internet, and there are a lot of them that get published on a daily basis. As a result, it can be tricky to make a particular one stand out. In this regard, here are some things that you should check in a piece of content:
Grammatical and spelling perfection
Organization
Visual appeal
Uniqueness
Value and information
Find and Utilize the Right Advertising Channels
If you want to grow your online small business, you have to find and utilize the right advertising channels that can give it more exposure. The emphasis is more on "finding" than on using the right channels since a suitable channel, even if employed lightly, can be more effective than the excessive use of an unsuitable channel.
For example, if your brand's website is about an online tool or software, then it would make sense to utilize search engine ads for it. Since online users will look for that particular tool/software on the internet using search engines, you would be able to gain an edge over your competitors by showing up at the top of the SERPs (i.e., where the ads are displayed).
Similarly, if your brand's website offers a particular service, using channels such as email marketing can be more beneficial. Emails are more direct, and they can be suitable for promoting such offerings that require proper attention.
Below, we will talk about some of the common advertising channels by giving a brief description of each.
| | |
| --- | --- |
| Name of Channel | Description |
| Search engine ads | A method where search engines are paid to show certain websites at the top of the SERPs for their respective keywords. |
| Social media marketing | A method where social media like LinkedIn and Twitter are utilized for advertising a brand. |
| Email marketing | A method in which emails are sent directly to people to advertise a particular brand or business. |
| Banner ads/display ads | A method in which advertisements are displayed in the form of a large banner on existing websites/blogs. |
| Mobile marketing | A method in which mobile users are targeted in particular for marketing activities such as ads/promotional messages and like |
Conclusion
Growing a small business online, especially when there are so many of them already thriving, can be a difficult task. There are a lot of things that you have to do before you can get a foothold in the market and make yourself appear as a viable option to your potential customers.
In the post above, we've looked at some tips that you can follow to grow your online business and make it more popular. There are, of course, other things that you can do, but the ones we've mentioned above are a good way to start.