In our startup inspirational story today, we'll share with you the story of Becky Osarume Osagie, a Nigerian lady who returned to Nigeria from Italy to learn the vulcanizing job, and today she makes between N4,000 to N5,000 per day.
Vulcanizing job is one of the startups young Nigerians are embracing because of the rate of unemployment after graduation from the higher institution, more details about other businesses you can do can be found at: https://infomediang.com/business-start-up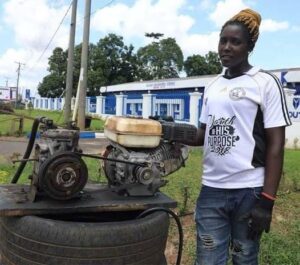 Despite the fact that the job is a male-dominated one, the young Edo lady would not be discouraged when she returned from Italy. Instead of going into prostitution, she said she chose to be her own boss.
In a story she shared with BBC Pidgin, she said the start was challenging as her boyfriend deserted her in times of need.
According to her, her boyfriend discouraged her from the job, but she was unperturbed which made the guy left her.
How she got to Italy
Becky Osarume Osagie, 25, while revealing how she landed in Italy stated that she landed in the European country in 2015 from Libya.
Becky who returned to Nigerian in 2017 said the living condition of Nigerian ladies who went through the desert en route Libya was pathetic as they were subjected to prostitution.
She said she got to Italy through an agent after paying the initial deposit of N400, 000 and made to agree to pay the illegal travel agent the sum of N17,000,000 upon arriving in Italy, meaning she would work to pay back the agent £35,000 (N17 million).
Why Becky left Italy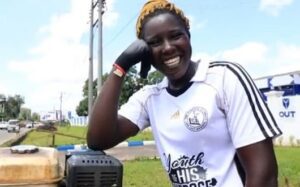 On getting to Italy after spending two weeks in a Libyan prison, Becky revealed that the only available job presented to her was prostitution.
Unhappy about the ugly job she was asked to do to pay £35,000 as an agent fee, she reported herself to police authorities in Italy which fast-tracked her return to Nigeria.
Why she chose vulcanizing job
She said she was motivated by one of the Nollywood movies she had seen where a female perfectly performed the job of a vulcanizer.
She made up her mind to get the required skill and take it as an occupation. Her boyfriend called it quits along the way because of the job she chose.
Today, she is her own boss.
Nigerians Hail Becky, The Nigerian Vulaniser Lady
Meanwhile, Nigerians have continued to pour encomiums on the vulcanizer lady. The Facebook Page of BBC Pidgin https://www.bbc.com/pidgin/tori-57760024 where she shared her story had garnered more than 3,000 comments and hundreds of shares at the time of compiling this story.
See some of the comments of Nigerians at home and abroad who hailed Becky for her bold move to fight poverty:
Mariah Agada Ochi:
So proud of you girl. It's her smile for me shows how contented she is. Because you have accepted the little beginning God will increase you and take you places.
Agbonoga Blessing Light:
May God bless you and see you through Dear,he will open doors and make a way bigger than your dreams for you,you took the right decision and a bold step to back it,you are a true inspiration and emulation.
Chidinma Imoh:
So proud of you!!!! There's dignity in labour, some people will watch a movie and choose the negative part but you watched a movie and choose the positive aspect. God Almighty will surely crown your efforts with success. Thank God you're not at anyone's mercy. Your story is so inspiring. Well done!!!!!
Avuara Isioma Jennifer:
If to say na my location you de na only you I go de patronize.there is dignity in labour.higher you I pray.
Chukwukanmadu Wonder:
She's a good example of real slay queen not the other way round, love your inspiration darling sister, keep it up and mark my word' husband or your helper will surely locate you true this your work, as you're motivating our already searching girls
Adaku Onyedinachi:
This BBC pidgin how many times people go tell una say make una dey put there names, address N details in case person choose to help them, no be to show us video alone.

Naso I watch one blind man wey dey grind egusi for market with the help of his daughter wey no gree follow the market go, I was touched and moved to help but no details even plenty people request for their address N details this BBC people keep everybody silent then what's the point showing us if we cannot reach out. kaai this people brain taya me aswear
Lesson:
Believe in yourself, stand up against all odds. Take a bold move on your determination to fight poverty.
At InfomediaNG, we are proud of Becky Osarume Osagie