Do you know you can access Twitter without downloading Virtual Private Network (VPN) even after the government's ban on the micro-blogging platform?
In this guide, we'll show you how to download Opera VPN-enabled browser which allows you to tweet and access other blocked platforms wherever you are. Apart from that, a VPN also enables you to browse privately.
Twitter Ban
On June 4, 2021, the Minister of Information and Culture, Alhaji Lai Muhammed announced in a tweet that the Muhammadu Buhari-led APC government suspended the operations of Twitter in Nigeria indefinitely.
Subsequently, most telecommunications sites were directed to block access to Twitter.
The suspension followed the deletion of Buhari's tweet, which millions of Nigerians reported to Twitter management as being genocidal.
The Information Minister defended that action of the democratically elected government saying it's because of "the persistent use of the platform for activities that are capable of undermining Nigeria's corporate existence".
Even in the face of the Twitter ban in Nigeria, you can still use the Opera VPN to access the platform right on your laptop.

With Opera 76.0.4017.177, your browser comes VPN, with this you connect to websites via a VPN (virtual private network) server. As a result, your apparent location changes to the location of the server.
How to enable VPN on Opera browser
Follow the guide below to activate Opera VPN for you to access Twitter, which means you don't need to download an additional app from the store.
Step 1: Go to Settings.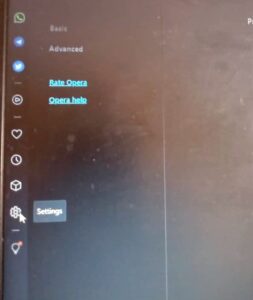 Step 2: Click Advanced in the left sidebar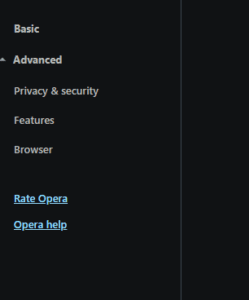 Step 3: Click on "Features"

Step 4: Under VPN, turn on Enable VPN.

NOTE:
When the VPN is activated, it starts automatically, and a VPN badge appears in the combined address and search bar.
You're in control:
To turn on or off the VPN badge, click on the badge, and you will see an on/off switch, information about the amount of data transferred, the virtual location, and the virtual IP address.
You change the IP address any time if you don't want to an automatic option, select a region from the list.
With this, you can hide your browsing activities from other users of that network.
With Opera VPN which is a free service, and the amount of data you are allowed to transfer is unlimited unlike the premium VPN app out there.
An unconfirmed report says Opera VPN for Android is being developed. For now, you can "Thunder" VPN on your android phone.
Twitter Ban And Its Implications for Businesses In Nigeria
According to NOI Polls, an estimate of 39.6 million Nigerians uses Twitter, out of that 20% of them use the platform for business advertisement while 18% use it to search for job opportunities.
Even as you can access the platform via Virtual Private Networks, it's a disadvantage for businesses, according to a report by Reuters, because VPN masks their location which is also affecting the economy.
For other things, you can use follow this guide to activate Opera VPN enabled browser