Last updated on January 31st, 2022 at 09:11 pm
Remitano Network Coin (RENEC) isn't for sale, meaning you can neither buy nor sell the coin. The global peer-to-peer cryptocurrency exchange platform categorically made it known that "All activities that buy or sell RENEC at the moment are fraudulent" because the coin isn't listed on any crypto-tracking website
When a cryptocurrency platform issues an Initial Coin Offer (ICO), it can officially be listed and become a crypto asset any interested person can buy and sell any time
Company Profile
Developer of RENEC: Remitano
RENEC launch date: June 30, 2021
RENEC mining started: September 28, 2021
Owners: Babylon Solutions Limited
Incorporation: 2015
Headquarters: Seychelles
So…
What is RENEC?
RENEC is remitano's native token which is a free mining programme for its community in any part of the world for the purpose of improving the quality of service delivered to customers on the P2P platform.
The token is aimed at achieving the following objectives:
To improve the quality of services delivered to customers,
To reduce transaction fees
To facilitate quick transactions
To ensure secure and swift transactions
To achieve efficient consensus protocol and faster block time
To provide an amazing opportunity for Remitano users to earn free RENEC
How Does It Work?
Remitano Network is a set of blockchains. It be the base currency for the token decentralized exchange and the decentralized fiat-token escrow that is built on Remitano Network. It will make crypto swap on its platform cheaper.
Before delving into the guide on how to own RENEC, let's quickly answer some salient questions we received from those who want to mine RENEC
Is RENEC Token Legit?
As earlier stated, RENEC is a brainchild of a global P2P cryptocurrency exchange remitano. It came up with the idea of developing its coin in order to make transactions faster and cheaper for users on the REMITANO NETWORK.
Remitano has been in the crypto space since 2015 when a few persons knew about the potential of crypto assets, as such RENEC is legit. However, it's for sale, it a free if you join the mining programme, download the app on your device and start mining every 24 hour.
Can I withdraw Remitano coin into fiat currency?
Unlike bitcoin, ethereum, Shiba Inu, Litecoin, miners can't withdraw RENEC not convert it to fiat currency at the time of this report. The blockchain-powered firm has a target for the number of miners and the available coins t be mined before releasing the next action for miners.
And an update from the company says it will not hold any initial coin offering for RENEC that's why it's available for miners for free
As such, ignore anyone who asks you if Renec is an investment. It isn't
How to Mine RENEC in 6 Easy Steps
1) Register on the remitano website with your email address
2) Check your inbox to use the link sent to you to access your account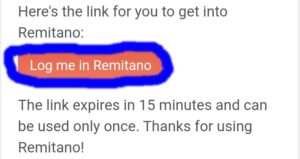 3) Verify your account with your phone number
4) Head straight to Google Playstore or Apple store to download the remitano App
5) Login and click "Earn RENEC" to start mining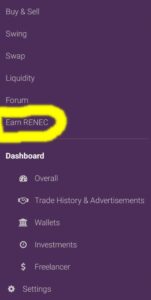 Note: You only need your email address to access your remitano account. When you enter your email on the remitano website or app, a login link will be sent to your inbox, when you click the link, it automatically grants you access to your account.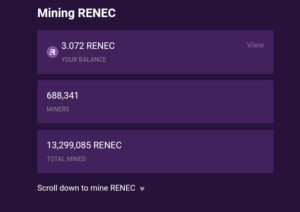 6) Click "start mining" every 24 hour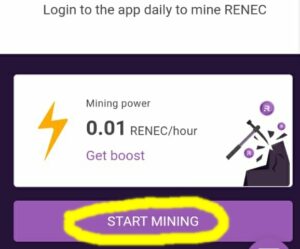 Click here to register>>>To Start Mining RENEC For Free On Remitano
And we urge you to check out the official RENEC white paper to learn more about the token.
Recap:
RENEC isn't a cryptocurrency you can invest in. You can't buy or sell it.
It is a free mining programme designed by a P2P crypto exchange remitano for users to own free coins.
The default RENEC mining power is 0.01, which can be doubled to 0.02 with two available options 1) invitation, 2) transactions