Last updated on November 14th, 2022 at 10:38 am
Bitcoin is one cryptocurrency with a lot of story surrounding it. One such story is deciphering the first recipient of the famous cryptocurrency and that person is Harold Thomas Finney II popularly called Hal Finney, a computer scientist, and an American developer.
It remains a mirage how Finney got to be the first person to ever receive bitcoin. There were speculations that Hal Finney, as he's fondly called, might be the anonymous Satoshi Nakamoto, the man was is believed to be the brain behind the development of bitcoin.
Finney, however, has created a reputation for himself and his name will never be sung on the lips of crypto investors who are interested to know much about his cryptography project.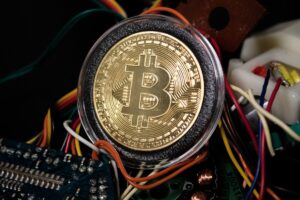 So…
Who is Hal Finney?
Full Name: Harold Thomas Finney II
Nationality: American
Date of Birth: May 4 1956
Status: Dead on August 28, 2014
Place of Birth: Coalinga, California
Place of Death: Phoenix, Arizona
Number of children: 2
Career: Computer scientist, Cryptographer
Age: 58 Years Old
Father: Harold Thomas Finney
Net Worth:

 Unknown
Bitcoin is the leading cryptocurrency in the world today and is highly sought after despite its overwhelming value.
Most countries and corporations are beginning to find the currency more promising than when it was initially introduced.
As such, most countries are beginning to develop guidelines that will lead to the legal usage of bitcoin as means of exchange.
At the time of this publication, the price of bitcoin was $16.765.11 (as of November 14, 2022) as against its value in May 2010 when 1BTC was less than $0.01
Background
Hal Finney may have taken after his father who was a petroleum engineer. He also studied engineering at the California Institute of Technology in 1979
The skilful engineer is considered to be credited during his career as a lead developer on several console games.
Not just that, he was said to be an early bitcoin contributor and importantly for what he is most remembered for, to have "received the first bitcoin transaction" from bitcoin's anonymous creator Satoshi Nakamoto.
He was 23 when he bagged a BS in engineering at CALTECH. Who would have known back then that this young engineer would grow up to become one of the pioneers of bitcoin?
Having gathered the wealth of experience he needed from Caltech, Finney took the bold step to put his expertise to work in the computer gaming field for a company.
He felt the need for change and so went on to work for the PGP Corporation becoming the second developer after Phil Zimmermann to be hired by the company. He remained with the company until his retirement in 2011.
Was Hal Finney a Seer When He Invested His Time in Bitcoin?
Finney, being a cypherpunk believed that a computer is a tool that can be used to liberate and protect people, rather than to control them.
The cryptographic activist had often campaigned against loss of privacy, creeping computerization, massive databases, and more centralization which the American people faced.
Like a man who saw the future, he invested his time, energy, and all the resources within his reach into bitcoin, a currency that has liberated a lot of people from government control.
Today, cryptocurrency enthusiasts have control over their finance and information rather than governments and corporations.
Even in Nigeria and other countries where governments came up with anti-crypto policies, users have found P2P Crypto Platforms to buy and sell their coins as a way around such policies targeted at caging them.
This must have been the reason why Finney invested most of his time into bitcoin and eventually he became the first recipient of the same currency.
Because of his early involvement in bitcoin coupled with the anonymous identity of bitcoin creator Satoshi Nakamoto, many believed Finney is the creator of bitcoin and have been interviewed severally on the subject matter which he had denied on several occasions.
How Would Finney Feel About Bitcoin Price If He Were Alive Today?
Nothing new is indeed accepted without first being challenged. This has been the situation of cryptocurrency. Bitcoin, the first cryptocurrency went live in 2009.
At the time the first bitcoin went live, it had no value in such a way that stores or sellers were ready to accept it as a form of payment.
It's on record that users who were cryptography enthusiasts sent and received it were sending bitcoins for the love they had for the idea behind bitcoin development and its technology.
It wasn't until 2010 when 10,000 bitcoin were auctioned by "SmokeTooMuch" for just $50, unfortunately, no buyer turned up.
Today, BTC become the most valuable and commonly held among the thousands of cryptocurrencies that have been created after it.
The price of bitcoin touched the ceiling on November 10, 2021, reaching an All-time High of $68,789.63, though it nosedived.
Even with the volatility that is peculiar to bitcoin and other cryptocurrencies around the world, Finney would have been fulfilled if he were still alive.
He would have been proud of himself knowing he was involved in a project that will change the face of the world today.
The currency is gradually changing the phase of trading with most business corporations and countries gradually adopting it as a legal form of exchange as we've seen how Bill Miller invested half of his wealth in bitcoin in January 2022.
Did Hal Finney Meet Satoshi?
Finney came to know about bitcoin in late 2008 when the announcement of Bitcoin was made through a mailing list forwarded by Satoshi on November 16, 2008.
Unlike others, Finney was enthusiastic about this idea and he wasted no time accepting and working on it.
He met with other earliest developers who created ideas that would be realized with Bitcoin. Those were Wei Dai and Nick Szabo.
When Satoshi finally announced the first release of bitcoin, Finney delayed no further to get and make use of the software right away. This made him the first person other than Satoshi to run bitcoin.
Finney mined more than block 70 and eventually became the first bitcoin recipient when Satoshi sent ten coins to him during the trial phase.
In one of his tweets on January 11, 2009, Hal Finney (@halfin), said:
Running bitcoin

— halfin (@halfin) January 11, 2009
"I think I was the first person besides Satoshi to run Bitcoin. I mined block 70-something, and I was the recipient of the first bitcoin transaction when Satoshi sent ten coins to me as a test. I carried on an email conversation with Satoshi over the next few days, mostly me reporting bugs and him fixing them."
It isn't on record that Finney met Satoshi, but he constantly stated that he exchanged communication via email with Satoshi.
Most of their conversations centred on Finney reporting bugs and Satoshi fixing them. Today, Satoshi's true identity remains a mystery and Finney is one of the few persons to have worked with him.
The identity of Bitcoin creator, Satoshi Nakamoto to date remains unknown despite several attempts to discover and reveal the identity of this mysterious person.
Bitcoin investors who are familiar with Finney and his contribution to making cryptocurrency a standard most time wonder if Finney personally knew Satoshi Nakamoto, the Bitcoin investor. This question has been asked time and again with vague or no answer provided.
The duo must have been friends and discussed at length about their lives including their work. More so, the fact that Finney was the first bitcoin recipient further strengthens the speculation that Finney might have been Satoshi.
How Many Bitcoin did Hal Finney have?
We have established that Finney is the first bitcoin recipient. Beyond that, how many bitcoins does he have remains unknown?
However, during his final days, Finney was contacted by an anonymous caller demanding an extortion fee of 1,000 bitcoin.
In today's market value, 1000 Bitcoin is $43,504,100 US dollars. In Nigerian Naira, 1000BTC is NGN17,995,600,000.
This goes to show that Finney must have had thousands of bitcoins. Sadly, it is reported that he spent most of his bitcoins on medical bills as he battled for his life being diagnosed with ALS (Amyotrophic lateral sclerosis). A disease he did not recover from but was his cause of death in 2014.
As of this moment, we are unsure of how much bitcoin Finney had till he died.
Who owns the Most Bitcoin?
Bitcoin is becoming stronger with the passing of each day with world-renowned investors and corporations owning bitcoins in their millions. Cryptocurrency today remains the most valuable.
Several individuals have come out to boast of how much bitcoin how many bitcoins they own, however, who could hold more bitcoin than the founder itself, Satoshi Nakamoto?
Nakamoto is believed to have mined over 22,000 blocks of bitcoin and likewise received more than 1,000,000 bitcoins in cumulative block rewards for his work.
With this in view, Nakamoto's bitcoin is estimated to be the largest having more than 1 million BTC. One million bitcoin is valued at $43,310,800,000 US dollars today.
But it's believed that Hal Finney passed on to his son and daughter some bitcoins, the exact figure isn't known.
"My bitcoins are stored in our safe deposit box, and my son and daughter are tech-savvy. I think they're safe enough. I'm comfortable with my legacy," he said.
His Last Moment
The passing of Harold Thomas Finney was confirmed on August 28 2014. He was a great loss to the gaming world and of course the cryptocurrency community. He battled ALS until his final days and he never gave up on doing what he loves.
Finney continued to program until his passing. Among his final work was the development of an experimental software called bcflick, which uses Trusted Computing to strengthen Bitcoin wallets.
Where was Hal Finney Buried?
Finney was confirmed dead in 2014 as a result of the terminal illness known as ALS. The cryptographer is however not buried or cremated as the normal custom of most countries is but, he is cryopreserved.
Finney chose to be cryopreserved because he believed and has the ambition to visit the future.
In bitcointalk.org forum where he's a VIP, he said on March 19, 2013, that:
"ALS is a disease that kills moter neurons, which carry signals from the brain to the muscles. It causes first weakness, then gradually increasing paralysis. It is usually fatal in 2 to 5 years.

"My symptoms were mild at first and I continued to work, but fatigue and voice problems forced me to retire in early 2011. Since then the disease has continued its inexorable progression."
The computer scientist is known to embrace every new advanced technology and even his dead body is using one now.
His corpse is cryonically freezing which means he is in a cryonic freezer to date at Alcor Life Extension Foundation in the United States.
Final Thought
Sacrifice is made to create something new and one of the individuals who died fighting and believing in what they do is Harold Thomas Finney.
The cryptographer's contribution to bitcoin is unrivalled and his name will forever remain in the history of cryptocurrency. His contributions to crypto have led to the invention of more than 9,000 coins at the time of publication.
Hal Finney lives on!
References:
Featured Image by Bitcoin.com
Kaplikov, Michael (November 26, 2020). "Previously Unpublished Emails of Satoshi Nakamoto Present a New Puzzle". Coindesk.com. Retrieved January 15, 2022
Smith, Graham (November 20, 2019). "The Many Facts Pointing to Hal Finney Being Satoshi Nakamoto

". Bitcoin.com. Retrieved January 15, 2022

Nakamoto, Satoshi (October 31, 2008). "Bitcoin P2P e-cash paper". Metzdowd.com. Retrieved January 15, 2022