Last updated on November 14th, 2023 at 09:08 am
Accumulating wealth is about taking risks, and risk-taking means more wealth. This is the story of American investor Bill Miller who recently moved 50 per cent of his personal wealth into bitcoin investing.
Interestingly, while most individuals, corporations and countries are still in doubt of bitcoin, the business mogul who considers himself the "Bitcoin Bull" has converted at least half of his wealth into cryptocurrency. If you call him a bitcoin whale, you're definitely right!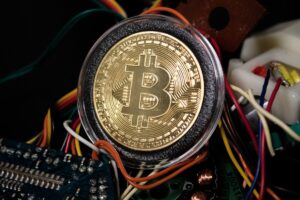 So…
Who is Bill Miller?
Nationality: American
Birth Place: Laurinburg, North Carolina
City/Country of Residence: Baltimore, Maryland, United States of America
Birth Date: January 23, 1950
Career: Investor, Businessman, Fund Manager
Education: Washington and Lee University, Johns Hopkins University
Net Worth: N/A
Bill Miller Could Become a Bitcoin Whale
William H. Miller III now known as Bill Miller is a popular figure in the investment industry in the United States of America.
The veteran businessman was born in 1950 to a terminal manager who works at a trucking company. Nothing is known about his mother or sibling as he lives a very private life.
Like most American children, Miller was trained not just morally but educationally having attended Washington and Lee University where he graduated in 1972 with honours.
He majored in economics. Several years later, he enrolled at John Hopkins University where he pursued his PhD program while working part-time in accounting.
Wealth is not gathered in a day but acquired over time through hard work and diligence. The same can be said of the Bitcoin risk investor who has worked in top organizations holding key positions.
Miller's Investment Acumen
Miller functioned in a different capacity which include the position of chairman and Chief Investment Officer of Legg Mason Capital Management.
At the same time, he served as the principal portfolio manager of the Legg Mason Capital Management Value Trust.
In addition, Miller occupied the position of the portfolio manager of the previous Legg Mason Opportunity Trust mutual funds which is now housed at his own firm Miller Value Partners.
Presently, Miller is the founder of Miller Value Partners, where he currently serves as the Chairman and Chief Investment Officer, and Co-Portfolio Manager for Opportunity Equity and Income Strategy in the company.
As you know, having one source of income in this era is not enough, Miller must be familiar with this saying and in his advanced age, he not only owns a company but likewise owns shares in several other high-profile companies, mostly tech and e-commerce companies further increasing his net worth.
These are Amazon, Technology DXC, Google parent company Alphabet, and Facebook.
All of these and more combine as the source of income for Miller, giving him the means to make humongous wealth which he now stores in bitcoin, the leader of all cryptocurrencies.
Bill Miller Continues to Invest in Bitcoin Despite Risk Involved
It is a mirage that a strategic and philosophical thinker like Miller will go ahead to invest half of his life's earnings in cryptocurrency despite being aware of the risk involved.
At the early stage of bitcoin fever, he considered himself a "Bitcoin observer," but after building so much confidence in the dynamics of crypto investment, he now considers himself a "real Bitcoin bull".
Bitcoin, as we know, is volatile and the price fluctuates incessantly whether upward or downslide. The reason has been that Bitcoin is influenced by supply and demand, as well as investor and user sentiments, government regulations, and media hype.
All of these have somewhat led to the crash of bitcoin on several occasions which led to the loss of billions of dollars of millions of investors. For this reason, many are sceptical to put in their money and become "observers".
For instance, in June 13, 2011, criminals hacked hundreds of accounts and stole millions of dollars worth of Bitcoins (about 850,000 Bitcoin), and in a single day, the value of a Bitcoin fell to one penny as admitted by Mt. Gox, the largest Bitcoin exchange in the world back then, according to Bitcoinworldwide in a report titled, " What was the Mt. Gox Hack?
Afterwards, there have been several instances where bitcoin crashed, for example, in 2013 when 50 per cent of bitcoin was lost overnight due to the ban placed by China's government on the use of bitcoin.
In addition, bitcoin further faced challenges during the pandemic. In March 2020 50% of bitcoin was lost when the markets crashed. Half of its value was lost in two days.
Not forgetting also, almost recently back in May 2021, when Bitcoin was heading towards a positive side surpassing $64,000 value for a single coin. Suddenly, $1 trillion in value of bitcoin was wiped off the global crypto market in a single week.
As a matter of fact, this recent occurrence caused billionaire businessmen like Elon Musk who was ready to accept bitcoin as payment for Tesla cars and other associated products to take back his words.
Why Bill Miller Invested 50 Percent of His Wealth in Bitcoin
Miller has proven to be a risk-taker, the risk he has taken to another dimension by investing half of his personal net worth into bitcoin.
The American investor and fund manager now hold 50% of his net worth in Bitcoin as well as other related investments in major industry firms such as Michael Saylor's MicroStrategy and BTC mining firm Stronghold Digital Mining.
The volatility of bitcoin and several crash instances have not dissuaded the business mogul from investing heavily in this cryptocurrency.
Miller's reason behind his aggressive purchase of bitcoin is considered to be in his own words an "insurance policy against a financial catastrophe" as well as a powerful investment tool that is outperforming gold in recent times.
In addition, he pointed out Bitcoin's scarcity, meaning that only 21 million Bitcoin can be created which is an added opportunity to invest in the cryptocurrency.
Miller began to stock his personal wealth in Bitcoin when he began to purchase back in 2014 when Bitcoin was trading at around $200. There are several bitcoin predictions flying around, one forecasted that bitcoin may reach $341,000 by 2025.
Interestingly, Miller,  being a business and financial adviser has recommended individual investors to invest a minimum 1% of their assets in Bitcoin.
Final Thoughts
You might want to also invest in cryptocurrency despite restrictions in your country because life is about taking the bull by the horn which also involves risk-taking. A feat that is common to successful investors who have done the unusual and attain the status of a billionaire.
Bill Miller is a risk-taker and today he is one of the most celebrated billionaires today. Even in his advanced age, he is not relenting to embrace new ideas and means of expanding his wealth.
Today, he is considered to be the Bitcoin Bull because of his aggressive and rapid investment in cryptocurrency.
However, this has caused many to be curious whether Miller will continue to invest in bitcoin even when it crashes to $0. That will be answered probably if it happens.