Last updated on April 14th, 2023 at 12:24 pm
A Nigerian, Olaoluwa Osuntokun is among the cryptocurrency leaders who made Forbes Under 30 List. He is in the rank of Charlie Noyes, Amiti Uttarwar, Flori Marquez among others. They are young, hardworking, smart, clever, brilliant, and innovative.
The list contains 600 promising young individuals around the World. Interestingly, over 10 blockchain young minds who are below 30 and have made significant contributions to the financial technology (FinTech) industry made the list.
You may have unknowingly used some of the inventions of these young guys in the FinTech space, particularly if you buy and sell bitcoin or send money overseas.
Table of Contents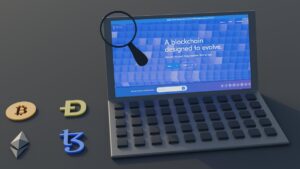 Who are these guys?
They made the list, not because of their academic qualifications, but because of the relief, they've brought to the blockchain industry with their innovations.
In fact, some of those who made the list are dropouts, one of them is Jack Wallers, who now employs people in his company using innovation, hardwork, and love for bitcoin as key requirements.
For instance, one of them Sam Bankman-Fried who made the Forbes under 30 list is known for his crypto derivatives exchange FTX, and quantitative trading firm Alameda Research.
His firm FTX which is worth $1.2 billion is making a significant impact by offering innovative products including prediction markets for elections, Bitcoin's hash-rate and futures contracts for oil, driving $30 million in profits for the exchange in 2020.
Another blockchain leader who made the list is the founder of CoinList, Brain Tubergen.
CoinList is a U.S.-based initial token offering and exchange platform, which is rated to have facilitated more than $800 million in fundraising for many crypto projects.
Since launching, the company has also enjoyed a smooth business relationship with heavyweights in the industry, some of which include a16z, Sequoia Capital, and Bain Capital Ventures.
Female Crypto Leaders made the Forbes Under 30 List
Interestingly, the Forbes list isn't limited to men, under 30 ladies who are crypto leaders also made the list. They include:
Amiti Uttarwar,
Flori Marquez, and
Soona Amhaz.
That's significant: The cryptocurrency industry has been dominated by men since bitcoin and cryptocurrency became a talking point in the blockchain space.
The full list:
Charlie Noyes
Amiti Uttarwar
Flori Marquez
Olaoluwa Osuntokun
Joseph Krug
Sam Bankman-Fried
Brain Tubergen
Mike Novogratz
Justin Sun
Reto Trinkler
Jack Mallers
Nader Al-Naji
JB Rubinovitz
Yeong Woo Park 25
Soona Amhaz
Andrew Yang
Athanasios Karachotzitis 26
Hunter Horsley
Charlie Noyes (Age: 21)
Noyes is an investment partner at Paradigm Capital, a cryptocurrency venture fund which is overseeing $100 million in positions for the largest crypto fund in the world.
Noyes has also made a significant impact in other crypto trading platforms like Tagomi and another investment in Uniswap, a token which is rated to be trading at a $3 billion valuation.
Amiti Uttarwar (Age: 28)
The daughter of Indian immigrant Amiti Uttarwar is a coder, bitcoin protocol engineer and one of the female cryptocurrency leaders who made the Forbes under 30 list in 2020.
Uttarwar, a graduate of Carnegie Mellon University is a Bitcoin Core contributor who once received a joint $150,000 grant from OKCoin and HDR Global.
On the side, she started The Bitcoin Zine a publication which covers a lighter side of bitcoin development.
Flori Marquez (Age: 29)
Flori Marquez, a co-founder of crypto lending platform BlockFi, a firm that's planning for its IPO is another female crypto influencer who made the list this year.
Expressing her excitement in a tweet, she said:
"I'm overjoyed to have been included in Entrepreneur's list of top 100 powerful women!! 2020 has been a year of challenges and growth. I greatly appreciate the recognition"
BlockFi which offers trading services also allows cryptocurrency holders to lend out cryptocurrency at rates as high as 8.6%.
The platform has raised over $100 million in equity after generating $4.5 million in revenue in 2019, it is also expected to earn $120 million in revenue before the end of 2020.
Olaoluwa Osuntokun (Age: 25)
Osuntokun, an immigrant from Nigeria is the cofounder of Lightning Labs, a company that has raised $2.5 million to turn bitcoin into a more viable form of payment by making smaller transactions more cost-effective.
He is also known to be one of the core contributors to the underlying bitcoin protocol and other blockchain-driven payment innovations.
Joseph Krug (Age: 25)
Despite dropping out from Pomona College, Joesph Krug, the co-chief investment officer of Pantera Capital would not be dissuaded from having a degree.
His firm helps to manage $442 million across three crypto-related funds.
He also organized the first ICO on Ethereum raising $5.7 million for Augur, a peer-to-peer betting platform with a total market value of $152 million.
Sam Bankman-Fried (Age: 28)
As pointed out above, Sam is the Chief Executive Officer of quantitative crypto trading firm Alameda Research.
Fondly called SBF by his collegaues, he is a graduate of MIT where he studied Physics. After graduation, he started off as a quantitative trader, where he used statistics and economics to create computer programs to place trades when the prices of two similar assets get out of line at FTX, a crypto derivatives exchange. His platform has now collapsed due to financial mismanagement.
Brain Tubergen (Age: 29)
As the Chief Product Officer at CoinList, Brain Tubergen has made a great impact in cryptocurrency making him make the Forbes Under 30 list.
He is also known to be at the forefront of launching and facilitating other blockchain-driven projects.
Reto Trinkler (Age: 27)
As the co-founder of Melonport, Trinkler's team is using blockchain technology to achieve transparency and to build software that enables users to set up and manage technology-regulated investment funds.
Jack Mallers (Age: 26)
Since his father introduced cryptocurrency to him in 2013, Jack Mallers has made significant contributions to blockchain tools.
Some of his products and ideas are helping to make payment break border restrictions posed by the conventional payment system.
He's the CEO of Zap, a bitcoin investment and payments company that transacts over the Lightning Network.
One of the products of Zap is Beta.Strike.Me, a mobile payment platform designed for US residents.
In a recent vacancy announcement, Mallers said love for bitcoin will become one of the major requirements to bring talented persons on the Strike board.
Nader Al-Naji (Age: 26)
Nader Al-Naji the co-founder of Intangible Labs is one of the cryptocurrency leaders who made the Forbes under 30 list this year.
His team raised at least $133 million to develop a crypto that can be used to make payments.
He is pushing for platforms that will replace the conventional way of banking.
JB Rubinovitz (Age: 26)
JB Rubinovitz is the brain behind Bail Bloc (software that mines cryptocurrency to pay for bail) which is using bail financing to raise enough money to bail out 100 criminally arrested individuals by mining cryptocurrency.
Yeong Woo Park (Age: 25)
Also included in the Forbes Under 30 List includes three co-founders of Authenticiti: 1) Andrew Yang (Age: 27), 2) Yeong Woo Park, 3) Athanasios Karachotzitis (age: 26).
Authenticiti is a blockchain-powered supply chain data platform which was launched in 2016.
Soona Amhaz (Age: 27)
Amhaz is another female crypto leader that made the list of most successful technopreneurs.
She founded a contrarian crypto fund managing capital Volt Capital, the company that is managing funds on behalf of investors.
She has taken lots of audacious steps in using bitcoin to preserve money, most especially currencies that are losing their value.
Justin Sun (Age: 26)
As the founder of the cryptocurrency platform TRON, Sun's innovations cut across social media app.
Before diving into blockchain space, he developed Peiwo App, which works like Snapchat in China connecting like-minds where users can also live stream.
Hunter Horsley (Age: 28)
At 28, Horsley already has an intimidating profile. He's a former product manager at Facebook and a creator monetization at Instagram
He is the founder of Bitwise, a leading provider of crypto index funds to top companies around the World.
Final thought:
Despite the outbreak of the coronavirus pandemic, which crippled millions of businesses around the World, we've seen that innovators whose ideas are driven by blockchain and cryptocurrency made more money.
We can say it's a year for crypto-entrepreneurs and it's heart-warming that Forbes found them as we celebrate and wish them the best in their future innovations in cryptocurrency and blockchain.