Last updated on September 25th, 2023 at 11:03 am
The 43rd Mayor of Miami (Florida) Francis Xavier Suarez is a strong advocate of cryptocurrency and blockchain technology.
His innovative dynamic ideas led to the development of MiamiCoin, a coin created by CityCoins, an organization devoted to using cryptocurrency to empower cities and their citizens.
The coin was made to provide financial support to the city of Miami, and he created a program that allows residents of Miami to pay certain bills with cryptocurrency.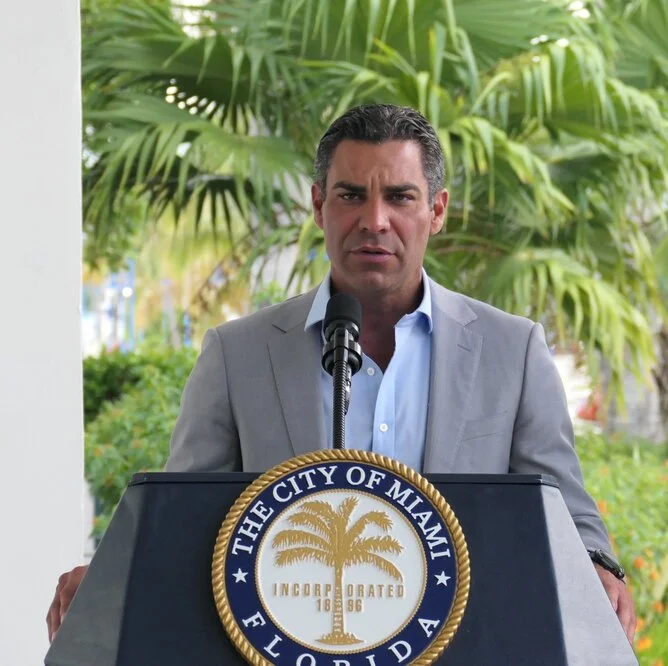 Mayor Francis has also supported using blockchain technology in various county projects and initiatives, such as supply chain management, asset tracking, and identity verification.
Table of Contents
Who is the Francis Suarez?
Full name: Francis Xavier Suarez
Birthday: October 6 (1977)
Designation: 43rd Mayor of Miami, Florida, United States
Previous position: Miami Commissioner for District 4 (2009-2017).
Wife: Gloria Fonts Suarez
Kids: Andrew Xavier and Gloriana Pilar
Father: Xavier Suarez (former Miami mayor: 1985-1998)
Mother: Rita Suarez
Background:
Mayor Francis was first elected on November 15, 2017, and re-elected on November 2, 2021. His current term ends in 2025.
He is currently the president of the US Conference of Mayors for the 2022–2023 term, and he was also elected as the Second Vice President in June 2020 and the First Vice President of the organization in June 2022.
Early Childhood and Education
Mayor Francis is the eldest of four siblings. He was born to Cuban immigrants Rita and Xavier Suarez. He attended La Salle High School.
He has a bachelor's degree in finance from Florida International University, graduating in the top ten per cent of his class and later receiving a Juris Doctor from the University of Florida Frederic G. Levin College of Law, where he graduated with distinction.
During his time as the commissioner, he was involved in a number of different projects, including:
enforcing a highly developed gunshot detection,
ShotSpotter technology in the city,
Reverse Redline legislation
the Tri-Rail connection to Downtown.
Miami-Dade Transportation Planning Organization (TPO)
Advocate for the Strategic Miami Area Rapid Transit (SMART) Plan
Blockchain projects Major Francis Suarez have involved in
He was involved in the development of MiamiCoin (MIA), a private cryptocurrency designed to benefit the city, which was announced on an episode of CoinDesk TV's "First Mover" in September 2021.
Unfortunately, MiamiCoin crashed, shedding roughly 95% of its value from an all-time high of around 5 cents in September 2021, according to data from CoinMarketCap.
Mayor Francis Suarez is a man of many talents, such as a $400 million municipal bond initiative, the Miami Bond initiative.
He is also partnered with Venture Miami (City of Miami), eMerge Americas, and Silicon Valley Bank to host the Black History Month Blockchain Summit.
On January 17, he joined the Wilson Center to discuss digital assets and their global implications.
Throughout his career, he has been a passionate advocate for the City of Miami, fighting for its economic development and social progress.
He focused his efforts on improving the city's infrastructure, modernizing its public transportation system, developing affordable housing initiatives, and creating job-training programs.
Francis Suarez's influence in the cryptocurrency world
Francis Suarez is a vocal advocate for adopting virtual currencies, blockchain technology, and financial innovation.
He has consistently pushed for the MiamiCoin initiative, which seeks to promote the use of a private cryptocurrency within the city.
Mayor Francis as Crypto Influencer
As a lover of Bitcoin like President Nayib Bukele of El Salvador who planned to turn his country to the Bitcoin capital of the world, Mayor Francis, in an interview with Bloomberg, said he was making Miami the country's capital of bitcoin, stressing that crypto is a major priority for him.
Suarez told Chinese bitcoin miners to come to Miami and take advantage of Florida's plentiful nuclear energy after China banned the practice.
Suarez has also been a vocal proponent of cryptocurrency regulation, arguing that lawmakers should recognize the significance of the technology.
He recommends fixing the tokenomics of the cryptocurrency, and he is also advocating for its spread to other cities.
He believes that consumer protections and disclosure requirements should be implemented in order to allow for healthy innovation in the crypto industry.
His influence has been a major factor in the increased attention given to digital assets, and his efforts to promote cryptocurrency in Miami have been met with great enthusiasm.
How was Francis Suarez achieve what he did in the crypto space?
Francis Suarez achieved success in the crypto space through his dedication and perseverance.
He has been instrumental in passing legislation that is crypto-friendly, as well as setting up a municipal cryptocurrency task force.
Suarez has also spoken at numerous conferences and events to spread the word about blockchain and cryptocurrency and appeared on podcasts and other media outlets to discuss its potential.
He has provided education on blockchain technology to help the general public become more comfortable with the concept.
Through these measures, Suarez has created a positive environment for the growth of cryptocurrency and blockchain technology, which has helped the space reach new heights.
Net worth of Mayor Francis Suarez
His estimated salary as the major of Miami is $150,000 to $200,000, and Suarez has been receiving the Bitcoin equivalent of his city salary.
The exact net worth of Francis X. Suarez is challenging to identify due to the crypto crash. However, according to TechieGamers.com, he has an estimated net worth of $5 million.
What the crypto community expects from him in 2023
The crypto community expects Mayor Francis Suarez to continue his advocacy for the cryptocurrency industry in 2023 and beyond.
He has been vocal in his support of the technology and proposed measures to see Bitcoin integrated into the city's finances and economy.
Conclusion:
As the crypto industry continues to evolve, Suarez is expected to keep up with the latest developments and advocate adopting cryptocurrency and blockchain technology.
He has also been vocal about consumer protections and disclosure requirements for the industry, so he will likely continue to push for these measures in 2023.