Last updated on October 20th, 2023 at 08:45 pm
The New Minister of Interior Bunmi Tunji-Ojo is trying to reduce corruption in the passport application process in Nigeria, but the cost of Nigeria's passport in Nigeria is still between N25,000 to N75,000, according to applicants across the country.
Table of Contents
Also, first-hand experience of applicants shows that there is no unified price across Nigeria, while N35,000 will be enough to process the same passport in some Northern parts such as Sokoto state, in Lagos, applicants revealed that they've had to pay between N55,000 to N85, 000
Cost of Nigeria's international passport in USA
The cost of a Nigeria Passport in the Nigeria Consulate in New York, USA, is $142 USD for a 32-page and $162 for a 64-page E-Passport for 5-year validity. It is a different story in Nigeria.
If you are applying in Nigeria, the official price of a Nigeria passport is NGN25,000, though the Nigeria Immigration Service at the time of publication is NGN17,000 (NGN15,000 for application; NGN2,000 for address verification) on its official website.
Don't forget that NIN verification fee of NGN1,000 also applies at the point of application.
Types of Passports in Nigeria
There are two types of passports issued by the Nigeria Immigration Service (NIS):
Official passport (blue-coloured)
Standard passport (green-coloured)
Difference between a Standard passport and an official passport
Every bona fide Nigerian can and should have a Standard Passport (the "normal" Green one).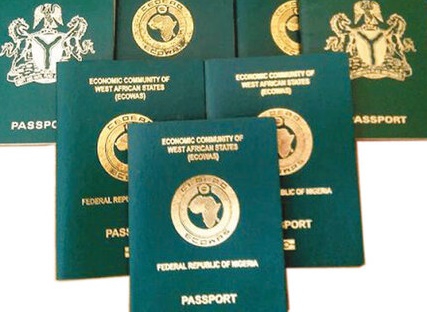 The Blue Colored (Official Passport) is only issued to Nigerian diplomats, government officials and certain institutionalized individuals representing the country abroad (pic attached).
The article focuses on the cost of obtaining the standard passport in Nigeria for Nigerians who wish to study abroad, travel for business meetings or for medical tourism, whatever the purpose of your travelling, a passport is one of the most important travel documents you need.
How much does it cost to apply for a Nigerian passport?
A passport is a mandatory travel document just like the police character form, but aggregate views of applicants who had obtained a passport in Nigeria show that there is a disparity in the cost of a passport.
Recently, a Nigerian PhD student at the University of Texas, Muneer Yaqub, submitted that it is cheaper and easier to get a passport in the Northern part of Nigeria.
"International Passport is cheaper is get in the North. Did my first passport in Sokoto at 35k Naira (black market) which I complained was expensive. It was ready in 3weeks which I considered late. When I got back to Lagos, little did I know…"
In another question, Muneer said the official price for an international passport in Nigeria is 25k and asked Nigerians how much they paid to get their passport.
This is actually where applicants who were more than 400 Nigerians bear their minds on how much they paid to get their international passports:
@toby_future says she paid NGN55,000 for her Nigeria passport, she did biometric data capturing on January 4, 2023 and got her passport on February 10.
Adisa Alaago says he paid NGN45,000 for Nigerian passport expedited service while another user @beyondbrainz says his brother paid NGN75,000 for the same service.
Surprisingly, Olubiyi Israel says he had committed at least NGN126,000 for the processing of his Nigeria passport in Ado-Ekiti, Ekiti State, South West, Nigeria while he is yet to get it.
He tweeted:
"(I paid) 26k online, got to their office, paid NGN100k administrative charges. Enrolled 3rd June, 2022 yet to get my passport. Inquired yesterday was told data uploaded that I need to come and see the PCO. ADO-EKITI Center"
Another applicant who claimed to have paid a total NGN30, 000 to complete his passport application process said he had to put a call through to their head office in Abuja to get things done cheaper and faster.
"I paid NGN26k online, went yesterday (February 9, 2023) for capturing, was asked to pay NGN4k administrative charges. Placed a call to their complaint office in Abuja. I was captured without paying a dime again. Expecting to get it Max 2 months time."
Another user said he paid NGN45,000 and got it within a week but it's a completely different story for @Omabeddings_ who claimed that she paid NGN25,000 which she collected two days after completing her application process.
"I paid about 25k or less and It was ready same day though I collected 2 days later cos of my work schedule."
Bamidele Adeniyi who went through an agent paid NGN55,000 on October 2022 and at the time of publication, yet to collect it.
"I paid an agent 55k. Applied in October, 2022, captured 5th of December, 2022. On the printout slip, collection date was 1st of February, 2023. Went there, spent the whole day and was told it's not ready."
Although the government banned Nigerian passport for expedited service sometime in 2022, Dio Peter was able to get an NIS passport expedited service by paying NGN80,000 which he got the same day.
With all the disparity in the application fee for Nigerian passport where the price in Sokoto is different from what you get in Lagos coupled with endemic corruption in the process, it may be one of the factors why Nigeria is among the worst passport in the World
So…
What is the current fee for a Nigerian passport?
The current fee for a Nigerian passport varies: the NIS states NGN15,000 for 32 pages on its official website whereas, applicants are paying NGN45,000 on average to get their passport.
How much does a Nigerian passport cost for minors?
Nigerian passport for minors is NGN8,750 for a 32-page and NGN20,000 for 64 pages. However, findings have shown that full completion of online applications on NIS portal is made impossible by the management of the Nigeria Immigration Service.
After completing the online process, you are made to come to their office where the real bribery takes place. Most times, applicants are forced to pay more than they had paid for the online application.
This is why most applicants prefer to visit their office or talk to an insider to get the process done seamlessly with little issue.
What is the price Nigerian passport in the United States?
For Nigerians in the diaspora, especially for Nigerians who want to apply or renew their passport in the United States, the cost differs from the application back home:
| | | |
| --- | --- | --- |
| Booklet type | Fee | Validity |
| 32 pages | $142 | 5 years |
| 64 pages | $162 | 5 years |
| 64 pages | $242 | 10 years |
Checking the status of passport application
If you've already captured at any of the offices of NIS within and outside the country, you need to constantly check the status of your application process.
To check, track and check the status of your passport application, enter your application number and reference number at: track.immigration.gov.ng
Factors that determine the cost of a Nigeria Passport
It may be tricky to provide a definite answer as to how much is Nigeria international passport because of some factors that come into play, some of them are:
Booklet type
The cost of obtaining a 32-page is different from a 64-page. Putting other factors together, the price may also vary depending on the applicant's location and rapport with the official of NIS.
Validity
For an applicant who travels often, 64-page with 10-year validity is the most suitable. However, this is a little bit pricey.
A 64-page 10-year validity at the official price or express (expedited service) is costlier than the regular 32-page 5-year validity.
Region of application
Some people may be wondering why the cost of a Nigerian passport is cheaper in the Northern part (apart from Abuja), this boils to down to the racketeering of passports in the Southern part where 'japa' syndrome is higher than in the Northern states.
Specifically, a report by Adefemola Akintade of People Gazette revealed that a 64-page passport in the teenagers' category in the Northern states goes for NGN22,000 while applicants in the Southern part of Nigeria in the same age group pay NGN35,000 to obtain the same passport.
Although, the management of NIS defended the policy saying the cost disparity is a result of different passport regimes being concurrently run across Nigeria.
Bribery
In 2022, NIS officials were directed to stop express Nigerian passport or expedited service at NIS offices, the rule only lasted for a few days.
Bribery remains a huge issue across all government agencies, the NIS is not an exception. This is another factor that determines how much you pay to get the mandatory travel document.
There are reports that following the official application process may take five months or more, which is the reason some Nigerians who do not have an official 'connection' prefer to take the back route and pay more.
The process
So you believe that an agent can get the job done faster? You may not be right, anyways. Some of the people who claimed to be passport processing agents follow the same route of bribing officials of NIS to get it done faster.
Pathetically, you are more likely to pay to go through the agency process.
Other factors that determine how much you pay for Nigeria passport are:
Age
Timeliness
Connection
Favouritism
Can I return to Nigeria with an expired passport?
When can I renew my passport?
When the validity on your international passport is 6 months away from expiration you should apply for a renewal.
How many NIS data capturing centres are in Lagos?
There are passport data capturing centres in Lagos, they are located in Ikoyi, Alausa, Festac, and Alimosho.
The Alimosho data capturing centre came live on February 6, 2023, according to the Twitter handle of NIS @nigimmigration
How can I avoid data conflict when applying for Nigeria passport?
Whether you are in Nigeria or not, ensure that the information on your National Identity Number (NIN) matches your passport details.
How can I lodge passport complaints in Nigeria?
If you are having issues with your passport application you can call any of the following phone numbers: +2349121900655; +234802181988; +2349121556359; +2347080607900; +2349121477092.
I have a passport application issue, how do I complain?
If you have passport application complaints, kindly fill the form at bit.ly/NISpcf
Conclusion:
From the foregoing, it is obvious there is a disparity in the cost of obtaining an international passport across Nigeria:
Official price NGN25,000
NGN35,000 in Sokoto
NGN55,000 in Lagos
Express application between NGN45,000 to NGN75, 000
NGN30, 000 in Abuja
NGN55,000 through an agent
A lady @secondfaka who did fast tracking paid NGN26,500 for online application plus charges, NGN13,000 for registration, NGN1,000 for e-passport wallet, NGN20,000 fast tracking. Total NGN60,500.
How much did you spend in the course of applying for and obtaining your passport in Nigeria? Share your thoughts with everyone.