Last updated on October 22nd, 2023 at 08:04 pm
Travelling with an expired passport to Nigeria? Now, let's rephrase the question: Can a Nigerian in the U.S. with an expired passport travel to Nigeria with the same passport?
YES, as a Nigerian in the United States, you can travel to Nigeria with your expired passport. This travel policy regarding passports applies to Nigerian nationals in foreign countries around the world following a statement from Nigeria's government in 2022.
Further to the Consulate General's travel advisory of 2nd December 2022. We wish to remind the entire Nigerian Community in eSwatini, Lesotho and South Africa that the Federal Government of Nigeria has approved that Nigerians returning home from any part of the world can be admitted into Nigeria with expired Nigerian passports.

Consequently, all relevant authorities in eSwatini, Lesotho and South Africa, especially airline operators and border authorities, have been duly notified of this development. please, note that this policy only applies to travels to Nigeria.

Consulate of Nigeria, South Africa
Table of Contents
Nigeria Temporary Passport
If you have an unavailable passport or lost your passport, then you can apply for Nigeria Temporary Passport (NTP). The NTP officially replaced the paper-based Emergency Travel Certificate (ETC) on March 9, 2021.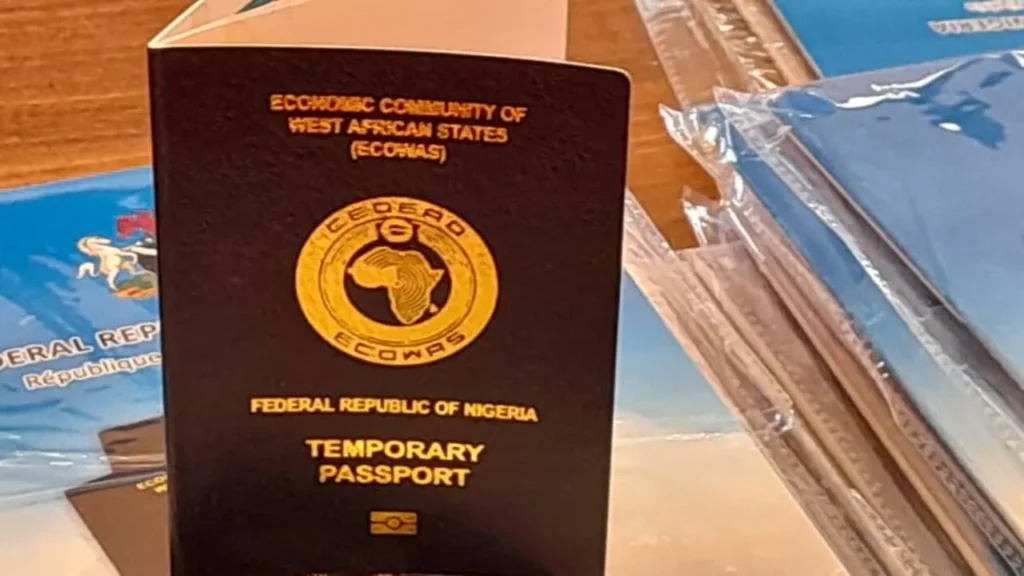 Nigeria Temporary Passport just like the Emergency Travel Certificate is a one way passport issued to Nigerians abroad who want to return home and can't find their passport.
The difference between NTP and ETC is that NTP is an ICAO-complaint with all security features like the standard passport, but it has a 30-day validity.
"This new document is not a replacement for the Nigerian passport, it will only serve a temporary purpose in the case of loss or misplacement of the Nigerian passport by a Nigerian abroad."

Interior Minister said during its launch in 2021.
You can apply for the Nigeria Temporary Passport at Nigeria's Mission abroad. You can find Nigeria's Mission and Liaison offices across the United States, Canada, and the United Kingdom.
The NTP helps you to return home and renew your passport in Nigeria. It will be retrieved from the user at the entry point.
NOTE: It can only be used once.
Nigeria's Policy for Nigerians With Expired Passport
In December 2022, the Ministry of Interior in a memo through the Nigerian Immigration Service (NIS) directed all heads of missions, immigration attachés, airports comptrollers and airlines to allow Nigerians with expired Nigerian passports (the cost of application a fresh one is available in our previous post) to travel to Nigeria without any hindrance.
"I am directed to respectfully present the compliments of the Comptroller General of Nigeria Immigration Service and notify all relevant authorities that the Federal Government of Nigeria has approved that Nigerians returning home can be admitted into the country with their expired Nigerian passports.
What necessitated the travel policy for Nigeria?
Before 2022, there were complaints by some Nigerians in the U.K, U.S., Italy, Canada, and other countries that officials of Nigerian Immigration and airlines in the U.S. State prevented them from returning to Nigeria because of expired Nigerian passports.
The former Minister of Interior Rauf Aregbesola in conjunction with the Foreign Affairs came up with a policy that made it possible for Nigerians in foreign countries to return Nigeria with their expired international passports.
Still unable to board Nigerian airlines with an expired passport?
If you are still being prevented from traveling to Nigeria with your expired Nigerian passport, you can send complaints to Nigeria's Interior Ministry headed by Hon. Bunmi Tunji-Ojo.
Tunji-Ojo has continued to make some commendable policies to change how Nigerians are treated by Foreign countries and how Nigeria's Foreign Missions treat their fellow countrymen.