Last Updated on April 8, 2022 by InfomediaNG
Any company or business that uses foreign currencies as a price tag for goods and services will be sanctioned, including an 18-month jail term, the Bank of Ghana has warned.
Advertisement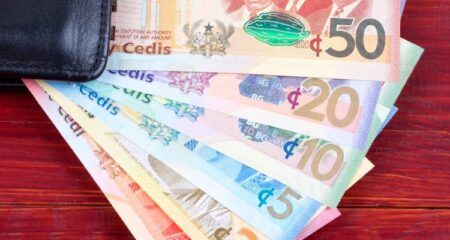 Unless such body or individuals have written permission from the Ghanaian apex bank, receiving payments in US dollars, Pounds Sterling, Swiss franc, Euro or any other foreign currencies on Ghanaian soil have also been prohibited.
The apex bank statement which was issued on Tuesday, April 5, 2022, was signed by Ms Sandra Thomson, Secretary of the Bank of Ghana.
The statement says:
"Companies, institutions and individuals are prohibited from engaging in foreign exchange business without a license issued by Bank of Ghana; or pricing, advertising, receipting or making payments for goods and services in foreign currency in Ghana, without written authorization from Bank of Ghana."

Bank of Ghana Press Release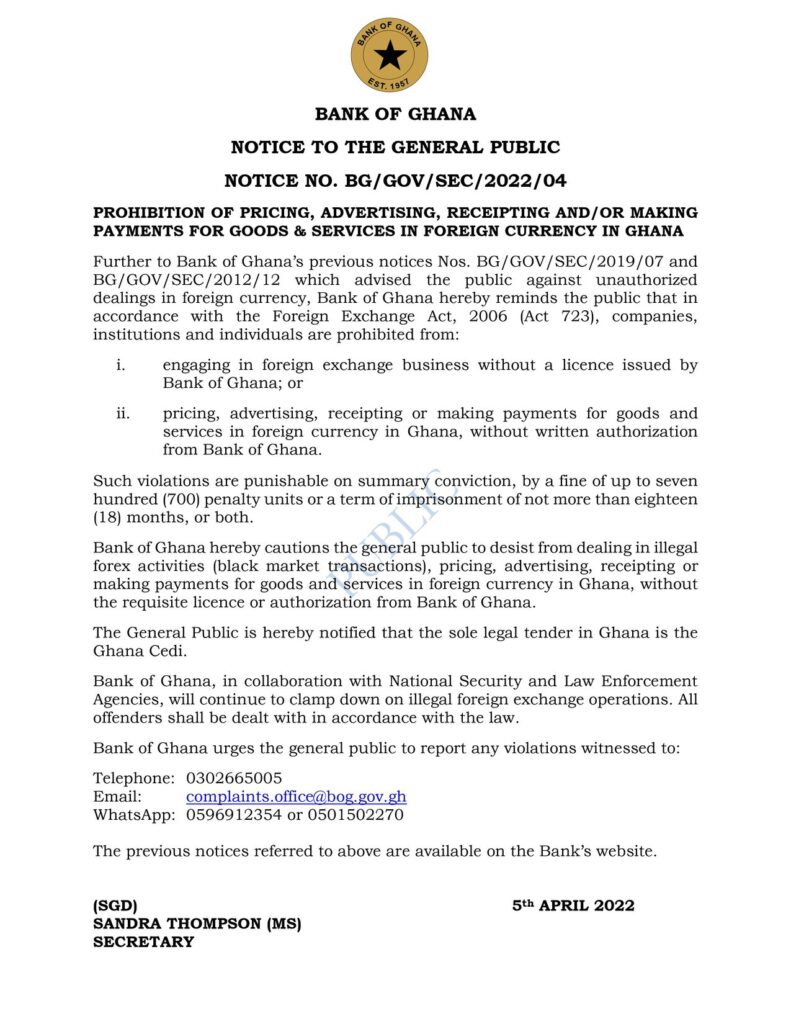 Clampdown on Dollarisation
The Ghanaian Cedi is considered to be one of the strongest currencies in Africa, but the recent inflation in the West African country is pushing the value of the cedi down the radar.
Already some real estate companies in the country now use the US dollar or the Great Britain Pound or the EUR as a pricing tag thereby putting the Cedi at a terrible disadvantage.
The country's apex reminded its citizens and foreign investors in the country that the sole legal tender within the country remains the Cedi.
It also cautioned the public about dealing in illegal foreign exchange activities popularly known as black market transactions.
As a reminder, it cited Ghana's Foreign Exchange Act, 2006 (Act 723) which could land offenders in jail
Advertisement
Specifically, the statement reads:
"Such violations are punishable on summary conviction, by a fine of up to seven hundred (700) penalty units or a term of imprisonment of not more than eighteen(18) months, or both.

@thebankofghana
It warned that National Security and Law Enforcement Agencies are ready to arrest anyone or corporate body that deals in foreign exchange operations without authorisation.
Why Is Ghana worried?
Most of the countries in the West African sub-region are battling inflation which has reduced the value of their currencies.
Specifically, the downward movement of the Nigerian currency (naira) shows that any country in the region would be affected if necessary measures are not put in place.
Though Nigeria prides itself as the giant of Africa, the recent economic crisis in the most populous African nation has pushed millions of its citizens into extreme poverty.
As a measure to cut expenses and save more, the Ghanaian government recently announced a 30 per cent cut in the salaries of Political appointees.
Nana Addo Akufo-Addo-led government had earlier on Wednesday declared that it would pump $2 billion into the economy to rescue the Ghanaian currency.
On April 1, 2022, President Nana Addo Akufo-Addo publicly accepted that the country was facing challenges, which according to him, are resolvable.
In a tweet he said:
"The road to recovery will be long and hard but we have started on a good footing by accepting we are in a difficult place and are taking the difficult decisions that will get us out."
Exchange Rate in Ghana
USD to Cedi = 7.55 GHS. $1 was ₵6.52 in Ghana as of February 2022
EUR to GHS = 8.20 GHS
Pounds Sterling to Cedi = 9.82 GHS
Swiss franc to GHS = 8.07 Cedit
Note: The above is the official exchange rate. The black market rate is far higher
Some of the recent economic and monetary problems in Ghana are high inflation, debt burden, and unpalatable depreciation of the local currency which could balloon if not nipped in the bud.
Advertisement