Last updated on August 18th, 2023 at 10:10 am
The Trade Monitoring System or TRMS is a digital platform designed by the Central Bank of Nigeria (CBN) to enable students, exporters, and anyone seeking medical attention in overseas countries to apply for foreign exchange (US dollar, GBP, and Euro) through trade forms like NXP, NCX, and form A.
In essence, the TRMS is aimed at simplifying data exchange between stakeholders in the trade chain. However, following the announcement by the CBN on Wednesday, June 14, 2023, to abolish multiple exchange rates, form A applicants will now submit forex applications to their banks and NOT through the CBN fx application portal.
Table of Contents
The beauty of the platform is that it's all-encompassing as applications for foreign exchange for both visible and invisible trades can be submitted within a few seconds.
What's new about Trade Monitoring System?
Unlike the conventional and the old method of application for Personal Travel Allowance (PTA), Business Travel Allowance (BTA), foreign school fees, and foreign medicals where you had to fill out forms and forced to visit the branch of your preferred bank, the Trade Monitoring System has brought everything online. And in one place.
This means you don't need to visit the bank again, right on your smartphone or device, you can conveniently submit applications for forex needs.
With the TRMS, the apex bank can monitor applications for forex real-time and track applicants with their BVN or TIN.
We'll talk more about the benefits of the Trade Monitoring System and some of its challenges.
According to a statement signed by CBN's Director of Trade and Exchange Department, Dr S.O. Nnaji:
"The general public is required to obtain a valid Bank Verification Number (BVN) from their Authorised Dealer Banks. The BVN is a prerequisite for customers to access the Trade System for e-from 'A' application".
What Are the Components TRMS Portal?
In most parts of the world, countries have Trade Single Window or TSW as a one-stop electronic platform for registered importers and exporters to lodge trade documents with the Government.
It's heart-warming that Nigeria's apex bank joins the rest of the world in digitalising applications for foreign exchange, as the CBN's TRMS has three major sections:
Stakeholder/MDA
Authorised Dealer Bank (ADB)
Applicant
Stakeholder/MDA
The Stakeholder/MDA option is designed for pre-shipment inspection agents, including the Nigeria Customs Service and other relevant regulatory agencies in the importing and exporting value chain.
ADB
The ADB is for authorised dealers to review submissions of exporters and validate trade forms
Applicant
The "Applicant" houses the busiest applications. Applications for foreign exchange for visible trade (NCX and NXP) and invisible trade (Form A) are submitted here.
Requirements for Forex Application
To begin your forex application on the Trade Monitoring System you MUST have the following:
Tax Identification Number (TIN) from FIRS
Bank Verification Number (BVN)
What is e-Form A?
eForm A is a digital application form to buy forex at the interbank or CBN rate in order to make payments for eligible services or invisible trade transactions as predetermined by the foreign exchange manual of the Central Bank of Nigeria.
The e-Form A replaces the hardcopy effective November 30, 2021, according to the apex bank, customers would pay a charge of NGN5,000 as a fee per declaration of e-Form 'A'.
Some of the services classified under form A include:
Consulting services
Foreign Medical Fees
Payment of Foreign School Fees (education)
Business Travel Allowance (BTA)
Personal Travel Allowance (PTA)
Nigeria Export Proceed (NXP)
NXP means Nigeria Export Proceed popularly referred to as NXP Form is a form expected to be completed by Exporters when exporting out of Nigeria.
Most Nigerian banks negotiate Export documents, process export levies, Ness fees and certify export proceeds repatriation to the CBN on behalf of their customers.
Unlike before, the processing of Form NXP shall be done electronically be done on the trade monitoring system.
Requirement for NXP:
Valid Tax Identification Number (TIN) from the Federal Inland Revenue Service (FIRS) and other commercial export requirements.
What is NCX?
NCX is Non-commercial export. When payments are not expected for goods to be shipped to any destination outside Nigeria, the Non-commercial Exports (NCX) form shall be completed by shippers or their agents and submitted to the bank for approval subject to the stipulated guidelines in the foreign exchange manual.
Goods that fall under Non-commercial Includes:
Trans – Shipments
Trade Samples and Printed Business Matter
Machinery and Equipment for Repairs and Return
Gifts and Personal effects
Machinery and Equipment for Replacement
Each payment type has its specific document requirement as stipulated in the Central Bank of Nigeria FX Manual.
How to Apply for Educational Fees on Trade Monitoring System
1) Head over to TRMS platform at tradesystem.gov.ng/landing/index.html
2) Click "go to portal" under Applicant
3) As a first-timer, you will have to register
4) Choose "individual"
5) Enter your 11-digit BVN
6) Check the email address linked to your BVN for your One Time Password (OTP)
7) Now, login to the TRMS where you have Form A, NCX, and NXP
8) Choose form A and choose, "Educational Fees" on the Trade service.
9) Fill in all the required information like:
Student name
Student Passport number
Bank account name
Correspondence bank name
Bank account address
Correspondence bank address
Bank account IBAN
Bank account swift code
Correspondence bank swift code
Bank account number
10) Preview your application to ensure that details are correct
11) On "Valid for forex" choose Yes and hit submit button
You should receive an email notifying you that your FX application form has been submitted.
Wait for a response (approval or rejection ) from your bank
Note:

Existing quarterly limits and requirements for forex for foreign school fees apply.
That's it!
Possible Error:

A common error you're most likely going to encounter is "BVN found, but without an email address. Kindly refer to your bank for assistance."
For PTA/BTA Application:
For the Personal Travel Allowance, the earlier requirements for PTA apply, just get them set for upload on the TRMS portal.
Note:

The PTA form is used by an individual to apply for foreign exchange personally, only one person can apply for this at a time.
1) Login to the TRMS portal
2) Choose Form A to begin your application
3) Click PTA.
4) Fill in all the required fields with the correct details.
5) Preview application and submit the application
6) Check your email for acknowledgement from CBN
7) Wait for a response from your bank for disbursement or rejection.
Note:
For Business Travel Allowance, only a registered organisation (company) with a verifiable Tax Identification Number (TIN) can apply for one or more beneficiaries. However, each of the beneficiaries must have a BVN that can be validated by CBN. The existing quarterly limits on foreign exchange requests also apply, check our former article on BTA requirements
Application for Medical Allowance: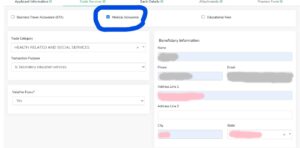 1) Login to the TRMS portal
2) Choose Form A
3) Select Medical Allowance
4) Under trade category, choose, "Health-Related and Social Services">>Hospital Services
5) Fill other required spaces
6) Choose "YES" under valid for forex
7) Preview your information, submit
8) Check your email for acknowledgement from CBN
9) Wait for a response from your bank for disbursement or rejection.
Ensure to check the PTA-BTA Exchange rate with your bank
Customer Support
For complaint or support, you can open a ticket on the platform or use the email or dedicated phone numbers below:
Email: support (at) tradesystem.gov.ng
+234 (0) 1 2361615
+234 (0) 708 065 1239
Recap:
Trade Monitoring System is a web portal designed and developed by Nigeria's apex bank for the automation of foreign exchange trade-related processes.
The TRMS is a multi-stakeholder platform comprising different portals for the various users who want to access forex
Application for PTA/BTA, medicals, education and other remittances are done online effective November 30, 2021, on the TRMS platform, Nigeria's Trade Single Window.