Last updated on November 16th, 2023 at 06:38 pm
From January to December, millions of people in the United States and around the world crave great designer footwear. And in this case, Italian shoes come to mind.
For casuals, business executive meetings, and fashionistas, you need footwear that matches the specific occasion.
Table of Contents
As lucrative shoe importation business into the U.S. is, it also comes with some regulatory challenges, which you must master to avoid losses.
For instance, you must be familiar with Customs and Border Protection (CBP) regulations and other import documents such as Interim Footwear Notice (IFI), and securing a customs bond for your shipment.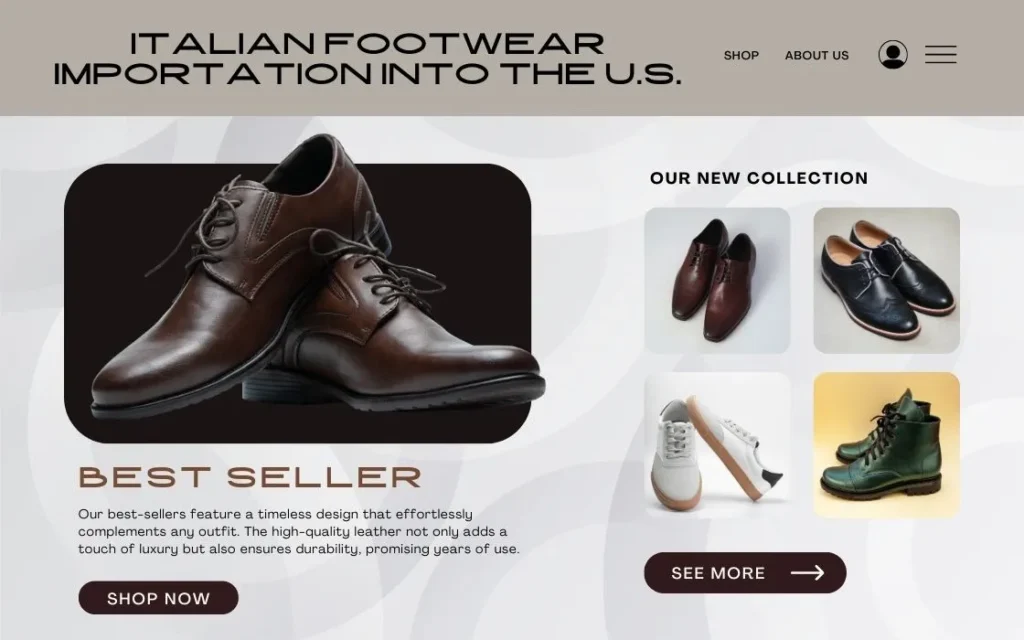 Whether you are importing fur winter snow boots for women, girls and boys canvas, or fancy lady shoes for summer, this specifies details you will need to fill in the IFI form, U.S. customs footwear declaration form, and how to grow your shoe importation business.
Italian shoe is a global product
According to the World Integrated Trade Solution, Italian footwear is a global product, creating business opportunities for wholesalers and resellers around the World.
For instance, Switzerland imported Italian shoes worth $2,406,569.87 in 2021, France spent $2,078,145.70 importing footwear from Italy, and Germany spent $1,393,237.47.
Similarly, Italy exported $1,364,416.56 worth of shoes to the United States, while its top exporting partners include China, the United Kingdom, and Spain (WITS stat)
If we look into the stats of footwear importation, the U.S. in 2022 was the biggest importer of pairs of shoes with roughly 2.7 billion pairs of shoes, according to Statista.
What does this statistic tell you?
It means that importing Italian shoes into your country to resell is a lucrative business.
From research to legalizing your business – if you are planning to import in large quantities – this guide covers the step-by-step process of starting footwear importation from Italy.
Research and Planning
Don't forget, every business you see out there started with a simple idea and some solid planning.
Part of your research is to find out if the shoe brand you are importing. Is it a byproduct of materials from protected animal species and plant species? If YES, then you will need to apply for a CITES Permit.
You have to check with the manufacturers to be sure.
If your CITES Permit is not approved, it is best to stay out of going further because only products that receive the nod of the CITES Management Authority can be imported into the U.S.
So, do your due diligence to prevent so that you don't get yourself from importing prohibited products that might lead to losses. You don't want to go that route.
Market Research
The first question you have to ask yourself is: Who is going to buy the shoes? You may be wrong to think that everyone is going to love everything you love.
So, you need to identify your target audience. Who are your audience: the business exec looking to make an impression, the fashionista?
Conduct surveys, attend shoe fairs, or simply hang out at local shoe stores. Listen, observe, and absorb.
Competition Analysis
Who are your competitors? Knowing who your competitors are will help you learn from their successes and mistakes.
How do you get the facts about your competitors?
Visit their stores, and websites, and even follow their social media. Pay attention to what they are not doing right. This will help you fill the gaps they are not doing right.
Budgeting and Finance
You have to figure out the amount of money you'll need upfront. Some of the expenses you should plan for, if you just planning to start include:
store rent,
website maintenance (store)
salaries
And other unexpected expenses
Business Legalities
Choose a Business Structure
There are several business structures available for you to choose from: from sole proprietor to partnering with others.
Each has its pros and cons. For instance, a sole proprietorship means you have all the control, but it also means all the liability falls on you.
On the other hand, forming an LLC can provide some protection for your personal assets if things go south.
It's crucial to consult with a good business attorney to find what fits best for your vision and risk appetite.
Register Your Business
You have to give your shoe importation business an official identity. Depending on where you're setting up shop, you might need permits at city, county, or even state levels, especially if you are setting up business in the United States.
The process of business setup may differ in other developing countries. And of course, you need a winning business plan, if you can't do this yourself, consult with a professional to assist you with one. You can check out our sample for one.
Taxation
You have to apply for an Employer Identification Number (EIN) from the IRS. This is like your business's social security number.
And of course, don't forget that importing means dealing with customs duties and possibly other taxes.
If this looks technical to you, consider hiring a good tax consultant familiar with the import business to be guided about potential deductions and ensure you're not overpaying.
Trademark
You've come up with a snazzy name for your Italian shoe business? You need to protect it.
You can do this by registering it as a trademark to ensure that no one else cashes in on your brand's reputation.
Supplier Relations
Visit Italy
There are two ways to address this. One, if you are planning to be a wholesaler, that means you are going to have a lot of resellers under your umbrella.
In this case, you can visit a major leather shoe-making company in Italy via Skype , Google Meet and through the use of other Meeting applications.
You may not necessarily travel by air or sea to Italy, the internet has made the world a global village.
A search for shoe-making firms in Italy will give you an insight of their product and the ability to compare prices.
Meeting manufacturers face-to-face not only allows you to gauge the quality and designs firsthand but also fosters trust.
E-meeting (most preferred) or one-on-one will afford you the privilege of negotiating with manufacturers.
Identify Suppliers
Whether you visit or not, start by shortlisting potential manufacturers. Some of the top shoe-making brands in Italy include:
Salvatore Ferragamo
Giuseppe Zanotti
Bruno Magli
Prada
Sergio Rossi
Giorgio Armani
Ermenegildo Zegna
Gucci
Dolce & Gabbana
Fratelli Rossetti
What I do before importing is to look for reviews, their history, and the brands they've worked with. This method has worked for me over the years and you might consider it.
Don't just look for the cheapest, you must be able to balance quality, reliability, and cost.
Negotiate Terms
Be clear on pricing, minimum order quantities, delivery timelines, and payment terms.
If the factory price is $55 per pair of shoes and you're buying like 30 dozen or more at a time, you should negotiate a discount on the total sum of $19,800.
Quality Assurance
Once you start receiving samples or bulk orders, you must ensure consistency in quality.
You must keep an eye on U.S. standards or the standards of whatever jurisdictions you might want to sell your Italian imported shoes.
Logistics
Customs and Import Regulations
Under the import regulations, you must pay attention to the important documents you will need to have a smooth import.
What are the required documents to import shoes into the U.S.?
There are Customs and Border Protection rules and regulations that generally specify the required documents for shoe importation into the U.S.
The essential ones you need to familiarize yourself with include:
1) The fabric detail sheet that states the percentage of different fibers in the fabric of the shoe
2) A Country of Origin Statement that specifies where the product originated from for instance, "Made in Italy" at the bottom of the shoe.
3) Footwear Declaration: Popularly known as the Interim Footwear Invoice (IFI), this document gives more information about the type of shoe you want to import.
4) IFI Form
Details to fill out the Footwear Declaration Form or IFI form for shoes:
The International Footwear Invoice or IFI contains some important details you need to know, they include:
Style: Slip-on
Outsole material: Rubber, straw
Closure type: Slip-on
Upper material
Feature: Is it flat, breathable, light weight, fashion trend, or anti-static?
Place of origin: Is it from Florence, Italy?
Model number
Midsole material: Rubber or leather?
Lining material
Strap type
Toe style
Brand name
Season
Pattern type
Heel height
Size
Packing
MOQ
Product name
Single gross weight
Colour
The materials the shoe is made of
Is the shoe for sports or executive or for casuals
Does the shoe have a metal toe cap or not?
What are the techniques to build the shoe?
What is the style number?
Is it unisex footwear or specifically made for a category of people: children, elderly, men or women.
The height of the shoe.
Who made the shoe? i.e factory name
At the end of the form, there is a space for you to sign, check again that the details you filled are accurate, then you send it to CBP for submission.
ATTENTION: If you are importing two categories of footwear into the U.S., you would fill out two separate IFI forms.
For instance, if you're importing Sports footwear and slippers from Italy into the U.S, you will fill two separate IFI.
Other documents:
A commercial invoice that contains the transaction details for your import such as the price and country of origin etc.
A packing list contains the quantity you are importing, size etc
A Bill of Lading (BOL)
An Arrival Notice specifies when the package takes off from Italy and when it will arrive at the U.S. border.
A Customs Bond will be needed if what you are importing into the U.S is valued at $2,500 or more.
The Custom bond is a binding contract between the importer, the CBP, and a third-party surety company that ensures all duties and fees will be paid in full.
Choose a Customs Broker
I will advise you to get a Customs Broker, it isn't as simple as it looks. Customs Brokers guide you through the best routes and help you to avoid potential roadblocks.
Shipping & Freight
Air or sea? You have to decide on the method of importation. For speed, choose air; for volume, choose sea.
Choosing air will impact your costs and timelines. The point is that you need to collaborate with reliable freight forwarders; they can give you competitive rates and reduce transit hiccups.
Import Duties

Imported products such as Italian shoes into the U.S. are classified using the Harmonized Tariff Schedule (HTS).
The HTS 10-digit code is used to calculate the import duty that will be paid to the government.
The HTS code can be found on which can be found on the Harmonized Tariff Schedule search directory of the United States International Trade Commission (USITC).
The code for footwear may vary, depending on the materials used. So, you need a specific keyword that applies to your imports.
You also need to pay attention to the Section 301 tariffs, especially if you're importing from China. It's better to employ the services of a Customs Broker. Section 301 tariffs address imports from China.
Marketing Your Footwear Business in The U.S.
Branding
Whether it's your store's sign, the design of your website, or the packaging of your product matters. You need to collaborate with a professional designer to design a logo, choose the right colors, and develop a branding voice that aligns with the essence of Italian shoes and the audience you're targeting.
Website and Online Store
In today's digital age, not having an online presence is like having a shop in a ghost town.
The pandemic emphasized the importance of e-commerce. Invest in an easy-to-use, visually appealing e-commerce website.
Make sure it's mobile-friendly, has secure payment gateways, and offers a smooth shopping experience. If you're not tech-savvy, hiring a professional is worth the investment.
Social Media & Advertising
Social media is a game-changer in advertising and marketing. Platforms like Instagram, TikTok, Pinterest, and Facebook are fantastic for showcasing products, especially aesthetic products like shoes.
Physical Storefront
Even if you are going to explore Facebook Ads for marketing your footwear, you still have a physical storefront.
When you set up a physical store, don't forget to set up Google My Business for your stores and make sure MyBusiness Page on Google is optimized for local products.
Have all the contact details on your page.
Customer Service & Relationship Management
Training and Standards
Good customer service will bring lots of your buyers back. Some of them might even refer their family members to your store.
So, train your staff (or yourself) not just in the product details but also in communication, empathy, and problem-solving.
Feedback Mechanisms
Put in place feedback mechanisms, listen to your customers. Whether it's an online review system, a physical comment box, or just being available for a chat – give your customers avenues to voice their thoughts.
Returns and Exchanges
Returns are inevitable. But it's how you handle them that makes a difference. Have a clear, fair, and easy-to-understand return and exchange policy.
Loyalty Programs
Remember that gentleman who'd always refer to his friends? Those are your brand ambassadors!
Consider implementing loyalty programs or referral benefits. It's a little gesture to say "Thank you" for their trust and loyalty.
Market Trends Analysis
It is an ever-changing world of fashion! One season it's pointed toes, the next it's block heels. It's vital to stay updated with the latest trends.
Attend fashion shows, subscribe to industry magazines, or even just engage with customers to understand their evolving preferences.
Takeaways:
Before setting out to start importing footwear into the U.S., read through the CBP footwear declaration form.
Familiarize yourself with the necessary documents and details that are required in the IFI form.
Know how to calculate the import duty using the HTS code.
Importing isn't enough, you should also master the act of marketing the shoes both online and offline.