Do you want to start shoe importation business? You need a "road map" to guide your daily business activities. And that's why we've put together this footwear business plan PLUS a free template to help you do the same.
Disclaimer: Names, URLs, phone numbers, and identifying details used in this business plan are for this guide and used for illustrative purposes only.
Table of Contents
EliteShoes Imports is more than just a business; it's a gateway that connects U.S. footwear consumers with global fashion trends.
Our strong commitment to quality, customer service, and sustainability positions us uniquely in the market, ready to meet the dynamic demands of the contemporary footwear industry in California, United States.
Executive Summary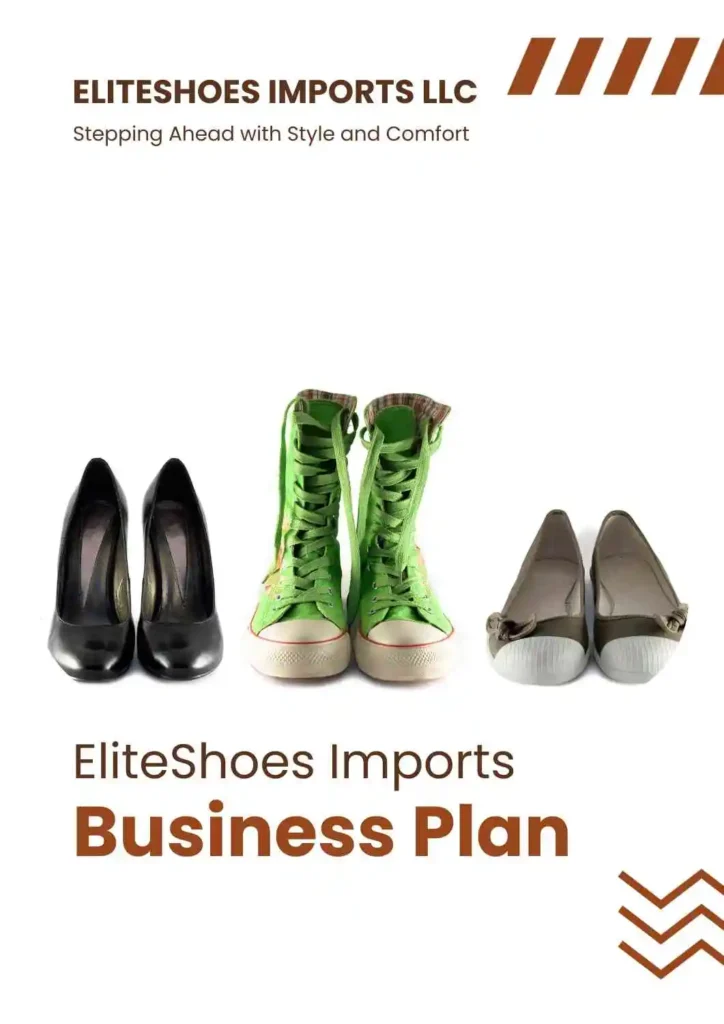 Business Name: EliteShoes Imports LLC
Location: California, United States
Mission Statement: EliteShoes Imports aims to revolutionize the American footwear market by importing high-quality, fashionable, and affordable shoes from Vietnam, catering primarily to the retail sector.
We are committed to bridging the gap between global trends and local availability, ensuring our customers have access to the latest styles at competitive prices.
Business Structure: Limited Liability Company (LLC)
Products: EliteShoes Imports specializes in importing a diverse range of footwear, including but not limited to, athletic shoes, casual wear, formal footwear, and seasonal trends, all sourced from trusted and reputable manufacturers in Vietnam.
Target Market: Our primary focus is the footwear retail market in the United States. We aim to supply small to medium-sized retail businesses, online e-commerce platforms, and boutique stores with an exclusive range of footwear that combines quality with affordability.
Unique Selling Proposition: EliteShoes Imports stands out due to its dedication to quality, a diverse product range that keeps pace with fashion trends, and a robust supply chain ensuring timely delivery.
Our strategic partnerships with Vietnamese manufacturers allow us to offer competitively priced footwear without compromising on quality, catering to the cost-conscious yet style-savvy American consumer.
Vision: To become a leading importer of fashionable and quality footwear in the U.S., renowned for our diverse range, competitive pricing, and exceptional customer service.
Goals and Objectives:
Establish strong relationships with Vietnamese manufacturers to ensure a consistent supply of high-quality footwear.
Rapidly expand our customer base within the first two years, focusing on small to medium-sized retailers and online platforms.
Achieve a reputation for reliability and quality in the U.S. retail market.
Implement eco-friendly and sustainable business practices to align with global environmental trends.
Company Description
Name: EliteShoes Imports LLC
Establishment Date: Registered on August 22, 2023.
Location: Based in the bustling and diverse market of California, United States, EliteShoes Imports is strategically positioned to tap into the vast retail and e-commerce networks across the country.
Legal Structure: EliteShoes Imports operates as a Limited Liability Company (LLC), providing us with the flexibility and protection necessary for our import operations.
Vision: Our vision is to position EliteShoes Imports as a benchmark in the shoe importation industry in the United States, known for our diverse range of quality footwear and commitment to customer satisfaction.
Mission Statement: To connect the U.S. retail market with the finest footwear options from Vietnam, offering unparalleled quality, style, and value.
We are dedicated to making international fashion trends accessible and affordable to American consumers.
History: Although newly established in 2023, EliteShoes Imports is founded on a strong base of market research and industry knowledge.
Our team comprises individuals with extensive experience in international trade, logistics, and the retail footwear market.
Objectives:
To create a robust supply chain linking Vietnamese shoe manufacturers with the U.S. retail market.
To establish EliteShoes Imports as a trusted and preferred supplier for U.S. retailers, focusing on quality, reliability, and trend-setting styles.
To develop a loyal customer base by providing exceptional service and products that exceed expectations.
To incorporate sustainable and eco-friendly practices in our business operations, aligning with global environmental standards and customer expectations.
Business Values:
Integrity and Transparency: Upholding honesty in all our dealings.
Quality Commitment: Ensuring our products meet high standards of quality and durability.
Customer Centricity: Prioritizing customer needs and satisfaction.
Innovation: Constantly adapting to changing market trends and customer preferences.
Sustainability: Embracing environmentally friendly practices in our business model.
Market Analysis
Industry Overview
The footwear market in the United States presents an incredibly dynamic and lucrative opportunity.
In 2023, it's expected to generate a revenue of US$88.47 billion, positioning it as the largest revenue-generating market globally in this sector. This demonstrates not only the size but also the growth potential of this market.
A compound annual growth rate (CAGR) of 3.29% is anticipated from 2023 to 2028, indicating a steady and promising market expansion.
Such growth suggests an increasing demand for diverse footwear, presenting ample opportunities for new entrants like EliteShoes Imports.
Further analysis reveals a per-person revenue generation of US$262.80 in the Footwear market for 2023. This high per capita spending is indicative of the market's robustness and the consumers' willingness to invest in quality footwear.
With the market volume expected to reach 1.97 billion pairs by 2028 and an average volume per person projected to be 5.39 pairs in 2023, the sheer quantity of footwear being purchased annually in the U.S. highlights the immense scale of this market.
An interesting trend to note is the anticipated dominance of Non-Luxury footwear, accounting for 92% of sales in 2023. This trend aligns well with EliteShoes Imports' focus on affordable, yet high-quality products.
Additionally, the increasing consumer demand for sustainable and ethically produced shoes aligns with EliteShoes Imports' commitment to sustainability, presenting an opportunity to cater to this growing segment of environmentally conscious consumers.
Target Market
Our strategy is to address the needs of these retailers by providing a range of products that balance quality, fashion, and affordability. Additionally, given the market trends, we will prioritize products that align with sustainable and ethical production standards.
Given these industry dynamics, EliteShoes Imports' primary target market includes:
Retail Footwear Stores: Small to medium-sized retail outlets seeking diverse and quality footwear options.
Online E-commerce Platforms: Online marketplaces catering to a wide audience seeking convenience and variety in their shopping experience.
Boutique Stores: Independent stores focusing on unique and trendy footwear selections.
Competitor Analysis
In California, several major footwear retailers represent the competitive landscape. These include:
DripLA: Known for its trendy and fashionable selections.
Shiekh: Offers a variety of footwear, catering to a wide customer base.
Undefeated La Brea: Specializes in high-end athletic and casual shoes.
Vamp: Targets fashion-forward consumers with a mix of contemporary and classic styles.
These competitors illustrate the diverse and competitive nature of California's footwear market.
EliteShoes Imports will distinguish itself through its unique selection of imported shoes from Vietnam, competitive pricing, commitment to quality, and a strong focus on sustainability – aligning with current market trends and consumer preferences
Organizational Structure
EliteShoes Imports LLC is structured to facilitate efficient operations, strategic decision-making, and effective market penetration.
The company's organizational structure is designed to ensure that each department works synergistically towards the common goal of establishing EliteShoes Imports as a leader in the shoe importation industry. Below is an overview of the key positions and their roles:
Chief Executive Officer (CEO): Smart Paul
Role and Responsibilities:
Overall strategic leadership and direction for EliteShoes Imports.
Decision-making authority on major company policies and long-term goals.
Overseeing company operations to ensure maximum efficiency and profitability.
Leading fundraising and investor relations efforts to secure the financial health of the business.
Representing EliteShoes Imports in major external relations, including negotiations with suppliers and key partners.
Chief Operating Officer (COO): Lillian Opy
Role and Responsibilities:
Direct oversight of day-to-day operational activities.
Implementing business strategies as developed by the CEO.
Managing supply chain operations, including coordination with Vietnamese manufacturers and logistics.
Ensuring operational activities remain on time and within a defined budget.
Spearheading initiatives to improve operational efficiency and reduce costs.
Marketing Head: Ola David
Role and Responsibilities:
Developing and executing EliteShoes Imports' marketing and branding strategies.
Leading market research efforts to identify trends and opportunities within the footwear market.
Overseeing advertising and promotional activities, including digital marketing and social media campaigns.
Establishing and maintaining relationships with retail partners and customers.
Analyzing marketing outcomes and adjusting strategies to maximize reach and effectiveness.
This streamlined organizational structure allows EliteShoes Imports to respond quickly to market changes, maintain a high level of operational efficiency, and ensure that all strategic initiatives are effectively implemented.
The leadership team of Smart Paul, Lillian Opy, and Ola David brings a diverse range of skills and experiences, setting a strong foundation for the company's growth and success in the competitive footwear import market.
Products and Services
Product Range
Our product portfolio includes:
Athletic Shoes: Catering to the growing demand for both performance and lifestyle athletic footwear.
Casual Footwear: A variety of styles suitable for everyday wear, focusing on comfort and fashion.
Formal Shoes: Elegant options for professional and formal occasions.
Seasonal Trends: Keeping up with the changing fashion trends to offer the latest in footwear styles.
All products are selected based on quality, durability, aesthetic appeal, and market trends, ensuring we provide footwear that resonates with our diverse customer base.
Sourcing Strategy
To ensure a consistent supply of quality footwear, we have established relationships with reputable footwear manufacturers in Vietnam. Our key partners include:
Binh Tien Consumer Goods Manufacturing Limited Company: Known for their high-quality production standards and innovative designs.
26 Joint Stock Company: Specializing in a wide range of footwear, they are recognized for their modern production techniques and commitment to sustainability.
Vinh Yen Shoes Joint Stock Company: Offers a unique mix of traditional and contemporary styles, emphasizing craftsmanship and quality materials.
These partnerships allow us to offer an extensive range of footwear that meets various consumer preferences and quality expectations.
Our sourcing strategy focuses on building long-term relationships with these manufacturers, ensuring reliability in our supply chain.
Services
By combining a diverse product range with value-added services, EliteShoes Imports aims to not just be a supplier but a strategic partner for our clients, contributing to their success in the competitive retail market.
In addition to our product offerings, EliteShoes Imports provides the following services:
Custom Orders: Facilitating specific product requests for our retail partners, allowing them to cater to unique customer needs.
Market Insights: Offering insights and advice on current market trends in footwear to help our retail partners make informed stocking decisions.
Logistics Support: Assisting with the logistics of importing footwear from Vietnam, including customs clearance, shipping, and handling.
Marketing and Sales Strategy
EliteShoes Imports LLC's marketing and sales strategy is designed to effectively position and promote our products in the competitive U.S. footwear market.
This strategy focuses on building brand awareness, establishing strong relationships with retail partners, and driving sales through targeted marketing efforts.
Brand Positioning
Unique Selling Proposition (USP): EliteShoes Imports differentiates itself by offering a unique blend of quality, affordability, and sustainable footwear, imported from reputable Vietnamese manufacturers.
Brand Messaging: Our messaging focuses on the quality, style, and ethical production of our products, appealing to environmentally-conscious consumers and those seeking international fashion trends.
Marketing Strategy
1) Digital Marketing:
Social Media Campaigns: Leveraging platforms like Instagram, Facebook, and Pinterest to showcase our products and engage with fashion-conscious consumers.
Content Marketing: Creating informative and appealing content about footwear trends, sustainable fashion, and product highlights on our blog and YouTube channel.
Email Marketing: Sending newsletters and promotions to subscribers, keeping them informed about new arrivals and exclusive offers.
2) Search Engine Optimization (SEO) and Online Advertising:
Optimizing our website for search engines to attract organic traffic.
Running targeted ads on Google and social media platforms to reach potential customers and drive online sales.
3) Partnership and Collaborations:
Collaborating with fashion influencers and bloggers for product endorsements.
Partnering with fashion events and trade shows for brand exposure and networking.
Sales Strategy
1) B2B Sales Approach:
Establishing relationships with retail stores, boutique shops, and e-commerce platforms.
Offering competitive wholesale pricing and volume discounts to attract and retain business clients.
Providing retailers with marketing support, including promotional materials and product training to enhance product visibility and sales.
2) Direct-to-Consumer Sales:
Selling through our e-commerce platform, offering a seamless shopping experience with customer-friendly policies (e.g., free shipping, easy returns).
Utilizing customer feedback and reviews to build trust and encourage repeat business.
Customer Relationship Management (CRM)
Implementing a CRM system to manage customer interactions and data.
Providing excellent customer service to enhance customer satisfaction and loyalty.
Analyzing customer data to tailor marketing efforts and improve product offerings.
Performance Metrics
Regularly monitoring key performance indicators (KPIs) such as sales growth, website traffic, conversion rates, customer acquisition costs, and customer satisfaction ratings to evaluate the effectiveness of marketing and sales strategies.
EliteShoes Imports' marketing and sales strategy is centered on understanding and responding to market needs, building a strong brand presence, and developing lasting relationships with both business clients and end consumers.
This multi-channel approach ensures a broad reach and effective engagement with our target market.
Import Logistics and Operations Plan
EliteShoes Imports LLC has developed a comprehensive logistics and operations plan to efficiently manage the importation of footwear from Vietnam to California.
This plan ensures compliance with all relevant regulations, smooth transportation, and effective handling of our products, from the point of manufacture to delivery to our clients.
Import Logistics
CITES Permit: In late September 2023, we secured a Convention on International Trade in Endangered Species of Wild Fauna and Flora (CITES) Permit. This permit is crucial for legally importing certain goods and adhering to international conservation standards.
Compliance with CBP Regulations: We are thoroughly familiar with and adhere to the U.S. Customs and Border Protection (CBP) rules and regulations.
Understanding these regulations is vital for ensuring that our imports are processed smoothly and without unnecessary delays.
Partnership with CBP Brokers: EliteShoes Imports collaborates with top CBP brokers based in California.
These brokers have extensive experience and expertise in handling import logistics, which includes customs clearance, tariff classifications, import duties, and other necessary documentation.
Their involvement guarantees that our imports adhere to all federal regulations and are processed efficiently.
Operations Plan
1) Supply Chain Management:
Establishing strong relationships with Vietnamese manufacturers to ensure a consistent and reliable supply of products.
Regular communication with suppliers for order placement, quality checks, and tracking shipments.
2) Shipping and Handling:
Choosing optimal shipping routes and methods to balance cost and delivery time.
Implementing rigorous procedures for handling and storage to maintain product quality during transit.
3) Inventory Management:
Utilizing inventory management software to track stock levels, forecast demand, and prevent overstocking or stockouts.
Regularly reviewing inventory turnover rates and adjusting procurement accordingly.
4) Quality Control:
Conducting quality checks both before shipping from Vietnam and upon arrival in the U.S. to ensure products meet our high standards.
Addressing any quality issues promptly with suppliers to prevent future occurrences.
5) Warehouse Operations:
Efficiently managing our California-based warehouse operations, including organizing, storing, and preparing products for distribution.
Implementing safety protocols to ensure the well-being of staff and the security of our products.
6) Distribution and Fulfillment:
Coordinating with logistics providers for the timely and efficient distribution of products to our clients.
Offering various delivery options to clients, including express shipping and bulk order delivery.
By combining effective supply chain management, strategic partnerships, and thorough knowledge of import regulations, EliteShoes Imports' logistics and operations plan is designed to ensure a smooth flow of products from our Vietnamese partners to our clients in the United States. This approach minimizes risks, reduces costs, and maximizes operational efficiency.
Financial Plan
The financial plan for EliteShoes Imports LLC is designed to provide a realistic and achievable roadmap for the financial aspects of the business.
This plan covers initial costs, projected revenue, expenses, and profitability. It aims to establish a solid foundation for financial health and sustainable growth.
Initial Investment
Startup Capital: $50,000
This initial investment will cover the costs of setting up the business, initial inventory purchase, marketing and website setup, and operational expenses.
Revenue Projections
1) First-Year Revenue:
Based on market analysis and initial inventory levels, we project a conservative first-year revenue of $150,000.
This projection is based on the sale of approximately 3,000 pairs of shoes, with an average price of $50 per pair.
2) Growth Projections:
We anticipate a growth rate of 20% in revenue year-over-year for the first five years, driven by expanding our product range, increasing brand recognition, and growing our customer base.
Expenses
1) Cost of Goods Sold (COGS):
Estimated at 60% of sales, including the cost of purchasing inventory from Vietnamese manufacturers and shipping costs.
2) Operating Expenses:
Including rent (warehouse and office), utilities, salaries, marketing, insurance, and other administrative expenses, estimated at $30,000 annually.
3) Unexpected Costs:
Allocating 5% of the annual revenue as a contingency fund for unforeseen expenses.
Profitability Analysis
Break-Even Analysis:
Based on initial projections, we anticipate reaching break-even within the first 18 months.
Net Profit:
After accounting for COGS and operating expenses, the projected net profit for the first year is around $30,000.
Here is the financial projection table for the first five years:
| | | | | | | |
| --- | --- | --- | --- | --- | --- | --- |
| Year | Revenue | COGS | Operating Expenses | Unexpected Costs | Total Expenses | Net Profit |
| 1 | $150,000 | $90,000 | $30,000 | $7,500 | $127,500 | $22,500 |
| 2 | $180,000 | $108,000 | $30,000 | $9,000 | $147,000 | $33,000 |
| 3 | $216,000 | $129,600 | $30,000 | $10,800 | $170,400 | $45,600 |
| 4 | $259,200 | $155,520 | $30,000 | $12,960 | $198,480 | $60,720 |
| 5 | $311,040 | $186,624 | $30,000 | $15,552 | $232,176 | $78,864 |
Cash Flow Management
Cash Flow Projections:
Detailed monthly cash flow projections for the first year, ensuring that we maintain sufficient liquidity to cover operational expenses and inventory purchases.
Working Capital Management:
Efficient management of working capital to ensure smooth operations, including timely payments to suppliers and proper inventory management.
Long-Term Financial Goals
Reinvestment Strategy:
A significant portion of the profits will be reinvested back into the business to fuel growth, including expanding the product line, enhancing marketing efforts with technology, and exploring new market opportunities.
Sustainability and Scalability:
Ensuring the financial model supports long-term sustainability and scalability, with an aim to increase market share and establish EliteShoes Imports as a leading player in the footwear import market.
The financial plan for EliteShoes Imports LLC provides a comprehensive overview of the expected financial performance.
This realistic approach balances optimism with caution, ensuring that the business is well-prepared for both opportunities and challenges.
Funding Request
By securing additional funding, EliteShoes Imports LLC aims to strengthen its market position, expand its product line, and ensure long-term profitability and growth.
This funding request is a key component of our strategic plan and is critical to achieving our ambitious business objectives.
Funding Requirements
Total Funds Required: Our analysis indicates a need for an additional $100,000 in funding. This amount supplements our initial investment and is essential for fully implementing our business plan.
Use of Funds:
Inventory Expansion: $40,000 allocated towards increasing our range of products and stock levels to meet anticipated market demand.
Marketing and Branding: $20,000 dedicated to intensive marketing efforts, including digital campaigns, partnerships with influencers, and participation in trade shows.
Operational Enhancements: $15,000 for enhancing warehouse operations, logistics capabilities, and adopting advanced inventory management software.
Working Capital: $25,000 reserved as working capital to cover day-to-day operational expenses, ensuring smooth business operations during initial phases.
Proposed Funding Structure
Equity Financing: Seeking investors interested in equity stakes in the business, offering a percentage of ownership in exchange for their investment.
Debt Financing: Exploring business loans with favorable terms from financial institutions. This option is preferred for maintaining control of the company while securing the necessary funds.
Return on Investment (ROI)
For Equity Investors: Projected annual ROI of 15-20% after the first operational year, with increasing returns as the business scales.
For Debt Financing: Commitment to a repayment plan with interest, structured over a 5-year term.
Future Financial Planning
Reinvestment Strategy: Profits from the initial years will be strategically reinvested back into the business to fuel growth and expansion.
Exit Strategy for Investors: For equity investors, a clear exit strategy through buyback options or selling their stake at a higher valuation after a predetermined period.
Risk Management
Financial Risk Analysis: Regular financial audits and risk assessments to mitigate potential financial challenges.
Contingency Plans: Establishment of a contingency fund to manage unforeseen financial needs or market fluctuations.
Want a template of this shoe import business plan?
A copy is ready for download. It is free.
Appendices
The following section is available on request. It contains:
Supplier Agreements
Market Research Data
Resumes of Key Personnel, and
Financial Projections in Detail