Last updated on November 6th, 2023 at 08:08 am
One of the biggest industries in the world is sports betting. Some bettors have become addicted to betting so that they feel unrest when they are disabled financially to place a bet when two clubs play.
A sports analyst said sports betting is becoming a pandemic in Nigeria "where mothers send their kids to place bets on their behalf and unemployed youths crave for match days so they can bet and hope for a win.
While some sports lovers see betting as their way of "investing" in their passion, spending thousands of Naira on sports betting, there is a clear distinction between investment and gambling.
It's imperative to look at what makes a game to be gambling and what constitutes an investment. Even sports betting is legal in some U.S states while it isn't in some.
Table of Contents
What Is Gambling?
An activity where someone risks money with the hope of winning or doubling the amount placed on a game it is called gambling. It is an uncertain outcome with the intent of winning. Some people also use their belongings like property, cars, and personal items to gamble.
Gambling takes different forms, some of the activities that constitute gambling include:
Lottery
Sports betting
Gaming machine
Dice rolling
Election betting etc. They are all game of chance.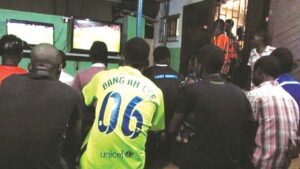 In sports betting it's called stake.
A stake is an amount you placed or risk that an outcome of a game will be in your favour. It is also known as a wager by some people in the field. The origin of the stake could be traced to the United States when a piece of wood was used to mark where ones' land ended. It was used as a pole. A stake has multiple meanings, checks on Collins Dictionary reveal.
Is There a Difference Between Lottery And Gambling?
Any game in which return isn't certain but you only play banking on luck or chance it falls fall under gambling and lotteries.
A lottery is a form of gambling and a source of harmless entertainment for some people. When an individual gets attached to the idea of winning it could become harmful psychologically.
Lottery and gambling are games of chance. There was a time hundreds of Nigerians played the U.S. visa lottery, with the chance of relocating to the United States for greener pastures if they won. The two terms are a pair of twins.
How Addictive Is Sports Betting?
Yes, gambling or the lottery is highly addictive. This is described as a gambling disorder by experts at American Psychiatric Association (APA). The gambler develops a never-relenting passion to stake even when he continues to lose. It doesn't matter to him if his business collapsed because of gambling.
Sometimes, they go borrow money to bet even when they know returns aren't guaranteed but remain optimistic that one day they would recoup their losses.
"Adults and adolescents with gambling disorder have trouble controlling their gambling. They will continue even when it causes significant problems," APA.
As such, sports betting is highly addictive
What Is An Investment?
An investment is an asset that is created to make returns after a while. An investment can take different forms like buying, refurbishing and selling of property; buying and selling of a piece of land when the value has appreciated.
This means you can generate income in two ways: 1) when you invest in a saleable asset, 2) you can make a profit from shares in form of dividends or sell-off.
Types of investment in include financial assets, and shares e.g MTN Nigeria Public Offer, bonds e.g FGN Savings Bond, mutual funds, Equities Market (EM), real estate investing among others. We highlighted some of the investments you can invest with small money in Nigeria and build overtime in one of our blog posts
So,…
Is Sports Betting An Investment or Gambling?
We asked a select-few soccer fans in Nigeria, they unanimously submitted that for sports betting companies, it is an investment for the owner while those who stake do so at their risk, meaning bettors are involved in gambling.
What soccer lovers say about sports betting as an investment
To Adedayo Odunlaja, a former editorial staff at Independent Newspaper, it is gambling, saying "no other way of putting it across.
However, it becomes an investment if one begins to watch matches, take note of developments and read analysis from the standpoint of knowing enough before putting money on certain games."
Falansa Abayormi: "It is both. For someone that is setting up a betting company, it is an investment. And for someone patronizing it is gambling. Someone gambling must not make the mistake of thinking it is an investment because it is not."
Shehu Bello, an Arsenal fan says:
"It depends on the angle from which you put your money. If you provide facilities that allow people to gamble then it's an investment, but if you placed your money on teams or sports individuals in the hope that things will turn out in your favour then it's gambling".
Raphael Olumide Abiola, a long-time Real Madrid fan:
"It depends oo… If you are creating a platform like bet9ja like you are the owner then it is an investment on your side but if you are just a user that goes to the platform to stake then it is not an investment just gambling"
Another sports analyst, Ezeali Chijioke, said sports betting is an investment for the founders of such firms, "and for gamers, it's pure gambling.
"It's interestingly, one of the biggest industries in the world. It's becoming a pandemic of sort now in Nigeria where mothers send their kids to place bets on their behalf and unemployed youths look crave for match days so they can bet and hope for a win. It's now bigger in some communities than just gambling. Its a way of life"
"For those who own a franchise or operate the stores, it's an investment. But for those who play, it's just a pure gamble," Kenneth Emodi said.
"Sports betting is gambling. One can never be sure on returns and it all depends on chance," Maro said.
A Marketing Analyst, Thomas Parks, advised that bettors should only bet with money they can afford to lose stating that emotions could set in when you bet on the team they support.
"Avoid betting on the team you support, simply because there is no reasonable argument to place such a bet. Nowadays, you will find many sportsbooks offering a huge amount of betting options. However, the number of mistakes a bettor can make is huge as well," Thomas stated on quora, a social question-and-answer website based in the United States.
Is Sports Betting Regulated In Nigeria?
Like other parts of the world, the lottery business is regulated in Nigeria by the National Lottery Regulatory Commission (NLRC), which was established through the National Lottery Act of 2005.
As one of the agencies under the Secretary to the Government of the Federation (SGF), NLRC's mandate is to regulate the activities of sports betting companies in Nigeria and other lottery businesses and to protect the interests of players.
In the United States, all the states have their lottery commission. For instance, the California Lottery Commission regulates such activities within California's jurisdiction. The lottery business is a huge investment in the United States.
Conclusion:
Place a bet on your favourite club with the hope of winning or doubling your stake, it's gambling. It's a game of chance.
When you buy shares, bonds or stocks to generate profit through a selloff or dividend from the company through dividends, that's an investment.
The owner of a sports betting company is an investor because his goal is to get bettors who can consistently bet and make profits from their losses.
Sports betting companies generate more income when bettors lose. Gambler or bettors only put their return on luck.
References
Colon-Rivera, Hector (August 2021). "What is Gambling Disorder?". American Psychiatric Association. Retrieved December 13, 2021.
Collins Dictionary. "Stake". Retrieved December 13, 2021.
Max Life Insurance. "What is Investment Definition?". maxlifeinsurance.com. Retrieved December 13, 2021.
National Lottery Regulatory Commission. "About NLRC". nlrc-gov.ng. Retrieved December 13, 2021.
Featured Image: By John Lobos on Unsplash