Last updated on July 14th, 2022 at 09:58 pm
Recently, authority in Uganda revealed that the geophysical and geochemical surveys and analyses coordinated by its Ministry of Energy and Mineral Development has discovered 31,000,000 metric tons of ore that could lead to at least 320, 158 metric tons of refined gold.
This is a piece of good news coming from the East African country, IF it is able to secure, mine, and properly harness revenue from gold locations for the development of the social services in the country.
Uganda isn't the first African country that has a large deposit of gold, it has led to war in some countries on the continent and caused rivalry gangs and boosted terrorism in some parts e.g Nigeria.
So, the discovery of the most precious metal (gold) was celebrated by the Ugandan authorities and garnered global media coverage just like it's done in other African countries where large deposits of gold were discovered.
Though such discovery has never ended abject poverty in African countries where gold is found. But it is certain that Uganda is going to start experiencing a surge in applications for mining licenses from foreign mining companies.
Where can gold be found in Uganda?
According to the spokesperson for Uganda's Ministry of Energy and Mineral Development, Solomon Muyita, gold is mostly found in the following locations:
Karamoja
Busia
Moroto District
Central
Western
Karamoja Sub-Region
Covering 27,528km of land area, Karamoja is known to be a hub of discovery. It is the same region where Paleontologists discovered a fossil in 2011 of the remains of Ugandapithecus major, a 20-million-year-old ancestor of present-day primates.
Researchers including Martin Pickford were stunned by the discovery, saying the fossil discovery will put Uganda on the scientific world map.
Again, the region is on the news as being one of the locations in Uganda where large deposit of gold is found, according to the latest research.
More than five districts in the area including Moroto, Kotido, and Abim are great places where researchers can deepen their research to because most times, the discovery of precious mineral resources like gold is underreported in Africa.
Busia
The Busia Gold mine is operated by Wagagai Mining (U) Limited. At its launch on October 5, 2021, by State Minister for Mineral Development, Peter Lokeris, the location is said to have gold reserves valued at $16 billion USD.
The chairperson of the Uganda Chamber of Mines and Petroleum, Elly Karuhanga, said the money is as the worth of Uganda's oil reserves.
Some people are not sure where Busia is located. For the record, Busia is one of the towns in Uganda, but it's an entry point to the neighboring country, Kenya.
What even makes it more confusing is the fact that there is another town that bears the same in Kenya. So when asking for direction, it's important to attach the name of the country e.g Busia Uganda, Busia Kenya.
So, Busia is located in the Eastern Region of Uganda and it is approximately 196 kilometres (122 mi), by road, east of Kampala, the capital territory of Uganda.
If you're looking for where to find gold in Uganda, Busia Uganda is another place that will soon experience a surge in mining activities very soon.
Even though the business activities going in the Busia town is huge considering its land border with Kenya.
Central Region
Covering 23,707.9 sq mi land area, the authority did not specifically mention where gold is found in the Central Region of Uganda. But there are 24 districts in the region, including Kampala.
It is a known fact that hidden resources like gold are found in remote areas. As such, it is wise to remove the country's capital out of the likely locations where this precious metal can be found in that region.
One of the districts, Mubende, in the Central Region is known to be a hub of illegal gold mining in a rough environment that could danger to human life, according to Global Rights Alert in a video report
Mawero Parish
Mawero Parish (Butebo sub-county) is located in the Eastern Part of Uganda. That is where Wagagai Mining (U) Limited is located for its gold refining activities.
It is estimated that there are 12.5 metric tons of mineable refined gold at Mawero Parish.
Western Region
With 26 district areas in the Western part of Uganda, the specific locations where gold mining will be taking place is yet to be revealed by the authority.
The region is the second-largest region in Uganda according to the 2021 population estimate, according to City Population.
Moroto District
There is another gold mining in Moroto District in northern Uganda. It also shares borders with Kenya. The district which is headquartered in Moroto town covers 3,537.6 km2 land area.
Note: There are other illegal mining sites in the country.
Which firm is handling gold mining in Uganda?
The two major gold mining firms in Uganda are:
Wagagai Limited
Sipa resources
However, there are reports that over 800 mineral licences are in the hands of speculators in the mining sector in Uganda which they've turned into black marketing selling the licence to genuine investors at exorbitant prices, thereby deterring genuine investors, according to Kenyan-based online news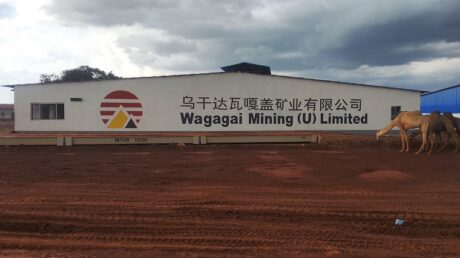 The official gold mining licence (a 21-year mining lease) was issued to Wagagai Mining Limited, a Chinese mining company in March 2022.
The company set up its mine with a refining unit in Busia, Eastern Uganda. It is expected to start production before the end of 2022.
It's gathered that the company's investment is worth $200 million USD.
At the time of this report, I could not find an official website for the mining firm handling such a huge project in the East African country.
The only information available about this company is its Google Map address which isn't specific at the time of writing.
Sipa Resources Limited
Sipa Resources Limited, an Australian minerals exploration company is another mining company in Uganda which began operations in the country in 2012.
And by 2014, the company made a rare discovery of the Rare Earth Element (REE) in Kitgum Northern part of Uganda. REE is used in making parts of electronic items.
Diversifying the Economy
And according to President Yoweri Museveni, the government is diversifying its economy in the most possible ways to attract foreign investors to boost the country's economy.
Parliament in March 2022 enacted a new mining law proposing the creation of the National Mining Company (NMC) "to handle the commercial interests of the government."
Conclusion:
I hope to see the East African country make an impact with the billions of US dollars that would be generated from the gold mining in Uganda unlike Nigeria and Congo, and other African countries where gold smuggling is rampant.
Sources:
Featured image by theeastafrican.co.ke
David Rupiny (October 6, 2021). "Busia Gold Mine: Uganda's biggest mining operations commence". ugandainvest.go.ug
UNDP Uganda (October 2, 2019). "Wagagai Mining (U) Limited prospecting in Busia". twitter.com
Halima Abdallah (April 30, 2019). "Uganda to own shares in every mining company granted a lease". theeastafrican.co.ke
ACME Team (March 20, 2022) "An overview of Uganda's new mining law". acme-ug.org