Last updated on August 5th, 2023 at 09:25 pm
Since the Central Bank of Nigeria came into full operation on July 1, 1959, the Director of Currency has always been male until August 30, 2018, when the energetic female banker Priscilla Ekwere Eleje broke that dominance.
Eleje, a graduate of Psychology, became the first Nigerian female to become the Director of Currency at Nigeria's apex bank.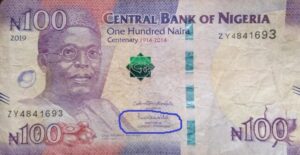 Since the day she assumed office, no Nigerian currency can be minted without her signature, that role is one of the cardinal pillars of the CBN.
She broke two records:
First female to become the director of currency at CBN
First woman to have her signature on the Nigerian currency
State of origin:
Eleje hails from Afikpo, a popular town in Ebonyi State, South East, Nigeria.
Education:
She obtained a Psychology degree at the University of Jos, Plateau State. And proceeded to the Hubert H. Humphrey Fellowship in Banking and Management at Boston University, Massachusetts, United States of America.
Professional certificate
She is a Certified Information System Auditor (CISA).
Banking Career
With several years at Nigeria's apex bank, she held several positions before her appointment the substantive Director of Currency Operations at CBN.
The first set of naira currency featuring her signature was the 1000 naira note that came into circulation in 2019.
Her Appointment As A Motivation To Career Women
Eleje wasn't the first woman to break the jinx in the men's dominated world in Africa, but the fact that she assumed a significant position at the apex bank proved that career women should not relent as they pursue their goals.
Her appointment was hailed by women societies and groups across Nigeria. One of them is the National Council of Women Societies (NCWS).
NCWS' President Mrs Gloria Shoda says Eleje encourages other career women to be dedicated to their work, knowing that their dedication and hard work would provide them an opportunity to occupy the best positions in their chosen careers.