The state government of Edo once claimed there are close to 200 solid mineral resources all scattered across the local government areas in the state.
But the most popular ones are clay, crude oil, marble, feldspar, granite dust, laterite, limestone, gold, granite aggregate, and sand. There are large deposits of untapped solid minerals in Edo.
Table of Contents
Statistics on mineral resources in Edo
According to data from Nigeria's National Bureau of Statistics,  Edo State produced a total of 3.7 million tonnes of mineral products in the 2021 Mineral Production Statistics, making the state one of the top 10 Nigerian state producers of mineral products.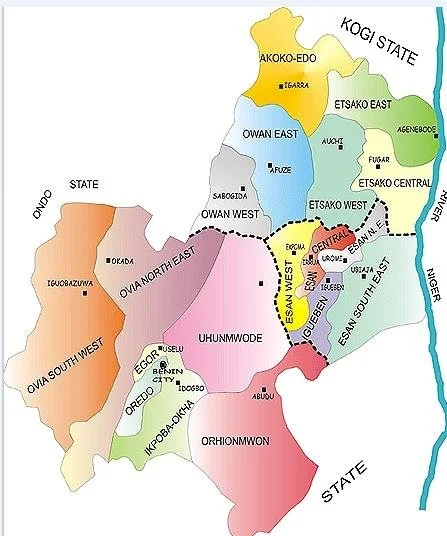 The stats revealed gold, clay, feldspar, granite aggregate, granite dust, sand, laterite, and limestone.
The 2021 mineral products analysis showed the performance of the solid mineral resources in the state as follows:
Clay: 214,997 tonnes
Feldspar: 4,000 tonnes
Gold: 6,300 tonnes
Granite aggregate: 474,879 tonnes
Granite dust: 81,654 tonnes
Laterite: 41,284 tonnes of
Limestone: 2.8m tonnes
Sand: 37,500 tonnes
The economic value of mineral resources in Edo State
With a large deposit of marble, unfortunately, according to a report, more than 90% of it is exported as rough-hewn blocks to the United Kingdom and other countries around the world.
Sadly, the exported marble from Edo is re-imported and sold as higher-value polished marble products for building construction in Nigeria.
Edo state is so rich in mineral resources that the Federal Ministry of Mines and Steel Development has a special interest in the state on how to abundantly utilize them.
In 2022, the governor of the state hinted that solid mineral resources in Edo state have more potential to generate revenue than crude oil.
Unfortunately, Nigeria's government focuses more on crude oil, neglecting other sectors. Nigeria pays lip service to the diversification of the economy from crude oil to non-oil resources.
Edo state has a comparative advantage in the mineral resources sector over crude oil. The Heartbeat of the Nation is blessed with clay and limestone, two major raw materials for the production of cement.
This is also seen in the presence of the two largest manufacturers of cement in Nigeria –  Dangote and BUA group – in Edo.
Where are mineral resources found in Edo State?
Sometimes, the Edo State government revealed that it identified about 200 solid minerals spread across the council areas of the state and showed interest to persuade local and foreign investors to harness the mineral resources.
Here is a comprehensive list of solid mineral resources that are found in Edo State and where they are located:
Marble: Marble can be found in the following Edo LGA Akoko-Edo, Etsako West, Etsako East, Owan East and Ovia South West. Specifically in the following locations: Okpella, Igarra, Ikpeshi, Igue, Otuo.
Bitumen: Bitumen is under-exploited in Edo, this can be found in Ugbogui, Usen, Siluko, and Evbonogbon.
Dolomite: This mineral product can be found in Okpella, Atte, Igue, Ikpeshi, Egbigere, Lampese, and Igarra
Laterite: This can be found in Edo Central Senatorial Districts and Edo South
Quartz: Okpella, Atte, Ososo, and Otuo have large deposits of quartz in Edo.
Galena: This can be found in Ugbegun
Tantalite: This is located in Okpella, Igwe, and Otuo parts of Edo State
Gold: Part of Edo State where gold can be found include Uneme-Erhurun, Sobe, Enwan, Dangballa, Ososo, and Imorga
Gemstones: Okpella is blessed in gemstones
Gypsum: Part of Edo where Gypsum can be in Afuze and Agenebode
Sharp sand: Sharp sand can be found in almost 18 local government areas of Edo State.
Limestone: It can be found in Igue, Okpella, Atte, Ososo, Enwan, Igarra, Ikpeshi, Egbegile, Iyuku, Ugboshi-Ele, and Sasaro
Granite: Ganite is abundantly found in Igarra, Evbonogbon, Igarra, Okpe, Imeke, Somorika, Okpella, Ososo, Ibillo, Ikpeshi, Iyuku, Enwan, and Imorga.
Kaolin: It can be found in Igbanke, Avbiosu, Afuze, Sobe, Igodo, Uzebba, Arue-Uromi, and Ojavum
Feldspar dolomite: It can be found in Ewan and Imiakebu
Bentonite: Evbonogbon (Ohosu), Ugbogui, Usen, Siluko.
Crude oil
Lignite
Iron-ore
Salena
Phosphate
Glass-sand
Clay
Is Edo State an oil-producing state?
YES, Edo state has crude oil, making it one of the oil-producing states in Nigeria.
To specifically take care of the Infrastructural needs of the oil-producing communities in the state, the Edo State Oil and Gas Producing Areas Development Commission (EDSOGPADEC) was established.
List of oil-producing communities in Edo are:
Obagie
Obozogbe Nugu
Oben
Uroho
Iguemokhua
Obayantor
Ajoki
Ologbo
Iyanomo N' Iyekorhionmwon
Ologbo