Last updated on July 12th, 2023 at 12:09 pm
Starlink subscription in Nigeria is NGN268,584 for hardware and NGN19,260 for the monthly subscription (shipping fee excluded).
The hardware is a one-time payment while NGN19,260 is recurrent for subscribers to get unlimited monthly access to the satellite internet which can connect up to 128 devices.
Table of Contents
Reduction in Starlink subscription fee
As Starlink went live in Nigeria on January 30, 2023, the quoted currency was changed from USD to Naira and the price was slashed from NGN461,390 to NGN287,844 (for the first-time subscribers) excluding the shipping fee.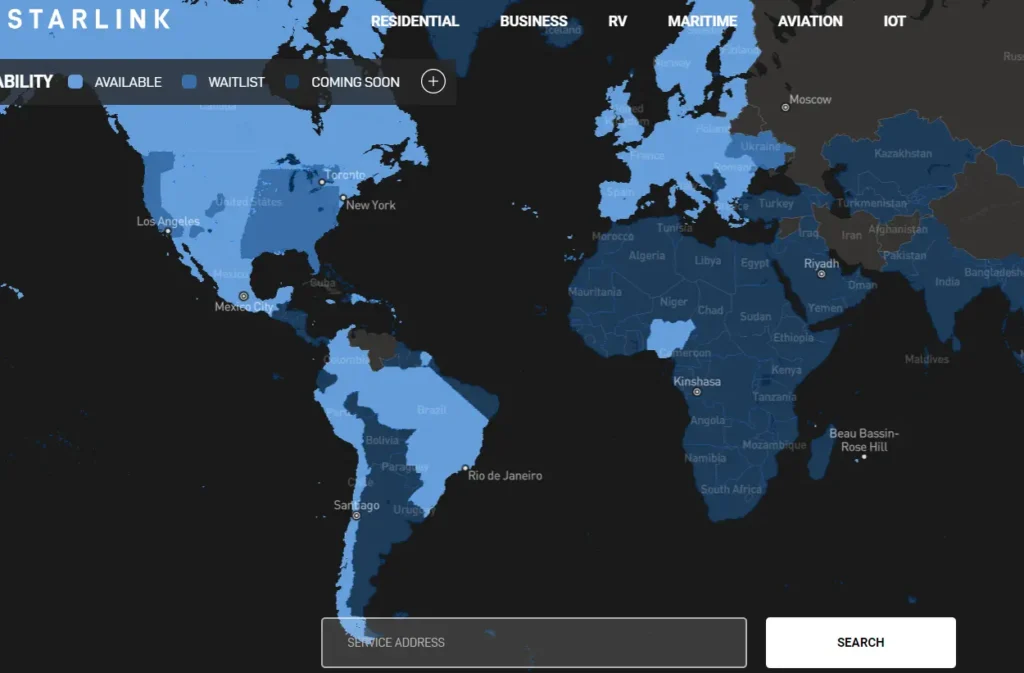 Who is the owner of SpaceX's Starlink?
Owned by an American billionaire Elon Musk, SpaceX's Starlink provides satellite access coverage to 47 countries around the world.
Starlink has most of its presence in European countries. Nigeria is the first African country where Starlink was launched on January 30, 2022.
Licensing Starlink operation in Nigeria
On May 27, 2022, SpaceX, the operator of Starlink received an ISP licence from the Nigerian Communications Commission (NCC).
It was also announced that the subscription for the new entrant would be in the US dollar which was pegged at $600 (NGN430,000 at NGN730/USD at parallel market rate) for hardware and $43 USD (NGN31,390) for the monthly subscription, totalling NGN461,390 for a first-timer.
Penetration of SpaceX into Nigeria
There had been discussions that SpaceX was planning to penetrate Nigeria's telecommunication market and on Thursday, May 6, 2021, a team of SpaceX arrived in Abuja, Nigeria.
On SpaceX's team was SpaceX's Starlink Market Access Director for Africa, Ryan Goodnight; Consultant to SpaceX, Levin Born.
On the side of the government were the Executive Commissioner, Technical Services at NCC, Ubale Maska; Director of Spectrum Administration of the NCC, Oluwatoyin Asaju; and Executive Commissioner, Stakeholder Management, Adeleke Adewolu
Maska who represented the Executive Vice Chairman (EVC) of NCC, Prof Umar Danbatta, said, "As the regulator of a highly dynamic sector in Nigeria, the Commission is conscious of the need to ensure that our regulatory actions are anchored on national interest.
NCC assured SpaceX that it would review the interest of the company in Nigeria's company vis-à-vis NCC's regulatory direction "of ensuring effective and a sustainable telecoms ecosystem where a licensee's operational model does not dampen healthy competition among other licensees".
By May 27, 2022, the result of the meeting between Starlink and NCC officials yielded the desired result as the satellite internet constellation operated got two operating licenses from the Nigerian government through the regulatory agency NCC.
NCC is one of the agencies of Nigeria's Ministry of Communications and Digital Economy.
Infomediang.com confirmed that Starlink got two licences from the NCC:
the international gateway licence for a 10-year period and
Internet Service Provider (ISP) licence for a 5-year duration
Both Starlink's licenses in Nigeria take effect from May 2022 and may be renewed after the expiration.
How To Order Starlink In Nigeria
At the time of this update, only Nigerians with a dollar Card can order Starlink, though the price is quoted in Nigerian currency. We have an article on how to apply for Dollar Card in Nigeria.
1) Use the link https://www.starlink.com/map to access Starlink map
2) Input Nigeria in the search bar and click the 'search button
Note: You can also use the search button to know if starlink is available in your area. To do this, narrow your search by specifically inputting your town or village and the state and hit the search button.
3) For my use, I searched Osogbo, Osun State, and I got the result:
"Starlink is currently available in your area! Customers in your region typically see download speeds of 50-200 Mbps."
4) Click the "order now" button to get your Starlink hardware
5) Fill in your contact and billing information
6) Enter the OTP and submit
7) Your Starlink hardware will be shipped to your billing address
Is Starlink available in Naira?
You can't use Naira Card to order Starlink.
Before Nigerian banks suspended international transactions on Naira in December 2022, the maximum dollar you can spend on your naira card was just $20.
This means Nigerians who want to order Starlink hardware, will first have to open a domiciliary account and apply for a Dollar card before they can make payment for Starlink hardware.
Alternatively, Nigerians with virtual cards can purchase Starlink.
How to make Starlink hardware accessible to Nigerians
For Nigerians who have the financial capability to purchase Starlink, SpaceX may have to open a centre in Nigeria to make the hardware accessible to small businesses, companies, and private homes.
Requirements to order SpaceX starlink in Nigeria
Wondering what you need to place an order? Here are the basics you need to place an order:
NIN
Billing address
Dollar card
Contact information
Billing information including your debit card number
Your name as it appears on your credit card
Components of the Starlink package
In the Starlink kit, you will find everything you need to set it up at home or the office. The kid includes:
Starlink
Wifi router
Base
Cable
AC cable
Mounts and accessories
Resources
To set up the kit, kindly visit the setup guide for more.
Download speed of Starlink
In Nigeria, Starlink's download speed is between 50 Mbps to 200 Mbps (Megabits per second).
Download speed for Starlink business customers in the United States is between 40 to 220 Mbps, while standard customers on its fixed Internet plans enjoy between 20-100 Mbps speeds, according to notebookcheck.net
So, it is safe to say location determines the download speed, however, Starlink's speed is faster than the conventional ones you can find around.
When did Starlink go live in Nigeria?
SpaceX's Starlink went live in Nigeria on Monday, January 30, 2023.
Where was Starlink first launched in Africa?
Nigeria is the first African country where SpaceX launched its internet access service Starlink.
When did NCC grant operation licenses to Starlink?
On May 27, 2022 Elon Musk announced Starlink got operating license in two African countries: Nigeria and Mozambique
What is the business name of SpaceX in Nigeria?
SpaceX's official registered name in Nigeria is Starlink Internet Services Nigeria Ltd, according to the checks on the portal of the Corporate Affairs Commission (CAC).
What can I do on Starlink?
Subscribers can make video calls, online gaming, streaming, and other high data rate activities.
Conclusion:
While there are concerns over how many Nigerians would be able to afford Starlink, the incredible Starlink speed is a sign that it is worth the money.
A crypto enthusiast simply known as B. Ejiro @ejibaz on Twitter confirmed Starlink speed saying, "Haven't gotten the same speeds as seen on the internet though!. The service is nothing short of awesome."
The cost of Starlink in Nigeria may be expensive for the middle class, but it's definitely going to put other internet providers like MTN, Glo, 9mobile, and Airtel on their toes in terms of network coverage as it continues to gain popularity among Nigerians who are concerned about their internet speed. But in terms of affordability, Airtel router, MTN, and others still have an edge.
References:
Featured image by @ejibaz