Last updated on August 29th, 2022 at 04:55 pm
Since Gulder Ultimate Search or GUS took off in 2004, the show, which has been described as the most "uncensored" show ever has produced several winners.
Odudu Otu is the reigning champion of season 12 which came to an end on December 25, 2021, after finding the Chest which houses the secret of the proverbial Akolo's secret brew. He walks home with N50 million worth of prizes, including an SUV and a return ticket to Dubai.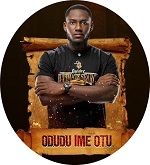 Ezeugo Egwuagwu is the pioneer winner of the show followed by Lucan Chambliss in 2005 while Hector Joberteh won 2006 (he was assassinated by gunmen in September 3, 2017)
The 2021 edition of GUS which is in its 11th season will be hosted by Kunle Remi, who won the 7th season in 2010.
Themed 'The Age of Craftsmanship', it is expected to kick off on October 16 and run through December 19.
Below are the winners of Gulder Ultimate Search from 2004 till date
Past Seasons
Location
Theme
Winner
Prize Money
GUS 1 (2004)
 Snake Island in Lagos State
The Legend of Captain Kush
Mr. Ezeugo Egwuagwu
N3,000,000
GUS 2
Obudu Hills, Calabar Cross River
The Lost Helmet of General Maxmllian
Mr. Lucan Chambliss
N5,000,000
GUS 3
NIFOR, Benin Edo State
The Brew Master's Secret
 Mr. Hector Joberteh (was killed September 3, 2017)
N5,000,00 plus Ford Explorer SUV
GUS 4
The Shere Hills of Jos
The Search for the Golden Age
Mr Dominic Mudabai
N5,000,000 plus SUV
Season 5
Stormy hills of Mmaku in Awgu, Enugu State
The Lost Chronicle
Mr Michael Nwachukwu
N5,000,000 plus a brand new SUV
Season 6
Omodo Forest of Aagba, Boripe LGA, Osun State
The Horn of Valour
 Mr. Uche Nwaezeapu
Celebrity Showdown (2010)

 

La Campaigne Tropicana, Epe, Lagos State
The Golden Goblet
Nollywood Actor Mr. Emeka Ike
N7,000,000
2010 GUS 7
 Omo Forest, J4 Ogun State
The Ultimate Hero'
Mr. Oyekunle Oluwaremi (Kunle Remi)
Season 8
The Kukuruku Hills, Egbetua Quarters in Ososo, Akoko-Edo Edo State
The Contest of Champions
 Mr. Chris Okagbue
2012 Edition known as Season 9
Usaka, Obot Akara, Akwa Ibom
'The Gatekeeper's Fortune
Paschal Eronmose Ojezele
Season 10
Forest of Usaka, Akwa Ibom
The Tenth Symbol
 Mr. Dennis Okike
N10,000,000 plus a brand new Mitsubishi Pajero
Season 11
Aguleri forest in Anambra state
The General's Helmet'
Mr Chinedu Ubachukwu
N10M plus  a brand new Ford Explorer car.
Season 12
Akwa Ibom
Age of Craftsmanship
Odudu Otu
N20M plus a brand new Sports Utility Vehicle
Already, a list of 2021 finalists has been released by the sponsors of the TV reality show, the Nigerians Breweries. They include Emiola Michael Tosin, Chidinma Okeibe, Damilola Odedina, Omokhafe Racheal Bello, and Odudu Otu among others.
One of them will walk home with the grand prize of N50, 000, 000 including a brand new Sports Utility Vehicle
References:
Fajana, Adekunle (September 2, 2021). "Gulder Ultimate Search: Where are the past winners now?". Ripples Nigeria. Retrieved October 5, 2021.
Wikipedia. "Gulder Ultimate Search". From Wikipedia, the free encyclopedia. Retrieved October 5, 2021.
Kenechukwu, Stephen (October 6, 2021). "Okagbue, Okike… where are Gulder Ultimate Search past winners?". TheCable Lifestyle. Retrieved November 23, 2021.