Last updated on April 12th, 2022 at 08:40 am
More than 70 million SIM cards are likely to be blocked in a few minutes from now as the deadline for Nigerians to link their NIN to their SIMs ended on March 31, after about eight postponements.
If you haven't done so and your line is still active, you have the privilege to link seven active SIM to your National Identity Number (NIN).
Don't forget that on Tuesday, April 5, 2022, the Association of Licensed Telecommunication Operators of Nigeria, said they were ready to implement the directive of the Buhari-led government to bar outgoing calls of subscribers who were yet to link their National Identification Number with their SIM cards.
In one of our articles, we did a comprehensive analysis of how the NIMC mobile app works and how to navigate the original app.
A communique joined signed by its Chairman, Mr. Gbenga Adebayo, and Head of Operations, Mr. Gbolahan Awonuga said:
"We can confirm that our members have received a formal directive from the Nigerian Communications Commission (NCC) to bar outgoing calls on subscriber lines that are not in compliance with the NIN-SIM Linkage Policy requirement.
There are several reasons your SIM cards may be barred from making outgoing calls and we discussed tips on how to unblock your SIM in one of our guides.
Seven SIM Cards Can Be Linked To One NIN – Pantami
The Minister of Communications and Digital Economy, Dr Isa Pantami, disclosed that you can link up to seven SIM Cards to the same NIN also known as the National Identity Number.
His announcement was a relief to thousands of Nigerians who use multiple SIM cards for business or network reasons.
So, if you have multiple SIM cards, the Federal Government said you can link all of them to one NIN. The government isn't against having multiple lines but stated that they must all be linked to NIN.
On Channels Television Politics Today in 2021, he said:
"We developed an app, when you go online, you will see it. That app, as long as you have your NIMC number, you will only download it without visiting any office. You will be able to link up to seven SIM numbers to only one.

Channels TV
I have already downloaded the app, launched the app, and already linked some of my numbers immediately. This is part of digitalisation," he said.
If you have MTN, Glo, Airtel, 9Mobile, and other lines, below is the guide on how to link all of them to a NIN
Step 1: Download the original NIMC app from NIMC official portal at: nimcmobile.app/ it's available on Google Play Store and Apple App Store
Step 2: Use your 11-digit NIN digits to login into the app
Six options on NIMC Mobiel are:
Show MY ID
Get Virtual NIN
Scan an ID
Security PIN
Print NIN Slip
Link My Numbers
Step 3: Click Link My Numbers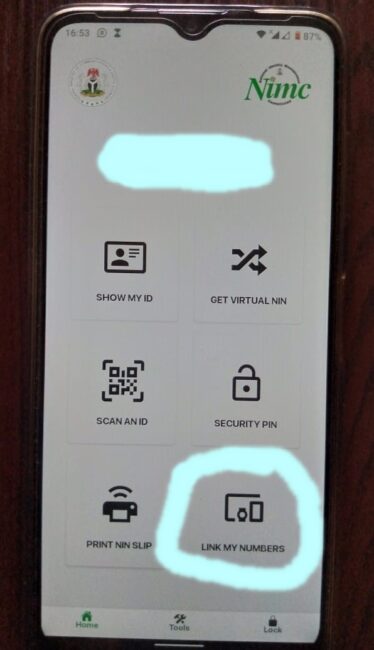 Step 4: Enter the number you want to link. The SIM must be inserted into a phone for you to receive an OTP for verification purposes
Step 5: Enter the OTP that's sent to the phone number and hit submit.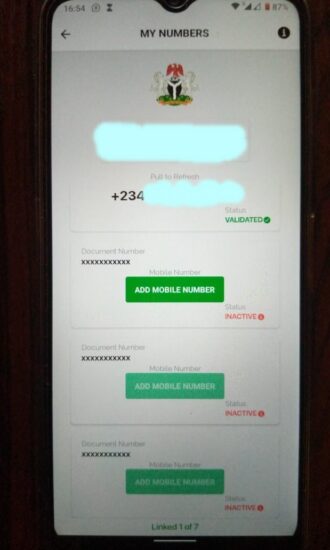 To link another SIM to your NIN, repeat the process above
NOTE:
The phone number you want to link must be active for you to receive an OTP for validation
That's all. Allow NCC and NIMC to handle the rest. This way, you don't have to visit any service centres of a telecom firm to link your NIN to your mobile number or bother yourself with the dialling of USSD codes.
If you prefer to do this individually, you can check our guides on: Linking MTN to NIN and Linking GLO to NIN or link your NIN to your Airtel line depending on your network
That's how to link multiple lines to your National Identity Number (NIN) on the National Identity Management Commission.
Are you facing any difficulty, kindly let us know below.