Last updated on April 16th, 2022 at 04:42 am
Within 18 years of joining the Nigeria Police Force, Abba Kyari attained the rank of Deputy Commissioner of Police (DCP). Popularly called 'Super Cop', he would later fall from the sky to the mud following his link with cyber fraudster Ramon Olorunwa Abbas "Hushpuppi" and later as a cocaine pusher.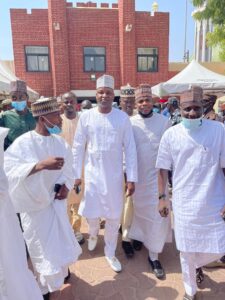 Who is Abba Kyari?
Full name: Abba Alhaji Kyari
Date of Birth: March 17, 1975
Place of Birth: Borno State
Nationality: Nigerian
Status: Married with 5 Kids
Education: Police Academy
Qualification: Bachelor of Science in Geography (1997)
School Attended: University of Maiduguri
NYSC: Akwa Ibom State in 1998
Joined the Police: 2000
Career as a Police Officer
To fulfil his one-year required attachment, Abba was deployed to the Song Police Division after being enrolled at Kano State Police Academy Wudil in 2000 as a trainee Assistance Superintendent of Police (ASP). When Kyari was sent to Adamawa State's Numan, he acted as the Divisional Crime Officer (DCO).
Later, he became the Officer-in-Charge of the Special Anti-Robbery Squad at Lagos State Police Command (SARS).
Abba Kyari was suspended for involvement in an international fraudulent scheme with Huspuppi, who defrauded Qatari school founder to launder over $1 million illicit proceeds.
Hushpuppi is currently facing charges of money laundering in the United States.
Success As A Police Officer
Although the accomplishments of security men are usually kept in secrecy and are hardly seen in the public, Kyari is social media star who had foot soldiers that spread the news about his accomplishments at arresting kidnappers and criminals.
He claimed to have apprehended the Kidnapers who planned the kidnapping of Nigerian billionaire Femi Otedola in Lagos State.
His team claimed responsibility to have arrested Adamu Umoru alias Dabo and His Group, Abuja-Kaduna Expressway Kidnappers Involved in the Kidnapping of Dr Mohammad Mahmood Abubakar, the Chairman UBEC at the time and now the Minister of Agriculture in Nigeria
Promotion:
Some of his achievements listed above got the attention of the police authority and in 2018, Police Service Commission promoted him to the rank of Deputy Commissioner of Police
When he was made a DCP, he said, "finally, after 10-months, the Police Service Commission (PSC) released the Promotion For All the 45 Police Officers involved in the Arrest Of Nigeria's Most Notorious Kidnap Kingpin Evans and 21 of his gang members including two Serving Military Personnel.
Kyari and Involvement in Crimes
The super cop has more than a dozen of crimes in his name during his reign.
Super Cop Arrested for Pushing Drug
On Monday, February 14, 2022, the wanted police officer was arrested by the police following the release of a video clip by the National Drug Law Enforcement Agency for involvement in drug trafficking.
The NDLEA declare him wanted even as the Nigerian authority refused to extradite him for "online fraud" related matters with Hushpuppi.
Olumuyiwa Adejobi, Nigeria's new Force PRO who confirmed his arrest stated that:
"He was handcuffed and will be handed over to the appropriate agency. He was not given any preferential treatment."
NDLEA Gives Details How He Was Involved in 25kg Drug
Femi Babafemi, an NDLEA spokesperson at a press briefing in Abuja on Monday, gave details of how Kyari belonged to a drug cartel that operates the Brazil-Ethiopia-Nigeria illicit drug pipeline.
"After the Agency gave the officer the green light to play along, he and Kyari began a WhatsApp call for the rest of the day. The officer conveyed "their" willingness to play the game."

"He (Kyari) brought with him the money from the sale of the 5kg share of the NDLEA team, a total of $61, 400. Our officer, however, preferred to take the money inside his car. Well, the car was wired with sound and video recorders. And the moment was documented, part of which I will play for you at the end of this briefing.

"We have a trove of intelligence, hard facts, from chats to photos and video and a detailed transcript of the communication between him and the NDLEA officer," Babafemi said.
Link with Yahoo Boy Hushpuppi
An African cyber fraudster Ramon Abbas also known as "Hushpuppi", who is currently accused of money laundering by the United States government, allegedly involved DCP Abba Kyari in a foreign scheme to defraud a Qatari school founder and then peddle over 1.1 million dollars in unauthorized proceeds on July 29, 2021.
Documents from the criminal syndicate's legal team, totalling more than six hundred pages, describe an altercation that reportedly led one Vincent to approach the Abba Kyari, alleging that Abbas and Juma (other internet scammers) were involved in fraud.
As a result, DCP Abba Kyari reportedly conspired with Abbas to have Vincent imprisoned in Nigeria. Abbas allegedly received the account information from Alhaji Abba Kyari to pay for Vincent's arrest and detention.
According to a Peoples Gazette story, Hushpuppi hosted Abba Kyari's trip to Dubai, including airport pickup, luxurious hotel accommodations, and a city tour.
Kyari took to his verified Instagram and Facebook pages to deny them in response to the charges and allegations
According to a story in the Peoples Gazette, an arrest warrant and an order for Kyari's extradition was issued by the US Department of Justice. The IGP, on the other hand, has temporarily suspended him, awaiting the outcome of the probe.
Involvement in NGN42million Scandal In 2020
One Afeez Mojeed petitioned the Lagos State Judicial Panel of Inquiry in October 2020 to investigate the defunct Special Anti-Robbery Squad.
SARS Officer-in-Charge in Lagos in 2014, Kyari, had allegedly detained Mojeed for 14 days and swindled millions of naira from him, according to Mojeed.
Kyari and his colleagues were accused of confiscating 32 valuables from Mojeed's home in Lagos during a search in 2014 in a petition submitted on October 22, 2020, by Salawu Akingbolu & Co, Mojeed's attorney, to the newly constituted judicial panel of investigation and reparation for victims of SARS-related abuses.
During the night of October 18, 2014, four-armed SARS officers stormed into Mojeed's residence, the petition claims.
According to the petition, they forcefully stole his ring and his wife's ring from them and opened their closet to steal N280,000 and the sum of N50,000 from his car. The Honda Accord (2008) model was confiscated and taken away.
According to the petition, the police compelled him to sign three N150,000 Zenith Bank checks totalling N450,000 on October 22-23, 2014, under the surveillance and threat of Abba Kyari (OC SARS) and delivered the money to one Alabi Olawale Nurudeen, who is also one of their friends.
Another N395,000 was allegedly taken from his bank between October 20 and 23, 2014, after the police allegedly gained the password of his bank card.
Mojeed was allegedly taken to the Diamond Bank Ajah branch on October 23 and 24, 2014, where he was allegedly forced to transfer N41 million and N800,000 from his corporate account M. Mateen Concepts to the bank of one Obinna Edward, whom Mojeed had never seen or heard of before.
How He Took Over Kidnapper's Lush Property In 2018
On January 21, 2019, Premium Times published a report alleging that Kyari's team had taken over the multi-billion naira estates of a convicted kidnapper shot by the police in 2018.
In an October 2018 appeal to Ibrahim Idris, Nigeria's then Inspector-General, the Nigerian Human Rights Commission said that the IRT, directed by deputy police commissioner Abba Kyari, had unlawfully drained the account of Collins Ezenwa, a notorious kidnapper who was shot dead in January 2018.
Ezenwa, according to Kyari, was a legendary kidnapper who had done many crimes before he was murdered.
Alleged abduction syndicate leader Ezenwa is an ex-police officer from Imo State; as a result of a shootout on the Enugu-Owerri Expressway, Ezenwa lost his life.
They were reported to have taken over Ezenwa's properties spread across Imo worth several billions of naira.
The value of an Enugu hotel connected to Ezenwa is estimated at N220,000,000. N180 million worth of properties, according to the NHRC petition: two duplexes, eight blocks of apartments, and an office building
He also possessed a fleet of exotic cars, as the victim used to be a police corporal before he left. Some estimated billions of dollars worth of Ezenwa's assets were discovered in Abia and Imo states.
Kyari Sells Cars He Seized from Criminals – Borno Residents Alleges
In another damning revelation in 2021, a U.S-based med scholar, Farooq Kperogi, revealed that residents of Maiduguri privately messaged him about the dubious activities of the "Super Cop" in Borno State.
It was alleged that Kyari has more than 20 properties in a posh area in Maiduguri, the safest city in Borno, North-East Nigeria.
"Good evening Prof. Just reading your post on the Abba Kyari saga. It didn't come to me as a surprise. Kyari is so super rich for the job he does. He is building a mansion on Jemina road of Damboa, that house is something else. It is the first gigantic double-gated house I'm seeing in Maiduguri, the gate is made of glass and steel.
The message Kperogi received from the sender who prefers anonymity read thus:
"Everyone in Maiduguri knew that Kyari is extremely rich, he gives out cars, monies and sells those he seized from the kidnappers and armed robbers at some selected car stands in Maiduguri and Abuja.
It was also alleged that the super cop was building a big plaza along Gombole Road near Giwa Barracks and also bought the neighbouring plaza.
Added to the list is his 20 properties at the New GRA or Bama GRA part from other properties he bought in Lagos and the Federal Capital Territory.
The anonymous sender stated, "'When I read Evans interview where he said what Abba and his team took from his house was far beyond what they declared….he's not a millionaire but billionaire.
It was also revealed that Kyari moved around in Maiduguri in convoy whenever he was in town.
Is This The End of Kyari Career?
On July 28, 2021, the United States Department of Justice, Central District of California, indicted Kyari and five others in connection with Hushpuppi.
The US court documents contained how a dispute between Hushpuppi with a member of his gang, led to how DCP Kyar was involved, some of his Northern admirers who have added religious colouration to the matter claimed that the super cop is being hunted by the U.S because he's a Muslim, which a media scholar described as silly.
Abba Kyari was suspended from duty on August 1, 2021, by the Inspector General of Police, pending an inquiry on his role in the Hushpuppi scandal. Inspector-General Usman Baba delivered the investigation panel's findings on Kyari in December of 2021 to the Police Service Commission, one of the agencies of the Ministry of Police Affairs in Nigeria
It may not be the end of the police officer considering the matter in which the Nigeria Police Force handled several bribery allegations against its men. Most times, NPF deploys their officer accused of killing or bribery to another location.
PSC Rejects IGP Panel's Investigative Report Rejection
In 2021, the Inspector General of Police Usman Alkali Baba constituted a Special Investigation Panel. The panel that was led by DIG Joseph Egbunike was saddled with the responsibility of investigating the alleged link of the 'super cop" with Hushpuppi.
The panel submitted its report to the IGP on Monday, August 16, 2021
It took the IGP to submit the report to Nigeria's Police Service Commission (PSC). The police boss submitted the report to PSC on December 19, 2021, as reported by The Nation Newspapers.
The Police Service Commission (PSC) is an independent body to carry out an oversight on the activities of police officers in Nigeria except for the IGP. It is in charge of the appointment, promotion, and discipline of all police officers.
On Wednesday, January 26, 2022, it was gathered that PSC sent the report back to the IGP.
The Vanguard reported that "the decision of the PSC to return the investigative panel report was backed up by advice by the office of the minister of Justice, Abubakar Malami whose office the commission reverted the panel's report to after receiving it from IGP Usman Alkali."
Kyari Attends Event of a Man Who Should Be Investing Him
On Saturday, January 29, 2022, the embattled former head of Intelligence Response Team, was in Maiduguri, Borno State capital, for the wedding ceremony of Maina Alkali, the son of the incumbent Inspector-General of Police, Alkali Baba.
Kyari who stole the event wasn't alone at the occasion, a popular socialite, Obinna Iyiegbu, a.k.a Obi Cubana was also in attendance.
The wedding took place at the palace of the Shehu of Borno, Abubakar El-Kanemi, in Maiduguri.
Thousands of Nigerians on social media who reacted to the reappearance of Abba Kyari at Alkali's son's wedding said the IGP can't supervise a thorough investigation against Kyari for his alleged conspiracy with Husspuppi.
Where is the Nigeria Super Cop?
The rise and fall of Abba Kyari show the rot in the Nigeria Police Force, which is ranked among the most corrupt police in the World.
Today, Kyari has been in jail and the Nigerian Police have refused to hand him over to the U.S government for prosecution. Nigerians believed that the police may cover up for the wanted police officer.
References:
United States Department of Justice (July 28, 2021). "Six Indicted in International Scheme to Defraud Qatari School Founder and then Launder over $1 Million in Illicit Proceeds". justice.gov. Retrieved January 19, 2022
Essien, Hillary (July 29, 2021). "How police chief Abba Kyari flew to Dubai to spend good time with Hushpuppi: FBI

". gazettengr.com. Retrieved January 19, 2022

Channels Television (July 29, 2021). "Bribery Controversy: Abba Kyari Denies Receiving Money From Hushpuppi

". channelstv.com. Retrieved January 19, 2022